2021 Atlanta NASCAR Race packages, Travel and Tours - Folds of Honor QuikTrip 500 NASCAR Cup
Atlanta Motor Speedway NASCAR Race Packages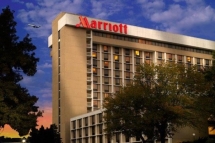 Atlanta Motor Speedway | March 19 - March 22
Package code NAS21-06MA
Our 2021 Atlanta Motor Speedway NASCAR race packages, travel packages and tours include excellent race tickets in the Upper Champions or Winners Grandstands, deluxe hotel accommodations at the First Class Marriott-Atlanta Airport, full breakfast buffet with omelet station, roundtrip track transportation by deluxe motorcoach Sunday, knowledgeable tour representatives, informative tour booklet and we have optional pit passes, scanner rentals and more. See our Atlanta Weekend ticket race packages to include the Double Header Saturday races of the Truck Series and Xfinity Series.
Atlanta 500 Ticket-Upper Champions or Upgrade to Johnson Grandstand
Two or More Nights at the Marriott - Atlanta Airport
Track Transfers via Deluxe Motorcoach Sunday
Close Bus Parking to your seats
Breakfast Buffet Daily
Atlanta Airport Transfers
Professional Tour Representative
Informative Tour Booklet
Ticket Holder & Lanyard
Covid-19 Protections - Masks and Hand Sanitizer
Race Day Essentials: Bottled Water, Earplugs, Sunscreen, and Koozies
All Taxes
Outstanding Cup Series tickets are in the Champions Grandstand, Section 250, rows 44-48, located on the front stretch directly across from the pits and near the start/finish line. These are the best seats at the track! You can see the entire track and pit road without any obstructions! You can also choose the Winners Grandstand where the seats are individual folding chair seats.

Seating Chart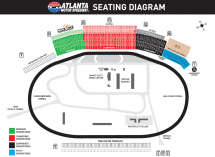 Click to Zoom
Atlanta Motor Speedway
Atlanta Motor Speedway is a 1.54 mile quad-oval with two doglegs located on the frontstretch of the track making for great and always exciting racing.
Originally named Atlanta International Raceway, this track made its debut in 1960 becoming the seventh superspeedway (a paved facility of a mile or larger) to host a Cup race event.
Later purchased in 1990 by Bruton Smith's Speedway Motorsports, Inc., the track received a name change to Atlanta Motor Speedway as well as a complete facility facelift. Multiple grandstands were added and the start/finish line was relocated from the West side of the track to the East side where it remains now. This is also when the double dogleg was added, lengthening the track from its original 1.5 mile oval to 1.54 mile quad-oval.
Atlanta Motor Speedway offers a racing surface between 55-60 feet wide with 5 degrees banking on the straightaways and 24 degrees banking in the turns.
Seating Chart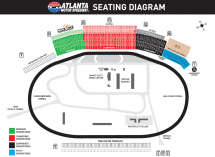 Click to Zoom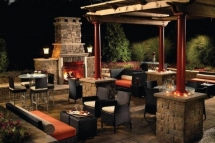 Marriott-Atlanta Airport
We use the Marriott Atlanta Airport for our Atlanta Folds of Honor QuikTrip 500 race packages. Located approximately 25 miles from Atlanta Motor Speedway, the Marriott Atlanta Airport is a distinctive choice among hotels near Hartsfield Jackson Atlanta International Airport featuring a vibrant design and a convenient location. Arrive via our hotel's 24-hour complimentary airport shuttle and enjoy peace and quiet in our soundproof accommodations, which have recently undergone a comprehensive refresh. Take advantage of all of the superb amenities our hotel offers, including a 24-hour fitness center and an indoor and outdoor pool. Don't miss a hearty breakfast at VOYA Bistro or savory steakhouse cuisine at Bentleys Steakhouse, two of our five exceptional on-site restaurants - and treat yourself to a perfectly poured cocktail at B Plus, our bourbon bar. Enjoy your Atlanta Folds of Honor QuikTrip 500 race weekend while staying at the Marriott Atlanta Airport.
Marriott Atlanta Airport Hotel Details
Pertinent Hotel Information
Address:
4711 Best Road, College Park, GA 30337
Hotel Check In:
3:00 pm
Hotel Check Out:
11:00 am
Smoking Policy:
Non-Smoking
Self Parking:
Complimentary
Valet Parking:
Not Available
Pets:
Service Animals Only
Airport Shuttle:
24-hour Complimentary Airport Shuttle Available
Area Shuttle:
Local Area Shuttle Available (within 3 miles of hotel)
On-Site Restaurants:
Voya Bistro (6:30am - 1:00am)
Bentleys Steakhouse (Monday - Friday: 5:00pm - 10:00pm)
Voya Shushi (4:00pm - 11:00pm)
Voya Coffee and News (5:00pm - 11:59pm)
Breakfast:

Voya Bistro (6:30a

m - 1:00am, included for TABA guests only)
Bar/Lounge:

B Plus (Monday - Saturday: 5:00pm - 11:59pm)

Room Service:
24-hour room service
Wifi:
Wireless, Enhanced High Speed: 6.95 USD/day
Pool:
Indoor and outdoor (seasonal) pools
Fitness Center:
Yes
Refrigerator in Room:
Mini Fridge
Microwave in Room:
No
In Room Coffee/Tea
Yes
Business Center:
Yes
Conceirge:
No
Car Rental:
No
Accessible Rooms
Accessible Rooms Available On Request
Suite Upgrades:
Not available
Balcony:
Not available
Room - Bedding Types:
King or 2 Queens
Sleeper Sofa Availability:
Not available
Cot Availability:
On request for King bedded rooms, not in Rooms with 2 beds
Adjacent Rooms:
Can be requested but not guaranteed,
Maximum Guests per room
4 including children, exceptions may be available
Resort Fees:
None
Area Information
Closest Airport(s)
ATL Hartsfield-Jackson Atlanta International Airport (1 mile)
Local Restaurants:
Manchester Arms
Ruby Tuesday
Spondivits
Malone's Steak and Seafood
Area Attractions:
Georgia Aquarium (14 miles)
Stone Mountain (32 miles)
Places of Interest:
Atlanta Motor Speedway (25 miles)
Georgia Racing Hall of Fame (68 miles)
Dawsonville Pool Room (68 miles)
World of Coca-Cola (14 miles)
Our Packages Using The Marriott Atlanta Airport
Atlanta Motor Speedway
Folds of Honor QuikTrip 500 Packages
Welcome to our Atlanta Quiktrip 500 Race Package!
Friday, March 19th
1:05 pm
Xfinity Series Practice
2:05 pm
GROTS Practice
3:05 pm
Xfinity Series Final Practice
4:05 pm
GROTS Final Practice
5:10 pm
NASCAR Cup Series Qualifying (Transportation not available)

6:30 pm

Hospitality Desk - Meet your Tour Representative and pick up tickets

and documents if not shipped to you. Meet & Greet is optional.

Saturday, March 20th
7:00 am
Breakfast is served in the hotel breakfast area, until 10 am

9:30 am

Bus departs for the Atlanta Motor Speedway (Weekend Ticket Packages only)

10:40 am
GROTS Qualifying
12:00 pm
NASCAR Cup Series Final Practice
1:30 pm
Xfinity Series Drivers Introductions
2:00 pm
Xfinity Series 250 Race
4:00 pm
GROTS Driver Introductions
4:30 pm
Atlanta GROTS 200 Race

7:30 pm

Hospitality Desk - Meet your Tour Representative and pick up tickets

and documents if not shipped to you. Meet & Greet is optional.

Sunday, March 21st
7:00 am
Breakfast is served in the hotel breakfast area, until 10 am

9:00 am

Bus departs for Atlanta Motor Speedway (All Ticket Packages)

10:00 am
Fan Gates and Infield Open
12:00 pm
Pre-race concert
1:20 pm
NASCAR Cup Series Driver Introductions
2:00 pm
Atlanta Quiktrip 500 NASCAR Cup Series Race
Monday, March 22nd
7:00 am
Breakfast is served at our hotel breakfast area, until 10 am
11:00 am
Hotel check-out at the Marriott
*Times above are subject to change without notice. Please verify your itinerary!