2020 Charlotte Bank of America Roval 400 NASCAR Cup Package - Crowne Plaza - Weekend Tickets
Preferred Travel Partner of Charlotte Motor Speedway!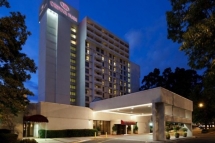 Charlotte Motor Speedway | October 8 - October 12
Package code NAS20-33CPW
Our 2020 Charlotte NASCAR race packages, travel packages, and tours include phenomenal race tickets for the Bank of America Roval 400 NASCAR Cup Series race, deluxe hotel accommodations at the Crowne Plaza - Executive Park, hotel breakfast buffet daily, roundtrip bus transfers via deluxe motorcoach to Charlotte Motor Speedway on Sunday, free parking at the hotel, knowledgeable tour representative, informative tour booklet, ticket holder/lanyard and much more. We even offer a Friday Race Shops Tour and a Speedway Club VIP package as the perfect additions to your race weekend. You can also visit the NASCAR Hall of Fame museum. A Pre-Race NASCAR Cup Race Garage Tour is something that is rare and we have one as an option for you. Get up close and personal with the drivers, the machines and the intricacies of the NASCAR Garage. The Crowne Plaza Executive Park is a deluxe hotel with great amenities and is conveniently located 4 miles south of the Uptown Charlotte and the NASCAR Hall of Fame. It's an easy commute to Uptown via car or light rail that is serviced by hotel shuttle. Airport transfers are included if needed.
Bank of America Roval 400 Ticket-GM Grandstand or Upgrade
Xfinity Series Ticket - GM Grandstand or Upgrade
Three Nights - Crowne Plaza-Executive Park-Charlotte
Deluxe Breakfast buffet daily and free hotel parking
Round Trip Deluxe Bus Transfers to Track Saturday and Sunday
Airport Transfers provided by Crowne Plaza
TABA Ticket Holder and Lanyard
Informative Tour Booklet
Knowledge TABA Tour Representatives
Race Day Essentials: Bottled Water, Earplugs, Sunscreen, and Koozies
All Taxes
We have excellent tickets for the Xfinity & NASCAR Cup races that are folding stadium style seats located in the GM Grandstand in various sections on the front stretch directly across from pit road and near the start/finish line in rows 23-38. You can also upgrade to the Ford Veranda seats that are directly across from the pit road exit in rows 32-37. These seats are available only to Speedway Club members (which we are) and provide exclusive access to upscale concessions and rest rooms and Dale Jr's Whiskey River at the track and are stadium style individual folding chair seats. You can view the entire track from any of our seats.
Seating Chart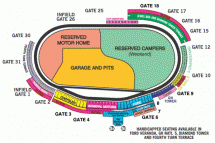 Click to Zoom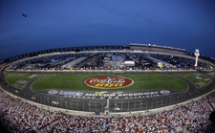 Charlotte Motor Speedway
NASCAR's self-proclaimed hometown of Charlotte is home to Charlotte Motor Speedway, built in 1959 by the current owner Bruton Smith and Speedway Motorsports, Inc. This area is known as the "Mecca of Motorsports". Charlotte Motor Speedway is a 1.5 mile oval situated on land that was once a working plantation during the Civil War era. The Speedway boasts 24 degrees of banking in the turns and 5 degrees of banking on the straightaways and has a seating capacity of 165,000 race fans. Constant additions and improvements have occurred since the eighties, including grandstand additions, VIP suites, a seven story office tower which houses the world famous Speedway Club and one of the largest souvenir shops in the country. One of the biggest projects, however, was the installation of the $1.7 million, 1,200 fixture permanent lighting system developed by MUSCO Lighting of Oskaloosa, Iowa. The revolutionary lighting process uses mirrors to simulate daylight without glare, shadows or obtrusive light poles. The lighting system was installed in 1992, allowing Charlotte Motor Speedway to be the first modern superspeedway to host night auto racing

.
Seating Chart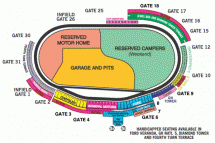 Click to Zoom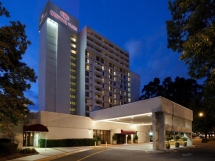 Crowne Plaza - Executive Park-Charlotte
Being only five miles from Charlotte Douglas International Airport, the Crowne Plaza Charlotte Executive Park has a prime location at 5700 Westpark Drive. After landing, you'll be settled into your room in no time, thanks to the complimentary shuttle from the airport to the hotel. Since the hotel is also Seven miles E of the city center, it perfectly positions you to take advantage of everything that the area has to offer. Each guest room at the Crowne Plaza Charlotte Executive Park is equipped with flat-screen TVs, satellite or cable channels, and work desks. Take advantage of our well-equipped fitness center or dine in our on-site restaurant. Free parking is available, as well as a complimentary shuttle service between the hotel and the city center. When you are done with racing for the day, there are many unique and local places you can visit in Charlotte, including visits to Spectrum Arena (Seven miles north) or spending a day at the Carowinds theme park (Seven miles south).
Check In: 3:00pm
Check Out: 12:00pm
Food For Thought Restaurant
Breakfast, Lunch, Dinner, Dessert
Hours: 6:30 AM-10:00 PM

Lobby Bar
Hours: 11:00 AM - 1:00 AM

Pool Bar
Hours: 11:00 AM - 1:00 AM

Car Parking Available
Complimentary Daily Self-Parking is available
Valet Parking is not available
Complimentary parking is available, but there is no valet parking.
Standard tier wireless internet (WiFi) access included with stay at most Crowne Plaza hotels and resorts around the world. WiFi available in public areas and guest rooms, excluding meeting rooms, at participating hotels. WiFi bandwidth and speed may vary by hotel.
On-Site Fitness Center Details
6:00 AM-10:00 PM
Our recreation facilities include on-site workout facilities which feature state-of-the-art cardio, strength building and core training equipment. It also includes an indoor/outdoor heated pool, sauna and sand volleyball court.
Indoor Pool Available
Hours: 6:00 AM to 10:00 PM
Outdoor Pool Available
Hours: 8:00 AM to 10:00 PM
Pool Is Heated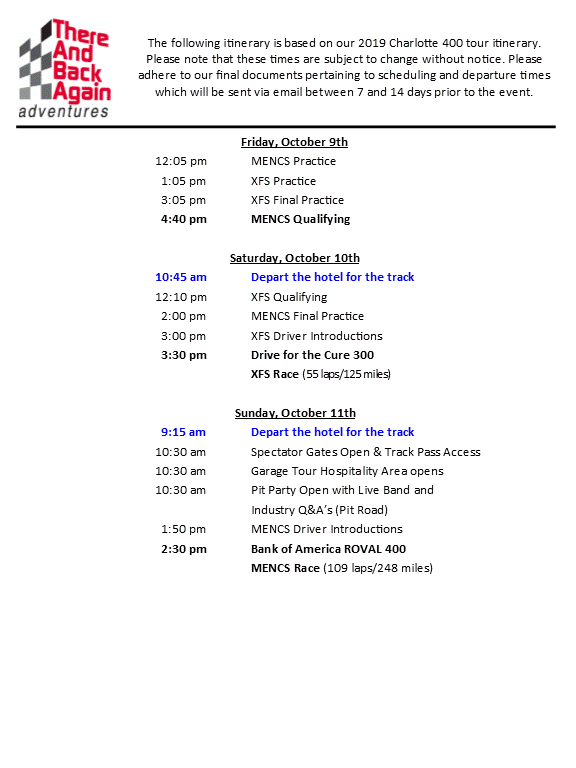 Dover, Drydene 400, October 2019

Imogene (TABA tour rep) is the best.

Jeffery Earle and Sherry Williams
Ithaca, New York
Their 23rd trip with TABA

Dover, Drydene 400, October 2019

You definitely have a winner with Imogene (TABA tour rep!) Great personality, caring, listens to each travelers needs. Not to mention she sets up a great Tailgate event! Our overall experience was great. In the past we have worked with other companies for our race travel needs, but would not hesitate to book with There and Back Again in the future. Thank you for a great race event!

Bernie & Jean Rocheleau
Woodstock, CT
Their 1st trip with TABA

Charlotte, Bank of America Roval 400, September 2019

Had a great time at the Roval race this year! Rex and Jay are wonderful TABA tour guides. We've traveled with there and back again many times. They're the best! We were so happy Imogene (TABA tour rep) called us back and suggested we upgrade our tickets to turn 1! We had Great seats. Made the race so much more interesting!! We have traveled several times with TABA. It's so easy and makes our NASCAR trips more enjoyable and stress free.

Laura and Robert Manninen
Gladstone, MI
Their 15th trip with TABA

Charlotte, Bank of America Roval 400, September 2019

My TABA trip to Charlotte Roval was a great adventure. I got the same section tickets as last year because they're just good seats from TABA on Front Stretch. My hotel had excellent staff and great breakfast staff. Rex (TABA tour rep) was awesome in entertaining fans and making sure to keep everybody in line for pick up and take off. Jay (TABA tour rep) was also good at getting tickets to fans at hotels. It's my second straight year with Rex and Jay as my tour reps at this race and I hope to see them again next year. Thanks again TABA for all the great adventures and great staff you give us race fans at the race track.

Ben Carson
Rochester, Wisconsin
Ben's 8th trip with TABA

Charlotte, Bank of America Roval 400, September 2019

Jimmy from the NASCAR Hall of Fame was awesome. Rex from TABA was extremely patient with our late arrival Shane (TABA office staff) went far and beyond in helping me reserve our tickets and kept me informed of changes. He even tracked us down when no one else could while in Charlotte. Thanks Shane!

The Valadez Family
MANTECA, CA
Their 1st trip with TABA
Charlotte, Bank of America Roval 400, September 2019

We are still using your services after 24 years! Rex and Jay (TABA tour reps) did there usual fine job.

Hal & Barb Gay
Falls church, VA
Their 124th trip with TABA

Charlotte, Bank of America Roval 400, September 2019

Hospitality suite was a God send on such a hot day Sunday. Both tour guides were a pleasure to talk to and the information they gave us was excellent.

Mike and Sharon Yoder
Bethany Beach, DE
Their 1st trip with TABA

Charlotte, Bank of America Roval 400, September 2019

This was my first experience with TABA. Absolutely enjoyed the package from purchase to the race. All staff from phone conversations to tour representatives were pleasant and professional. TABA staff all took the extra mile to make my Roval experience exceptional. Thank you!! I am looking forward to attending next years Roval with TABA

Bill Huddleston
Cape Coral, FL
Bill's 1st Trip with TABA

Charlotte, Bank of America Roval 400, September 2019

Everything works like clock work. So relaxing and enjoyable. Blown away by the hotel and staff. What a fantastic experience! Will definitely come back! Third time with There and Back Again, love the ease! Nothing to do but book, relax, and enjoy!

Karen and Bryan Southard
Niverville, New York
Their 3rd trip with TABA

Charlotte, Bank of America Roval 400, September 2018

The hotel was wonderful!!! The breakfast every morning was not the standard continental breakfast. It was great!! The rooms were very nice and the Crown Plaza restaurant/bar was very nice also!!! Charlotte was the first race my son and I have ever been to and it was a great memorable experience. Everything was so well planned and very professional. The hotel, seats, track passes, booklet, and bus were all wonderful!!! We had the best time and will definitely be using There and Back Again for our next race trip!!! Jay our TABA tour guide was a great guy and was very knowledgeable about everything!!! Hope to see you soon There and Back Again!!!

Melanie Tweedlie and JT Schlick
Wheeling, WV
Their 1st trip with TABA