2020 Bristol Bass Pro Shops Night Race NASCAR Packages -General Morgan-Greeneville, TN - NASCAR Cup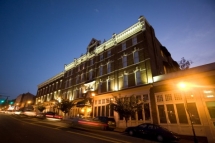 Bristol Motor Speedway | September 17 - September 20
Package code NAS20-30GM
Our 2020 Bristol Motor Speedway Bass Pro Shops Night Race NASCAR race packages, travel packages and tours include excellent Bristol Bass Pro Shops Night Race tickets (the most coveted race ticket in NASCAR), first class hotel accommodations at the historic and charming General Morgan Inn in Greeneville, deluxe roundtrip bus transfers to Bristol Motor Speedway Saturday, a pre-race tailgate party Saturday, Knowledgeable and Experienced tour representatives, informative tour booklet, ticket holder/lanyard and more including optional Bristol Motor Speedway pre-race track tour and optional race scanners. This is the single most popular race on the circuit. Make your reservation now as this one sells out early!

Bass Pro ShopsTicket - Kulwicki or Waltrip Grandstands or Upgrade
One or More Nights-General Morgan Inn-Greeneville, TN (45 miles to track)
Free hotel Parking
Track Transfers via Deluxe Motorcoach Saturday
Closest Bus Parking at Bristol Motor Speedway
Pre-race Tailgate Party Saturday
Ticket Holder and Lanyard
Informative Tour Booklet
Knowledgeable TABA Tour Representatives on Site and on Buses to Assist
Race Day Essentials: Bottled Water, Earplugs, Sunscreen, and Koozies
All Taxes
Race tickets for the NASCAR Cup Series are in the Waltrip, Allison, and Kulwicki Grandstands, rows 7-48 depending on the grandstand. These grandstands are located on the front-stretch and in turns one, two & four. Great Xfinity Series tickets are located in the Kulwicki and Waltrip Grandstands in turns one and four. Our seats in the turns are in elevated grandstands where row 1 is equal to row 20 on front stretch. You can see the entire track and pit roads. They are not too low or too high. Perfect! Our seats in the Allison grandstand on the front stretch are in the upper rows insuring that you will have a view of the entire track. You will be able to see the entire track and the pits without any obstructions. We also have upgraded seats available for the Pearson and Earnhardt Terraces. These upgraded seats are stadium style folding chair seats.

Seating Chart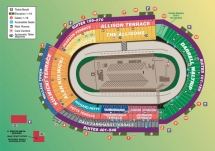 Click to Zoom
Bristol Motor Speedway
Unarguably the most exciting half-mile in motorsports, Bristol Motor Speedway is nestled in the hills of the Tennessee/Virginia border. Construction began on this world famous facility in 1960 by Carl Moore, Larry Carrier and RG Pope and was completed one year later with the first Cup Series race held July 1961. This gave the motorsports world a perfect .5 mile oval known as the "World's Fastest Half Mile".
In 1969 the track was reshaped and remeasured, making the half mile oval now .533 miles with a 40 foot wide racing surface. The straightaways offer banks of 6-10 degrees and the turns are banked at 24-30 degrees. This same year is when Larry Carrier sold the Speedway to Bruton Smith's Speedway Motorsports, Inc for 26 million dollars and the name officially changed from Bristol International Speedway to Bristol Motor Speedway. After years of renovations and additions, the fishbowl shaped motorsports facility now has a seating capacity of more than 160,000 fans.
Experience a race here and you'll understand why this is the most popular track in NASCAR.
Seating Chart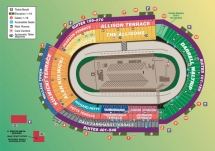 Click to Zoom
General Morgan Inn
Rediscover the Classic Pleasures of Travel We invite you to rediscover the classic pleasures of travel at Greeneville's Historic General Morgan Inn, the perfect place to spend the night – whether you're traveling for an intense business meeting with clients, or leisurely touring the lush foothills of Northeast Tennessee. Family-owned and operated for nearly a century, the General Morgan Inn is once again a privately-owned, independent hotel catering to the needs of the guest. Our 51 beautiful guest rooms and suite are located in the heart of Greeneville's Historic Business District.
Your private guest room is designed exclusively with your personal comfort in mind – Five Star pillows, Comfort Enhanced™ Jamison bedding, triple sheeting, and down duvets ensure a deep, relaxing sleep. In the morning, awaken your spirit with Wolfgang Puck coffee and Bath & Bodyworks personal amenities. A complimentary continental breakfast is served in the Library at Brumley's Restaurant, and for our leisure guests desiring a more relaxing breakfast, step into Chocolate Café for a freshly prepared, healthy breakfast and gourmet espresso creation or smoothie.
The General Morgan Inn is enriched in history including hosting General John Hunt Morgan of the confederacy army on September 3 and 4, 1864 before he was shot and killed by a young soldier names Andrew Campbell. The Lane House, as the General Morgan was once known during it's early years began as the DeWoody Pub. In 1886, it was rebuilt into the Grand Central Hotel in response to the new train depot in Greeneville. In the early 1990s, the Hotel became Hotel Brumley and finally in 1983, The General Morgan Inn was born. The hotel is dressed out in period attire and is very spacious and beautiful. It's definitely a "Jewel in the Rough".
*The General Morgan Inn is a non-smoking hotel. There will be an automatic $100 charge if rooms are smoked in.
Greeneville, TN is approximately 45 miles from Bristol Motor Speedway.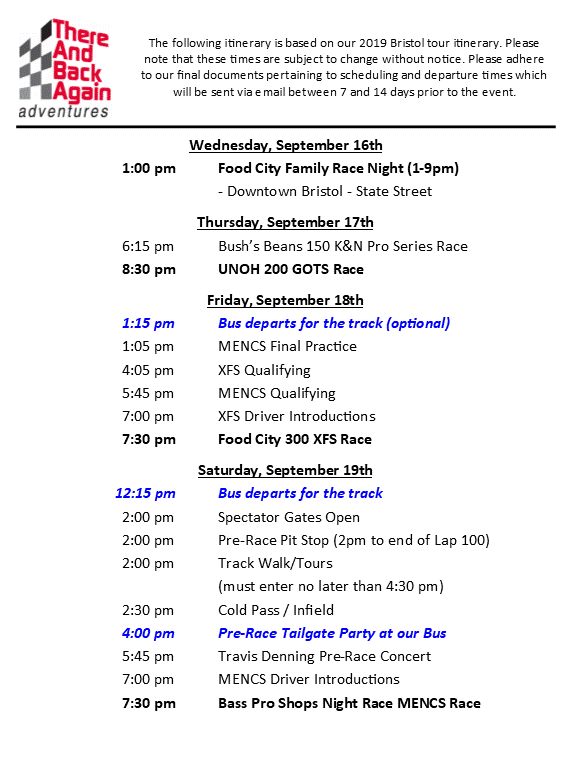 Bristol, Bass Pro Shops NRA Night Race, August 2019

Amy, Dean, Jody and I have an amazing time at Bristol. Everything ran smooth, on time and convenient. Looking forward to using you all again for another great new experience. It's Bristol Baby!

Rick Adair
Queen Creek, AZ
Their 1st trip with TABA

Bristol, Bass Pro Shops NRA Night Race, August 2019

We had tickets on turn 4, very satisfied. The whole trip was very well organized, the extra commodities were unexpected but greatly appreciated. Ex. Water,ear plugs, sunscreen, and continuous access to the air conditioned bus for short breaks to cool off. Josh was our tour representative, he was very friendly, knowledgeable, helpful, and seemed to enjoy what he was doing.

Gary and Liz Revels
Webster, FL
Their 1st trip with TABA

Bristol, Bass Pro Shops NRA Night Race, August 2019

5 OUT OF 5 STARS. VERY GOOD SERVICE.

Dennis Hall
Kingston, Ontario - Canada
Their 1st trip with TABA

Bristol, Bass Pro Shops NRA Night Race, August 2019

The close proximity of the hotel to the track made it very convenient and a breeze to and from the track each day. The hotel was clean and the staff was courteous and very helpful. It was amazing on how quickly / effortless it was to get to an from the track. I've been to several other NASCAR tracks and getting in / out has always been a nightmare. This weekend was none of that and I wish all the tracks would take notes and learn from BMS.

Jody Clark and Dean Monday
Maricopa, AZ
Their 1st trip with TABA

Bristol, Bass Pro Shops NRA Night Race, August 2019

The Bristol race was great! The TABA staff worked incredibly hard to make it a great experience for everyone! They also very pleasantly served us a very tasty barbecue!

Bob and Rena Powell
Delanson, NY
Their 4th trip with TABA
Bristol, Bass Pro Shops NRA Night Race, August 2019

As usual, TABA did a great job. Enjoyed Rex as our Tour guide. He gave us all the information that we needed and is very pleasant to be with. The tailgate party was a pleasure. Good food and plenty of chairs. TABA tour guides worked really hard on this. Kudos to them. This was our 9th race with TABA, we'll keep on booking next year. We already have Talladega booked for October this year.

Raymond & Annette Naylor
Bryan, TX
Their 9th trip with TABA

Bristol, Bass Pro Shops NRA Night Race, August 2019

This tour was worth every penny. To not have to worry about getting to the track, and leaving the track, such a load off our minds. To sit in an air conditioned bus during the heat of the day, kept us relaxed and ready for 500 laps at Bristol.

Joel and Jack Walser
Holt, Michigan
Their 1st trip with TABA

Bristol, Bass Pro Shops NRA Night Race, August 2019

My daughter said this race was on her bucket list so my boss at work said to use your service. Everything went as planed. My daughter and I had the best time of our lives. Looking forward to next years race. I want to thank Imogene and Josh (TABA tour reps) for there service it was outstanding I love it when a plan comes together.

Joseph Swindell
Westminster, MD
Their 1st trip with TABA

Bristol, Bass Pro Shops NRA Night Race, August 2019

We do not attend live sporting events regularly, so to have your packages to choose from was so helpful - this race has been on our "want to" list for a few years and finding your company made it extremely easy. We really appreciate the care Rex (TABA tour rep) and Tony (our driver) took care of everyone. The other representatives on the other buses were good too. The fact that we don't expect to go to another NASCAR race any time soon, does not negate the fact that we would heartily recommend you to anyone who wanted to see a race.

Karen and Pete Cote
Omaha, NE
Their 1st trip with TABA

Bristol, Bass Pro Shops NRA Night Race, August 2019

We have traveled with TABA a few times and have ALWAYS had a GREAT experience. The tour guides and bus drivers are always terrific. Our hotel stays have also been great. Chris and Josh (TABA tour reps) do an outstanding job on the tours we have been on with them. At Bristol with the tailgate party, all TABA team members were terrific. They make you feel like family.

Marjorie Vargo, Rose Marie Vargo, Deb Weaver
Quakertown, PA
Their 2nd trip with TABA