2021 Bristol Bass Pro Shops Night Race NASCAR Packages -General Morgan-Greeneville, TN - NASCAR Cup
Bristol Motor Speedway | September 16 - September 19
Package code NAS21-29GM
Our 2021 Bristol Motor Speedway Bass Pro Shops Night Race NASCAR race packages, travel packages and tours include excellent Bristol Bass Pro Shops Night Race tickets (the most coveted race ticket in NASCAR), first class hotel accommodations at the historic and charming General Morgan Inn in Greeneville, deluxe roundtrip bus transfers to Bristol Motor Speedway Saturday, a pre-race tailgate party Saturday, Knowledgeable and Experienced tour representatives, informative tour booklet, ticket holder/lanyard and more including optional Bristol Motor Speedway pre-race track tour and optional race scanners. This is the single most popular race on the circuit. Make your reservation now as this one sells out early!

Bass Pro ShopsTicket - Kulwicki or Waltrip Grandstands or Upgrade
One or More Nights-General Morgan Inn-Greeneville, TN (45 miles to track)
Free hotel Parking
Track Transfers via Deluxe Motorcoach Saturday
Closest Bus Parking at Bristol Motor Speedway
Pre-race Tailgate Party Saturday
Ticket Holder and Lanyard
Informative Tour Booklet
Knowledgeable TABA Tour Representatives on Site and on Buses to Assist
Covid-19 Protections - Masks and Hand Sanitizer
Race Day Essentials: Bottled Water, Earplugs, Sunscreen, and Koozies
All Taxes
Race tickets for the NASCAR Cup Series are in the Waltrip, Allison, and Kulwicki Grandstands, rows 7-48 depending on the grandstand. These grandstands are located on the front-stretch and in turns one, two & four. Great Xfinity Series tickets are located in the Kulwicki and Waltrip Grandstands in turns one and four. Our seats in the turns are in elevated grandstands where row 1 is equal to row 20 on front stretch. You can see the entire track and pit roads. They are not too low or too high. Perfect! Our seats in the Allison grandstand on the front stretch are in the upper rows insuring that you will have a view of the entire track. You will be able to see the entire track and the pits without any obstructions. We also have upgraded seats available for the Pearson and Earnhardt Terraces. These upgraded seats are stadium style folding chair seats.

Seating Chart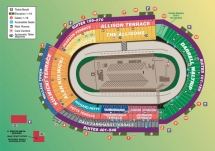 Click to Zoom
Bristol Motor Speedway
Unarguably the most exciting half-mile in motorsports, Bristol Motor Speedway is nestled in the hills of the Tennessee/Virginia border. Construction began on this world famous facility in 1960 by Carl Moore, Larry Carrier and RG Pope and was completed one year later with the first Cup Series race held July 1961. This gave the motorsports world a perfect .5 mile oval known as the "World's Fastest Half Mile".
In 1969 the track was reshaped and remeasured, making the half mile oval now .533 miles with a 40 foot wide racing surface. The straightaways offer banks of 6-10 degrees and the turns are banked at 24-30 degrees. This same year is when Larry Carrier sold the Speedway to Bruton Smith's Speedway Motorsports, Inc for 26 million dollars and the name officially changed from Bristol International Speedway to Bristol Motor Speedway. After years of renovations and additions, the fishbowl shaped motorsports facility now has a seating capacity of more than 160,000 fans.
Experience a race here and you'll understand why this is the most popular track in NASCAR.
Seating Chart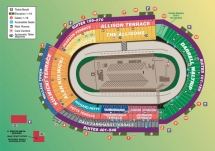 Click to Zoom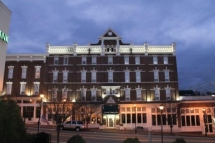 General Morgan Inn
One of our popular options for our Bristol Bass Pro Shops Night Race is the General Morgan Inn. The General Morgan Inn is a unique hotel located at a fascinating historical site, rich with American history. The building was first used as a hotel in 1920, and since then, with only a short period of respite, it has been housing guests in luxury quarters and providing a venue for numerous events in Greeneville. The hotel now captures an antique feel in the rooms while providing modern amenities and comfort. The gorgeous wood furniture and crisp linens in each room, truly sets the tone for a special visit. The General Morgan Inn is a great place to stay for your Bristol Bass Pro Shops Night Race travel package.
General Morgan Inn Hotel Details
Pertinent Hotel Information
Address:
111 North Main St. Greeneville, TN 37743
Hotel Check In:
3:00 pm
Hotel Check Out:
11:00 am
Smoking Policy:
Non-Smoking
Self Parking:
Complimentary on-site parking
Valet Parking:
Not Available
Pets:
Pets not allowed
Airport Shuttle:
Not available
Area Shuttle:
Not available
On-Site Restaurant:
Brumley's Restaurant and Lounge
Breakfast:
Breakfast is not included
Bar/Lounge:
Yes
Room Service:
N/A
Wifi:
High Speed WiFi
Pool:
N/A
Fitness Center:
N/A
Refrigerator in Room:
N/A
Microwave in Room:
N/A
In Room Coffee/Tea
N/A
Business Center:
N/A
Conceirge:
No
Car Rental:
No
Accessible Rooms
Accessible Rooms Available On Request
Suite Upgrades:
Not available
Balcony:
Not available
Room - Bedding Types:
King or 2 Queens
Sleeper Sofa Availability:
Not available
Cot Availability:
On request for King bed rooms, not in Rooms with 2 beds
Adjacent Rooms:
Can be requested but not guaranteed,
Maximum Guests per room
4 including children, exceptions may be available
Resort Fees:
None
Area Information
Closest Airport(s)
Greeneville Municipal Airport (3 miles)
Local Restaurants:
Applebee's Neighborhood Grill
Cancun Mexican Restaurant & Cantina
Zaxby's
Area Attractions:
Andrew Johnson National Historic Site
President Andrew Johnson Museum and Library
Places of Interest:
Bristol Motor Speedway (45 miles)
City Garage Car Museum
Our Packages Using The General Morgan Inn
Bass Pro Shops Night Race
Bristol Bass Pro Shops Night Race NASCAR Race Packages
Welcome to our Bristol Bass Pro Shops Night Race Package!
Thursday, September 16th
6:15 pm
K&N Pro Series 150 Race
8:00 pm
GROTS Driver Introductions
8:30 pm
GROTS UNOH 200 (Transportation not provided)

5:00 pm

Hospitality Desk - Meet your Tour Representative and pick up tickets

and documents if not shipped to you. Meet & Greet is optional.

Friday, September 17th

12:30 pm

Hospitality Desk - Meet your Tour Representative and pick up tickets

and documents if not shipped to you. Meet & Greet is optional.

1:15 pm

Bus departs for Bristol Motor Speedway (Weekend Ticket Packages only)

1:15 pm
NASCAR Cup Series FInal Practice
4:05 pm
Xfinity Series Qualifying
5:45 pm
NASCAR Cup Series Qualifying
7:00 pm
Xfinity Series Driver Introductions
7:30 pm
Foot CIty 300 XFS Race
Saturday, September 18th

12:15 pm

Bus departs for Bristol Motor Speedway (All Ticket Packages)

2:00 pm
Gates Open / Pre-race Pit Stop Access Begins
2:00 pm
Gates and Infield FanZone Open / Track Walk Tours Begin
2:30 pm
Cold Pass and Infield Access Opens
4:00 pm
Pre-race Tailgate Party at the Bus Parking Location (4:00-6:00pm)
5:45 pm
Pre-race Concert
7:00 pm
NASCAR Cup Series Driver Introductions
7:30 pm
Bass Pro Shops NASCAR Cup Series Race
Sunday, September 19th
11:00 am
Hotel check-out at the General Morgan
*Times above are subject to change without notice. Please verify your itinerary!
Bristol, Bass Pro Shops Night Race, September 2020

Thank you TABA for the Bristol race package. A lot of unknowns this year with electronic tickets and all delays with Bristol track information. Thank you again Dixon (TABA Rep) and Imogene (TABA Rep), your help was great.

David Hunt
Stamford, NY
Their 17th trip with TABA

Bristol, Bass Pro Shops Night Race, September 2020

The office staff was outstanding and helpful. Everyone connected to the tour was professional and helpful. This was my second tour with TABA and it did not disappoint. If you don't want to drive yourself, this is the way to go.

Cary Kendall
Tuscon, AZ
Their 2nd trip with TABA

Bristol, Bass Pro Shops Night Race, September 2020

Very thankful that the track allowed fans. As well as allowed fans into the Taproom Lounge. Considering all the last minute changes, TABA did an amazing job. From getting our tickets sent to us electronically to helping folks that weren't so tech savvy while on the way to the track.

Mike Chavez
Ontario, CA
Mike's 1st Trip with TABA

Bristol, Bass Pro Shops NRA Night Race, August 2019

Amy, Dean, Jody and I have an amazing time at Bristol. Everything ran smooth, on time and convenient. Looking forward to using you all again for another great new experience. It's Bristol Baby!

Rick Adair
Queen Creek, AZ
Their 1st trip with TABA

Bristol, Bass Pro Shops NRA Night Race, August 2019

We had tickets on turn 4, very satisfied. The whole trip was very well organized, the extra commodities were unexpected but greatly appreciated. Ex. Water,ear plugs, sunscreen, and continuous access to the air conditioned bus for short breaks to cool off. Josh was our tour representative, he was very friendly, knowledgeable, helpful, and seemed to enjoy what he was doing.

Gary and Liz Revels
Webster, FL
Their 1st trip with TABA
Bristol, Bass Pro Shops NRA Night Race, August 2019

5 OUT OF 5 STARS. VERY GOOD SERVICE.

Dennis Hall
Kingston, Ontario - Canada
Their 1st trip with TABA

Bristol, Bass Pro Shops NRA Night Race, August 2019

The close proximity of the hotel to the track made it very convenient and a breeze to and from the track each day. The hotel was clean and the staff was courteous and very helpful. It was amazing on how quickly / effortless it was to get to an from the track. I've been to several other NASCAR tracks and getting in / out has always been a nightmare. This weekend was none of that and I wish all the tracks would take notes and learn from BMS.

Jody Clark and Dean Monday
Maricopa, AZ
Their 1st trip with TABA

Bristol, Bass Pro Shops NRA Night Race, August 2019

The Bristol race was great! The TABA staff worked incredibly hard to make it a great experience for everyone! They also very pleasantly served us a very tasty barbecue!

Bob and Rena Powell
Delanson, NY
Their 4th trip with TABA

Bristol, Bass Pro Shops NRA Night Race, August 2019

As usual, TABA did a great job. Enjoyed Rex as our Tour guide. He gave us all the information that we needed and is very pleasant to be with. The tailgate party was a pleasure. Good food and plenty of chairs. TABA tour guides worked really hard on this. Kudos to them. This was our 9th race with TABA, we'll keep on booking next year. We already have Talladega booked for October this year.

Raymond & Annette Naylor
Bryan, TX
Their 9th trip with TABA

Bristol, Bass Pro Shops NRA Night Race, August 2019

This tour was worth every penny. To not have to worry about getting to the track, and leaving the track, such a load off our minds. To sit in an air conditioned bus during the heat of the day, kept us relaxed and ready for 500 laps at Bristol.

Joel and Jack Walser
Holt, Michigan
Their 1st trip with TABA