2022 Bristol Food City Dirt Race NASCAR Race Packages - Courtyard, Bristol, VA - NASCAR Cup
Bristol Dirt Race NASCAR Race Packages!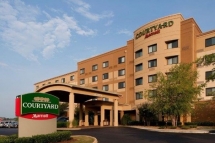 Bristol Motor Speedway | April 15 - April 18
Package code NAS22-09CY-B
Our Bristol Food City Dirt Race Travel Packages for the NASCAR Cup Series staying at the Courtyard Bristol offer a prime location with easy access to many of the area's most popular destinations, including Bristol Caverns, The Birthplace of Country Music, and Bristol Motor Speedway. This is the perfect location if you are planning to fly into Tri-Cities Airport (TRI) to attend one of our Food City Dirt Race travel packages. The hotel offers complimentary on-site parking and there are several restaurants nearby. Our Bristol Dirt Race Travel Packages include a professional Tour Representative, deluxe motorcoach transportation to Bristol Motor Speedway, and options to enhance your experience such as ticket upgrades, Pre-Race Pit Stop passes and scanner rentals.
Cup Ticket - Kulwicki or Waltrip Grandstands or Upgrade
Two or More Nights - Courtyard Marriott - Bristol, VA (10 miles to track)
Free hotel Parking
Track Transfers via Deluxe Motorcoach Sunday
Closest Bus Parking to Bristol Motor Speedway
Pre-race Tailgate Party Sunday
TABA Ticket Holder and Lanyard
Informative TABA Tour Booklet
TABA Tour Representatives on site and on buses to assist
Covid-19 Protections - Masks and Hand Sanitizer
Race Day Essentials: Bottled Water, Earplugs, Sunscreen, and Koozies
All Taxes
Excellent Bristol Dirt Race tickets located in either Waltrip or Kulwicki. You can also upgrade your tickets to the Pearson Grandstand, Allison Grandstand, Pearson Terrace, or the Earnhardt Terrace. You can see the entire track and the pits from these outstanding seats. If you've never been to Bristol before, this is one of the only tracks (only 1/2 mile) where sitting lower in the turns is better than sitting higher on the front stretch due to the tennis match effect where you have to turn your head in both directions to see all action if you are on front stretch near the start/finish line. If sitting in turns you can see all the action in your peripheral vision. Plus people stand on front stretch longer during cautions. Other grandstand seats such as the Terrace seats are available for an upgrade fees. Please note that upgraded tickets do not necessarily have a better view; however, most of the upgraded tickets are stadium seating style seats.

Seating Chart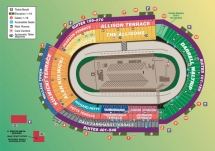 Click to Zoom
Bristol Motor Speedway
Unarguably the most exciting half-mile in motorsports, Bristol Motor Speedway is nestled in the hills of the Tennessee/Virginia border. Construction began on this world famous facility in 1960 by Carl Moore, Larry Carrier and RG Pope and was completed one year later with the first Cup Series race held July 1961. This gave the motorsports world a perfect .5 mile oval known as the "World's Fastest Half Mile".
In 1969 the track was reshaped and remeasured, making the half mile oval now .533 miles with a 40 foot wide racing surface. The straightaways offer banks of 6-10 degrees and the turns are banked at 24-30 degrees. This same year is when Larry Carrier sold the Speedway to Bruton Smith's Speedway Motorsports, Inc for 26 million dollars and the name officially changed from Bristol International Speedway to Bristol Motor Speedway. After years of renovations and additions, the fishbowl shaped motorsports facility now has a seating capacity of more than 160,000 fans.
Experience a race here and you'll understand why this is the most popular track in NASCAR.
Seating Chart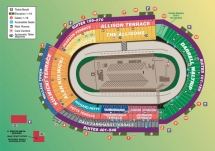 Click to Zoom
Courtyard by Marriott- Bristol, VA
Hit the high notes of the Crooked Road (Virginia's Heritage Music Trail) in Bristol, VA, a Blue Ridge Highlands hideaway crowned "The Birthplace of Country Music" and high-speed home to the Bristol Motor Speedway & Dragway. Music and racing buffs alike find plenty to cheer for in Bristol, a town that straddles both interests and the TN state line! Here, amidst the boot-scootin' and engine-revvin', sits the Courtyard Bristol, proud home to country music culture, Southern hospitality, and spacious rooms & suites well-equipped with comfortable beds, free WiFi, and mobile workspaces with ergonomic seating. Between your country-music pilgrimage and revving your engines at the racetrack, stoke your own adrenaline in our fitness center and heated indoor pool, then fuel up with healthy meals and evening cocktails at The Bistro, our onsite restaurant. It's always a wild ride at our hotel near the Bristol Motor Speedway, the pitch-perfect choice for Bristol travels - but only on days that end in "Y"!
Courtyard by Marriott Bristol Hotel Details
Pertinent Hotel Information
Address:
3169 Linden Drive, Bristol, VA 24202
Hotel Check In:
3:00 pm
Hotel Check Out:
12:00 pm
Smoking Policy:
Non-Smoking
Self Parking:
Complimentary on-site parking
Valet Parking:
Not Available
Pets:
Pets not allowed
Airport Shuttle:
Not available
Area Shuttle:
Not available
On-Site Restaurant:
The Bistro
Breakfast:
Not included
Bar/Lounge:
The Bistro
Room Service:
Yes
Wifi:
Wireless, Enhanced High Speed: $4.95/day
Pool:
Indoor Heated Pool
Fitness Center:
Yes
Refrigerator in Room:
Mini Fridge
Microwave in Room:
No
In Room Coffee/Tea
Yes
Business Center:
Yes
Conceirge:
No
Car Rental:
No
Accessible Rooms
Accessible Rooms Available On Request
Suite Upgrades:
Not available
Balcony:
Not available
Room - Bedding Types:
King or 2 Queens
Sleeper Sofa Availability:
Not available
Cot Availability:
On request for King bed rooms, not in Rooms with 2 beds
Adjacent Rooms:
Can be requested but not guaranteed,
Maximum Guests per room
4 including children, exceptions may be available
Resort Fees:
None
Area Information
Closest Airport(s)
TRI - Tri-Cities Airport (23 miles)
Local Restaurants:
Red Lobster
Cracker Barrel
O'Charley's Restaurant & Bar
Logan's Roadhouse
Area Attractions:
Edith Bolling Wilson Birth Place Museum
Bristol Caverns
Places of Interest:
Bristol Motor Speedway (10 miles)
The Birthplace of Country Music
Historical Abingdon Virginia
Our Packages Using The Courtyard Bristol
Food City 500
Bristol Food City Dirt Race NASCAR Race Packages
Bass Pro Shops Night Race
Bristol Bass Pro Shops Night Race NASCAR Race Packages
Welcome to our Bristol Dirt Race Package!
SCHEDULE TO BE DETERMINED
Friday, April 15

5:00 pm

Hospitality Desk - Meet your Tour Representative and pick up tickets

and documents if not shipped to you. Meet & Greet is optional.

Saturday, April 16

2:30 pm

Bus departs for the Bristol Motor Speedway (Weekend Ticket Packages only)

2:30 pm
Spectator Gates Open
4:30 am
NASCAR Xfinity Series Qualifying Heat Races 1 - 4 (15 laps each)
6:00 pm
NASCAR Cup Series Qualifying Heat Races 1 - 4 (15 laps each)
7:40 pm
Camping World Truck Series Driver Introductions
8:00 pm
Camping World Truck Series Race on Dirt

6:00 pm

Hospitality Desk - Meet your Tour Representative and pick up tickets

and documents if not shipped to you. Meet & Greet is optional.

Sunday, April 17
7:00 am
Breakfast is served in the hotel breakfast area, until 10 am

12:45 pm

Bus departs for Bristol Motor Speedway (All Ticket Packages)

2:00 pm
Fan Gates and Infield Open
4:00 pm
Pre-Race Tailgate Party - Located at the Bus Parking
7:00 pm
NASCAR Food City Dirt Race
Monday, April 18
11:00 am
Hotel check-out at the Courtyard Marriott
*Times above are subject to change without notice. Please verify your itinerary!
Bristol, Food City Dirt Race, March 2021

My TABA trip to Bristol Dirt Race Weekend was a strange adventure due to the weather. Race day though on a Monday I got great seats as always but even better since the track let fans go to both Truck and Cup races which was awesome. It was a memory that I'll cherish forever that even though I had to pay extra for everything I needed an extra night, I got to witness Cup cars on a Dirt track. My hotel had excellent staff. Dixon (TABA tour rep) was good at getting helpful amenities for NASCAR race to me at the hotel I stayed at and was awesome in helping fans know more about the event they're going to. I really appreciate seeing Dixon and getting his help and input because not too often I see him at the NASCAR races. Thanks again TABA for another memorable trip that I'll absolutely never forget.

Ben Carson
Rochester, Wisconsin
Ben's 18th Trip with TABA

Bristol, Food City 500, April 2019

We had a great time! Stay, bus, tickets and time lines were perfect. Chris (TABA tour rep) was exceptional and great to travel with.

Pat McGoff
Metcalfe, Ontario
Pat's 3rd trip with TABA

Bristol, Food City 500, April 2019

Christopher (TABA tour rep) was great - wonderful job and a great experience all around. Thank you.

Jane and Mike Meier
Bowmansville, NY
Their 1st trip with TABA

Bristol, Food City 500, April 2019

Another outstanding weekend of racing with TABA at our favorite short track. Outstanding weather, tickets & hotel. Already looking forward to our next trip with TABA.

Ed & Teri Seiter
West Chester, PA
Their 41st trip with TABA

Bristol, Food City 500, April 2019

Awsome experience. Thank You!

William Peterson & Rose Hudson
Falmouth, MI
Their 1st trip with TABA
Bristol, Food City 500, April 2018

Great going to a hotel that was not a chain hotel (General Morgan Inn-Greeneville, TN) Restaurant was delicious. Great trip as always! Always a pleasure to go to events with you guys. All the reps are fantastic.

Gary and Valerie Waers
Canal Winchester, OH
Their 22nd trip with TABA

Bristol, Food City 500, April 2018

Seats were good and the tailgate food was excellent despite the torrential rainfall we had. My Compliments!

Tim and Gaile Tucker
Wasaga Beach, ON - Canada
Their 2nd trip with TABA

Bristol, Food City 500, April 2018

Highly Satisfied! Will tour again with TABA. Josh was a very good tour rep.

Calvin Draney & Alison Dixon
Chestermere, AB Canada
Their 1st trip with TABA

Bristol, Food City 500, April 2018

It was great to be able to pick up and drop off race scanners at the bus. We stayed at the General Morgan, which was a wonderful hotel. Even with the rain, we had a great time. Rex (TABA tour rep) was outstanding.

Sherry and Ken Scott
Blue Eye, MO
Their 1st trip with TABA

Bristol, Food City 500, April 2018

Highly Satisfied! James the bus driver was great. Good driver and personable. Josh, the tour guide was informative, helpful and an asset.

Lori and Mica Staples
West End, NC
Their 1st trip with TABA