2019 Charlotte Bank of America Roval 400 Garage Tour and Hospitality
VIP Garage Tour Package!
Preferred Travel Provider of Charlotte Motor Speedway!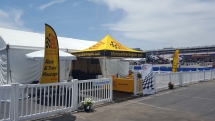 Charlotte Motor Speedway | September 27 - September 30
Package code NAS19-31HSPG
Our 2019 Charlotte Bank of America Roval 400 NASCAR Pre-Race Garage Tour Hospitality race package includes a guided garage tour and a pit pass on Monster Energy Cup race day and a hospitality tent with food and beverages, knowledgeable tour representatives, informative tour booklet and so much more. A Garage Tour is rare and we have it for you! Get up close and personal with the drivers, the machines and the intricacies of the NASCAR Garage.
Garage Tour on Sunday Prior to the Bank of America Roval 400
Pit Pass for Sunday Prior to the Bank of America Roval 400
Hospitality Tent Sunday Prior to the Bank of America Roval 400
Food & Beverages in Hospitality Tent Prior to the Bank of America Roval 400
TABA Ticket Holder and Lanyard
Informative Tour Booklet
TABA Tour Representatives
Race Day Essentials: Bottled Water, Earplugs, Sunscreen, and Koozies
All Taxes
*Hotel Accommodations and race tickets are not included with this package
*Select # of rooms below to reserve (rooms = clients for this package)
Does not include race tickets. Only garage tour and hospitality access.
Seating Chart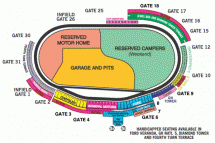 Click to Zoom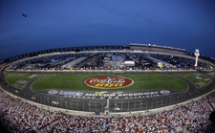 Charlotte Motor Speedway
NASCAR's self-proclaimed hometown of Charlotte is home to Charlotte Motor Speedway, built in 1959 by the current owner Bruton Smith and Speedway Motorsports, Inc. This area is known as the "Mecca of Motorsports". Charlotte Motor Speedway is a 1.5 mile oval situated on land that was once a working plantation during the Civil War era. The Speedway boasts 24 degrees of banking in the turns and 5 degrees of banking on the straightaways and has a seating capacity of 165,000 race fans. Constant additions and improvements have occurred since the eighties, including grandstand additions, VIP suites, a seven story office tower which houses the world famous Speedway Club and one of the largest souvenir shops in the country. One of the biggest projects, however, was the installation of the $1.7 million, 1,200 fixture permanent lighting system developed by MUSCO Lighting of Oskaloosa, Iowa. The revolutionary lighting process uses mirrors to simulate daylight without glare, shadows or obtrusive light poles. The lighting system was installed in 1992, allowing Charlotte Motor Speedway to be the first modern superspeedway to host night auto racing

.
Seating Chart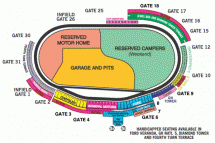 Click to Zoom
Charlotte, Bank of America Roval 400, September 2018

The hotel was wonderful!!! The breakfast every morning was not the standard continental breakfast. It was great!! The rooms were very nice and the Crown Plaza restaurant/bar was very nice also!!! Charlotte was the first race my son and I have ever been to and it was a great memorable experience. Everything was so well planned and very professional. The hotel, seats, track passes, booklet, and bus were all wonderful!!! We had the best time and will definitely be using There and Back Again for our next race trip!!! Jay our TABA tour guide was a great guy and was very knowledgeable about everything!!! Hope to see you soon There and Back Again!!!

Melanie Tweedlie and JT Schlick
Wheeling, WV
Their 1st trip with TABA

Charlotte, Bank of America Roval 400, September 2018

Very enjoyable experience which eliminates the hassle of personally organizing every aspect of a trip!

Steve Knaggs
Bakersfield,CA
Their 2nd trip with TABA

Charlotte, Bank of America Roval 400, September 2018

We were very satisfied with all aspects of our Tour and will definitely travel with TABA again. Our tour representatives were so good and we had full trust in them.

Kenneth and Karen Hudson
Prince George, BC Canada
Their 1st trip with TABA

Charlotte, Bank of America Roval 400, September 2018

Glad we upgraded our seats. Gave us a much better view of the Roval. The hotel is in a great location! Could walk to hall of fame and all the great restaurants at Epicenter. Great breakfast! Rex and Jay (TABA tour reps) were great as usual. Bus ride and parking and schedule all great and efficient. TABA was great as usual! You did not disappoint! Looking forward to our next race!

Pam and Steve Lubbers
Dayton, OH
Their 14th trip with TABA

Charlotte, Bank of America Roval 400, September 2018

GREAT JOB by every one at There and Back Again, Exciting race lots of action and what a Finish. Will be back. THANKS

Barry & Suz Patton
Malvern, Pa.
Their 12th trip with TABA
Charlotte, Bank of America Roval 400, September 2018

As usual a good job was done by all.

Hal & Barb Gay
Falls Church, VA
Their 123nd

Charlotte, Bank of America Roval 400, September 2018

What can I say we had JAY (TABA tour rep), he was very good, friendly, easy going, knowledgeable & had suggestions. Good seats, good service equally a GOOD TIME. You make it easy & fun to go to the races.

Jeff & Kathy Mielke
EASTON, MD
Their 2nd trip with TABA

Charlotte, Bank of America Roval 400, September 2018

I recommend every year doing Darrell Waltrip Racing for the Race Shops because that place makes the shop tour so worth it with the workers who work there. My TABA trip in Charlotte was a great experience. I got great tickets as always from TABA in different places on Saturday and Sunday and loved both views from the frontstretch. My hotel had excellent staff and a paid breakfast for me.
Tour Representative Jay was excellent in explaining details for the day at the track and the race shop tour on Friday before race weekend. Jay also was entertaining anytime you were on the bus with him, he gave a great show with the fans. I've had many different TABA Tour Representatives and no matter who it is or what race I go to, all of them do a great job ever since I started ordering TABA tickets.
Thank you TABA Staff for everything you let us as race fans get to experience.

Ben Carson
Rochester, Wisconsin
Ben's 6th trip with TABA

Charlotte, Bank of America Roval 400, September 2018

It was great to have breakfast included everyday and Hilton Garden Inn is right downtown so lots of other restaurants nearby plus the Hall of Fame. Loved being able to leave the city driving to someone else.Thanks for a very enjoyable weekend! Everyone we talked to who had used you before spoke very highly of TABA, too. No criticisms.

Dean and Lei Lund
Wausaukee, Wisconsin
Their 1st trip with TABA

Charlotte, Bank of America Roval 400, September 2018

Once again -Your tours offer great Value for your money.

Bob and Norma Hamilton
Battle Creek, Michigan
Their 83rd trip with TABA