2020 Darlington NASCAR Race Package Tours Travel -Bojangles Southern 500 - La Quinta - Cup Ticket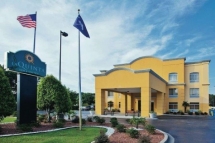 Darlington Raceway | September 4 - September 7
Package code NAS20-28LQ
Our 2020 Darlington NASCAR race package includes Bojangles Southern 500 Cup Series race tickets in the Brasington Tower or upgrade, hotel accommodations at the La Quinta Inn - Florence, SC (8 miles away), deluxe motorcoach transfers from our hotel to the Darlington Raceway for the NASCAR Cup race, a delicious tailgate party prior to the NASCAR Cup Race, knowledgeable tour representative, informative tour booklet and a weekend jam-packed with the toughest racing on the NASCAR circuit.
NASCAR Cup Series Race Tickets-Brasington Tower, or upgrade
Two or More Nights - La Quinta Inn & Suites - Florence, SC (8 miles from track)
Track Transfers via Deluxe Motorcoach on Sunday
Sunday Pre-Race Tailgate Party
Complimentary Hotel Breakfast
Free Hotel Parking
Professional Tour Representative
Informative Tour Booklet
Ticket Holder and Lanyard
Race Day Essentials: Bottled Water, Earplugs, Sunscreen, and Koozies
All Taxes
Race tickets for the NASCAR Cup Series race are available in the Tyler Tower, Pearson Tower and the Brasington Tower.
The Tyler Tower is located above the Wallace grandstand so while the rows may seem low, you are actually above another grandstand. You have an excellent view of the pits from these seats. Good view of track, but due to the angle the Tyler Tower was built at, you will only see the tops of the cars as they come down the front stretch; however, the view of the rest of the track is very good.
The Pearson Tower in Turn 4 is an elevated grandstand, so even the lowest rows have excellent views. The entire track can be seen from these seats and you are across from the entrance of pit road so you have a great view of the latter half of pit road. Clients generally prefer these over the Tyler Tower.
The Brasington Tower is an elevated grandstand in Turn 1 and the newest Tower at the track, constructed in 2005. This Tower is also closest to the motorcoach parking area. The entire track can be seen from these seats and there is an excellent view of the cars as they race off Pit Road and race into Turn 1. These are preferred over Tyler Tower.

Seating Chart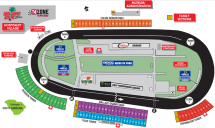 Click to Zoom

Darlington Raceway
In 1949 a man by the name of Harold Brasington began the realization of creating his dream by starting construction of Darlington Raceway in what was then a peanut and cotton procucing field. This superspeedway plan, originally designed as a perfect oval, soon underwent a design change to satisfy the landowner's (Sherman Ramsey) wish for his nearby minnow pond not be disturbed. Because of this change of narrowing the West end of the track, Darlington Raceway gained its very distinctive egg-shaped design known by all race fans alike.
Labor Day weekend 1950 played host to the very first race at Darlington Raceway, the Southern 500, and the stands designed for 10,000 fans overflowed with more than 25,000 fans. During this six hour race, tire wear became a huge issue spurring Darlington's nickname, the track "too tough to tame." Since the mid 1990's Darlington Raceway has underwent renovations and additions as well as a 10 million dollar track repaving effort.
2015 marked the return of the Southern 500 to Labor Day weekend, and Darlington officially became titled the "Official Throwback Weekend of NASCAR." Race teams ran old school vintage paint schemes in honor of the history of the track and the sport. This celebration will return again this year to the delight of many race fans.
Seating Chart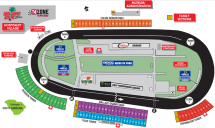 Click to Zoom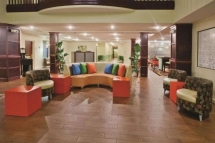 La Quinta Inn & Suites by Wyndham Florence
We use the La Quinta Inn and Suites for our Darlington Southern 500 Packages. The LA Quinta offers easy access to downtown Florence, golf courses, Magnolia Mall, and museums such as the Darlington Raceway Museum. During your stay, enjoy thoughtful amenities such as free WiFi, complimentary breakfast, an outdoor pool, gym, and business center. Wake up with a free Bright Side Breakfast® of waffles, fresh fruit, and more to get energized for your day. They offer an outdoor pool so you can relax with a swim and a fitness center for daily workouts, in addition to free WiFi and an on-site business center.The La Quinta Inn and Suites is approximately 8 miles from Darlington Raceway. Enjoy your Darlington Southern 500 race packages while staying at the La Quinta Inn and Suites.
La Quinta Inn and Suites Hotel Details
Pertinent Hotel Information
Address:
2123 West Lucas Street Florence, South Carolina 29501
Hotel Check In:
3:00 pm
Hotel Check Out:
12:00 noon
Smoking Policy:
Non-Smoking
Self Parking:
Complimentary on-site parking
Valet Parking:
No
Pets:
Service animals welcome
Airport Shuttle:
Not available
Area Shuttle:
On-Site Restaurant:
N/A
Breakfast:
Complimentary hotel breakfast
Bar/Lounge:
N/A
Room Service:
N/A
Wifi:
Free WiFi
Pool:
Outdoor Pool
Fitness Center:
Yes
Refrigerator in Room:
Mini Fridge
Microwave in Room:
No
In Room Coffee/Tea
No
Business Center:
Yes
Conceirge:
No
Car Rental:
No
Accessible Rooms
Accessible Rooms Available On Request
Suite Upgrades:
Not available
Balcony:
Not available
Room - Bedding Types:
King or 2 Queens
Sleeper Sofa Availability:
Not available
Cot Availability:
On request for King bedded rooms, not in Rooms with 2 beds
Adjacent Rooms:
Can be requested but not guaranteed,
Maximum Guests per room
4 including children, exceptions may be available
Resort Fees:
None
Area Information
Closest Airport(s)
Florence Regional Airport (6 miles)
Local Restaurants:
Zaxby's Chicken Fingers & Buffalo Wings
Cracker Barrel Old Country Store
Bojangles' Famous Chicken & Biscuits
Raceway Grill
Area Attractions:
Broadway at the Beach
Ripley's Aquarium
Places of Interest:
Darlington Raceway (87 miles)
Darlington Raceway Stock Car Museum (87 miles)
Our Packages Using The Hampton Inn Broadway at the Beach
Darlington Southern 500
Darlington Southern 500 NASCAR Race Packages
Welcome to our Darlington Southern 500 Race Package!
Friday, September 4th
1:05 pm
XFS Practice
2:05 pm
NCS Practice
3:05 pm
XFS Final Practice
4:05 pm
NCS Final Practice
Saturday, September 5th
7:00 am
Breakfast is served in the hotel breakfast area, until 10 am

12:30 pm

Bus departs for the Darlington Raceway (Weekend Ticket Packages only)

12:35 pm
Xfinity Series Qualifying
2:35 pm
NCS Qualifying
3:30 pm
Xfinity Series Driver Introductions
4:00 pm
XFS Series 200 Race
Sunday, September 6th
7:00 am
Breakfast is served in the hotel breakfast area, until 10 am

1:00 pm

Bus departs for Darlington Raceway (All Ticket Packages)

1:00 pm
Fan Gates Open
2:30 pm
Tailgate Party Begins (2:30pm - 5:00pm)
4:25 pm
Pre-race Concert
5:20 pm
NASCAR Cup Series Driver Introductions
6:00 pm
Bojanles Southern 500 NASCAR Cup Series Race
Monday, September 7th
7:00 am
Breakfast is served in the hotel breakfast area, until 10 am
11:00 am
Hotel check-out at the La Quinta Hotel
*Times above are subject to change without notice. Please verify your itinerary!
Darlington, Bojangles Southern 500, September 2019

My TABA trip to Darlington was a great adventure. I got great tickets as always from TABA in Turn 1 and never sat there until this race and loved it. My hotel had excellent staff and great breakfast staff. Josh (TABA tour rep) was awesome in entertaining fans and setting up food very well at the tailgate tour. It was my first time with Josh as a Tour Representative and he did a great job keeping us fans inline with the trip especially since it was a late race that thankfully didn't have to come back Monday afternoon. Thanks again TABA for all the opportunities you give us race fans at the race track.


Ben Carson
Rochester, Wisconsin
Ben's 7th trip with TABA

Darlington, Bojangles Southern 500, September 2019

Everything was on time. Chris (TABA tour rep) was exceptional meeting our needs due to rain delay. Chris does an outstanding job of providing information and entertainment.

Alan and Nancy Andreae
Ely, MN
Their 4th trip with TABA

Darlington, Bojangles Southern 500, September 2019

The food at the tailgate was outstanding! Very pleased with this tour. We plan to attend another race next year!

Steve & Kay Siebenaler
Kearney, NE
Their 1st trip with TABA

Darlington, Bojangles Southern 500, September 2019

Although it rained Sunday, it was a great time and the food at the tailgate party was some of the best I've ever eaten. Great hotel at Broadway at the beach. Many things around to see and do. Stayed for 6 nights and never ate at the same place twice. Josh (TABA tour rep) was excellent as always. I also enjoy the ride to the racetrack. Seeing different parts of the country. Great trip for the 6th year in a row. Wouldn't consider booking a trip with anyone else!

Brad Rideout, Ashley Simmons and Donna Evans
Paradise NL Canada
Their 6th trip with TABA

Darlington, Bojangles Southern 500, September 2019

Everything was great. Chris (TABA tour rep) is always so much fun to joke with. He does a great job. Was a great trip, even though it rained, twice, was a long night, but we still had a great time.

Mike & Teresa Dolinar
Soudan, MN
Their 12th trip with TABA
Darlington, Bojangles Southern 500, September 2019

Our bus driver was very nice and had the bus available during the rain delay. Chris (TABA tour rep) was also very helpful when we had any questions. We also appreciated the items provided during race day, the rain coats, sun screen, cozies and sun glasses were all used! The tailgate party food was awesome and we did not need to eat at the track.

Kay and Paul Lucas
Clinton, Ohio
Their 1st trip with TABA

Darlington, Bojangles Southern 500, September 2019

The Cup Series tickets were excellent. The food that was served pre-race tailgate was excellent. We have traveled with Josh (TABA tour rep) before and he is always a pleasure to have as a tour representative. I would highly recommend booking through There and Back Again. They make everything so easy from obtaining tickets you want to lodging to transportation to the track and back.

Kim and Ellen Sides
Auburn, AL
Their 4th trip with TABA

Darlington, Bojangles Southern 500, September 2019

Excellent food and company. Being able to stay on the bus during the rain delay was outstanding

Mike & Sherrel Sheriff
Norman, OK
Their 1st trip with TABA

Darlington, Bojangles Southern 500, September 2019

Every thing was great, well organized and stress free! My scanner died and Josh (TABA tour rep) came to me with a new one, can't ask for better service than that!

Lori Bloom, George and Judy Pazlicek
Taylor, ND
Their 1st trip with TABA

Darlington, Bojangles Southern 500, September 2019

Hotel (Hampton Inn) location was in a great location for easy access to food and drink without having to drive anywhere. Bus seemed to be almost new. Our driver Billy did a great job getting us where we were supposed to be and back safely. He and our tour guide Josh worked well together. Our TABA rep was Josh Clark and he did a great job! Once on the bus, he kept everyone informed of what to expect each day (we had good weather for the Xfinity race and rain on Cup day), including how to get hold of him if we had any issues during the day. I would be happy to tour with him again.

Bob Poole
College Station, TX
Robert's 1st trip with TABA