2022 Darlington NASCAR Race Packages Travel - Southern 500 - Homewood - Myrtle - Weekend Tickets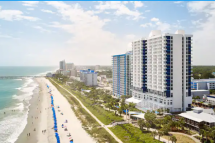 Darlington Raceway | September 2 - September 5
Package code NAS22-28HWW
Our Darlington NASCAR Travel Packages for the Southern 500 Cup and Xfinity Series staying at the Homewood Suites Myrtle Beach Oceanfront offer a great location close to many of the Myrtle Beach's most popular destinations. The Homewood Suites has spacious, elegantly appointed guest rooms and an impressive range of luxury resort amenities to help you optimize your time in Myrtle Beach. Our Darlington NASCAR Travel Packages also great Darlington race tickets for the Cup and Xfinity, include a Professional Tour Representative, deluxe motorcoach transportation to Darlington Raceway Saturday and Sunday, Pre-Cup Tailgate party and options to enhance your experience such as pit passes and scanner rentals. Join us on this Darlington NASCAR Package and experience the Southern 500 hassle-free.
NASCAR Cup Series Race Tickets-Brasington Tower, or upgrade
Xfinity Series Race Ticket in the Tyler Tower
Three or More Nights - Homewood Suites Myrtle Beach Oceanfront
Track Transfers via Deluxe Motorcoach Saturday and Sunday
Pre-Race Tailgate Party Sunday
Complimentary Breakfast
TABA Ticket Holder and Lanyard
Informative Tour Booklet
Professional TABA Tour Representative
Covid-19 Protections - Masks and Hand Sanitizer
Race Day Essentials: Bottled Water, Earplugs, Sunscreen, and Koozies
All Taxes
Race tickets for the NASCAR Cup and Xfinity Series races are available in the Brasington Tower or upgrade to the Tyler or Pearson Tower (Brasington Tower is not open for Xfinity Series Race).
The Tyler Tower is located above the Wallace grandstand so while the rows may seem low, you are actually above another grandstand. You have an excellent view of the pits from these seats. You are directly across from the pits and have a great view of the entire track. Darlington Raceway did some recent enhancements to the Tyler Tower to create a better view and experience for the race fans.
The Pearson Tower in Turn 4 is an elevated grandstand, so even the lowest rows have excellent views. The entire track can be seen from these seats and you are across from the entrance of pit road so you have a great view of the latter half of pit road. There is a great view of cars coming through turn 4 and the entrance of pit road and entire track.
The Brasington Tower is an elevated grandstand in Turn 1 and the newest Tower at the track, constructed in 2005. This Tower is also closest to the motorcoach parking area. The entire track can be seen from these seats and there is an excellent view of the cars as they race off Pit Road and race into Turn 1.
Seating Chart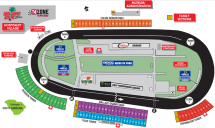 Click to Zoom

Darlington Raceway
In 1949 a man by the name of Harold Brasington began the realization of creating his dream by starting construction of Darlington Raceway in what was then a peanut and cotton procucing field. This superspeedway plan, originally designed as a perfect oval, soon underwent a design change to satisfy the landowner's (Sherman Ramsey) wish for his nearby minnow pond not be disturbed. Because of this change of narrowing the West end of the track, Darlington Raceway gained its very distinctive egg-shaped design known by all race fans alike.
Labor Day weekend 1950 played host to the very first race at Darlington Raceway, the Southern 500, and the stands designed for 10,000 fans overflowed with more than 25,000 fans. During this six hour race, tire wear became a huge issue spurring Darlington's nickname, the track "too tough to tame." Since the mid 1990's Darlington Raceway has underwent renovations and additions as well as a 10 million dollar track repaving effort.
2015 marked the return of the Southern 500 to Labor Day weekend, and Darlington officially became titled the "Official Throwback Weekend of NASCAR." Race teams ran old school vintage paint schemes in honor of the history of the track and the sport. This celebration will return again this year to the delight of many race fans.
Seating Chart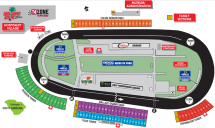 Click to Zoom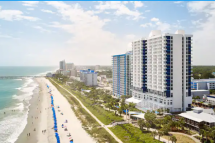 Homewood Suites by Hilton Myrtle Beach Oceanfront
Homewood Suites by Hilton Myrtle Beach Oceanfront
520 N. Ocean Blvd
Myrtle Beach, SC 29577
Adjacent to the boardwalk, we offer ocean and city views plus a water park with slides, lazy river, and a splash pad. Restaurants and entertainment, including the Skywheel, are within walking distance. Golf courses, Broadway at the Beach, and Myrtle Beach International Airport are three miles from our door. Enjoy dining alfresco on our restaurant terrace.
Welcome to our Darlington Southern 500 Race Package!
Friday, September 2nd
1:05 pm
XFS Practice
2:05 pm
NCS Practice
3:05 pm
XFS Final Practice
4:05 pm
NCS Final Practice

6:30 pm

Hospitality Desk - Meet your Tour Representative and pick up tickets

and documents if not shipped to you. Meet & Greet is optional.

Saturday, September 3rd
7:00 am
Breakfast is served in the hotel breakfast area, until 10 am

10:00 am

Bus departs for the Darlington Raceway (Weekend Ticket Packages only)

11:00 am
Gates Open
12:35 pm
Xfinity Series Qualifying
2:35 pm
NCS Qualifying
2:30 pm
Xfinity Series Driver Introductions
3:00 pm
Xfinity Series Race
Sunday, September 4th
7:00 am
Breakfast is served in the hotel breakfast area, until 10 am

11:00 am

Bus departs for Darlington Raceway

1:00 pm
Gates Open
2:00 pm
Tailgate Party Begins at Bus Parking (2:00pm - 3:30pm)
4:25 pm
Pre-race Concert
5:30 pm
NASCAR Cup Series Driver Introductions
6:00 pm
Southern 500 NASCAR Cup Series Race
Monday, September 5th
7:00 am
Breakfast is served in the hotel breakfast area, until 10 am
11:00 am
Hotel check-out at the Marriott Hotel
*Times above are subject to change without notice. Please verify your itinerary!