2019 Daytona 500 NASCAR Race Packages- Doubletree Hotel - St. Augustine - Monster Cup Ticket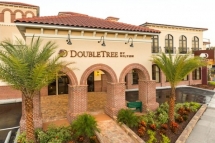 Daytona International Speedway | February 13 - February 18
Package code NAS19-01DT
Sold Out
Our 2019 NASCAR Daytona 500 Monster Cup race and travel packages at St. Augustine include excellent Daytona 500 race tickets in Section 392 or Upgrade (see selections below), hotel accommodations at the First Class Doubletree Hotel in Historic St. Augustine, deluxe track transportation Sunday via chartered motorcoach, services of Knowledgeable and Professional TABA tour representatives at the hotel and on the buses, Informative tour booklet so you know exactly what to expect, TABA ticket holders and lanyards, Daytona 500 Welcome gift bag, and much more such as FanZone passes and Scanner Rentals. We also have 2-day weekend Daytona 500 race packages available with our Weekend Ticket Packages. The 2019 NASCAR racing season begins at Daytona International Speedway with the running of the 61st Anniversary "Great American Race", the Daytona 500.

Daytona 500 Race Ticket in Sections 392 or Upgrade, Select below
Two or Three Nights at the Doubletree Hotel - Historic St. Augustine Beach
Roundtrip Deluxe Bus Transfers to the Daytona 500 Sunday
Knowledgeable and Professional TABA Tour Representatives
Informative TABA Tour Booklet
TABA Ticket Holder and Lanyard
Daytona 500 Welcome Gift
Race Day Essentials: Bottled Water, Earplugs, Sunscreen, and Koozies
All Taxes
Optional Scanner Rental with TABA's Exclusive FastTrack Service. For 10 years, we've delivered your scanners and picked them up. No lines, no credit cards, no hassles
We have Excellent tickets for the Daytona 500. Our Monster Energy Cup only tickets that come with our packages are located in Sections 392 (Turn One Mid). These are located in the Mid Level toward Turn One but you will have a good view of the entire track and you can see down Pit Road from these turn one seats. Sections 392 is the closest to our bus parking lot. You can also upgrade to the following Sections: Section 491 (Turn One Upper) ; Section 380 (Turn One Mid). These Sections are to the Turn One side of start/finish and close to bus parking. There are 40 rows in the Lower Level (you can see the entire track in the Upper rows of the Lower Level), 30 rows in the Mid Level and 40 rows in the Upper Level. You have a unobstructed view of the Daytona International Speedway and of pit road from any of the seats that we offer. All of our seats are folding chair stadium seats. We also have other Upgradeable Tickets for 2-day and 4-day Race Ticket Packages.
Seating Chart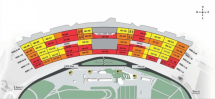 Click to Zoom
Daytona International Speedway
Originally a course that went 1.5 miles down the highway, turned and then came back the same distance on the beach, the evolution of the "World Center of Racing" began with the opening of what is now Daytona International Speedway. Opened in 1959, this 2.5 mile tri-oval superspeedway is home to the "Great American Race"- the Daytona 500, the biggest, richest and most prestigous race in America. With the capacity to seat more than 168,000 fans, Daytona International Speedway offers banking of 3 degrees on the straightaways and 31 degrees in the turns- the most possible before the paving machines actually tipped over.
Drafting was birthed at this track when Junior Johnson discovered he could run faster by tucking his car in close behind another rather than running alone. DIS's Daytona 500, NASCAR's biggest event has hosted many of the sport's greatest moments and possibly its greatest tragedy. In 1998 Dale Earnhardt took the checkered flag after his 20th attempt at the coveted title. Just three years later, the track took his life in a turn 4 wreck on the final lap of the race.
The infamous 2.5 mile Daytona International Speedway promises close side-by-side competition and fast speeds approaching 200 miles per hour along with historical moments all along the way.
Seating Chart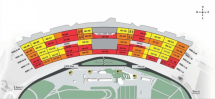 Click to Zoom
Doubletree Hotel - St. Augustine
Enjoy a warm welcome at DoubleTree by Hilton Hotel St. Augustine Historic District and savor the delicious chocolate chip cookie upon arrival. Ideally located in the historic city center, the inviting hotel is within walking distance to the Spanish Quarter, providing easy access to many popular attractions, including Castillo de San Marcos, the Fountain of Youth, Flagler College and 'Ripley's Believe It or Not'
Unwind in a stylish guest room and enjoy modern conveniences in a historic setting. Each guest room at this DoubleTree hotel in St. Augustine, FL, boasts a well-lit workspace with an ergonomic chair, 42-inch HDTV with premium HD channels and a sumptuous Sweet Dreams bed.
Maintain your workout routine in the 24-hour fitness center, or simply relax by the outdoor heated pool, surrounded by lush, tropical landscaping. Dine on tasty American classics in the Oak Room Restaurant and Lounge and enjoy your favorite drinks and snacks in a relaxed and informal setting. If you prefer the convenience of dining within your guest room, we offer a daily Room Service menu and an on-site gift shop/market, open 24 hours.
Highlights
•Excellent central location in the Historic City Center
•Walking distance to the Spanish Quarter and many historic attractions
•Complimentary WiFi access
•Oak Room Restaurant and Lounge, open for breakfast, lunch and dinner
•Sparkling outdoor swimming pool and 24-hour fitness center

Check-in: 4:00 pm
Check-out:11:00 am
Non-Smoking
Self parking: $12.00 ($12/Day Self-parking)
Valet: Not Available
Service animals allowed: Yes
Pets allowed: No
Address: 116 San Marco Avenue, St Augustine, Florida, 32084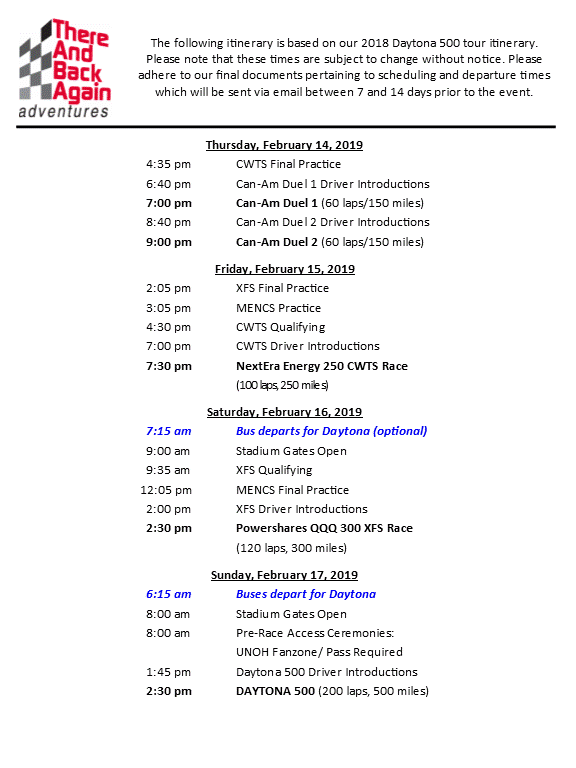 Daytona, Daytona 500, February 2018

El Caribe was great! Nice room with king size bed and kitchenette, fruit tray and chocolates on arrival, beachfront room with view. Lovely! I'd go and stay there again. Imogene (TABA tour rep) was so very helpful. Since I was a race novice and was planning this trip cross country, I was really in the dark. I felt very taken care of!

Susan Somers and Corey Worthington
Walnut Creek, California
Their 1st trip with TABA

Daytona, Daytona 500, February 2018

Jeff the driver was great, had a great sense of humor, and very friendly made you feel comfortable. We had Shane (TABA tour rep) the first race, great personality. Jay (TABA tour rep) for the last three races, excellent tour guide!

Barb & Terry Craig
Ontario, Canada
Their 1st trip with TABA

Daytona, Daytona 500, February 2018

After 23 years and 128 Races, that should indicate that we are satisfied with the service TABA provides.

Hal & Barbara Gay
Falls Church, VA
Their 128th trip with TABA

Daytona, Daytona 500, February 2018

Shane & Imogene (TABA tour reps) were super to deal with as we are from Canada and had never been to Florida.

Bob & Michele English
ABBOTSFORD, BC
Their 1st trip with TABA

Daytona, Daytona 500, February 2018

Trip was awesome! No problems at all!

Don and Dianne Bear
Jamestown. ND
Their 1st trip with TABA
Daytona, Daytona 500, February 2018

Very good race tickets and hotel. Highly satisfied with TABA. Will travel again!

Paul and Elaine Augello
Brooklyn, NY
Their 3rd trip with TABA

Daytona, Daytona 500, February 2018

Outstanding experience. We will be back next year. Everything was great!! Timely departure from the track and no stress. Loved it!!

Brenda Aimino and Nathan Sellers
Bradenton, FL
Their 1st trip with TABA

Daytona, Daytona 500, February 2018

We are going on 3 years consecutively"- screams volumes as this is our vacation for the year" can't wait (not to wish time away) for Daytona 500 2019!!!

Todd and Ronda Barr
Skandia, Michigan
Their 3rd trip with TABA

Daytona, Daytona 500, February 2018

Great Seats!!!! Bill (TABA tour rep) is an absolute gem. He took care of us like we were his only customers; great customer service.

Donald Fess
Townsend, MA
Donald's first trip with TABA

Daytona, Daytona 500, February 2018

Imogene and Shane (TABA tour reps) are the 2 main people we have been in contact with both on the phone and at races. They always make a point to look us up when we have gotten our tickets ahead to make sure all is well. We find all your staff to be attentive and able to make the special arrangements we need being in a wheelchair for the race as well as the room at the hotel. Our tickets as well as the hotels that are used by TABA are always great. We want to make a special shout out to THANK YOU for the parking passes you got us for Daytona . We were in the front row not only to park but our race seats as well. It just added to our overall AWESOME time. If only we could have brought the Florida sun back to Ohio. As said before, you are the only company we would use for racing experiences due to the attitude and efficiency of all involved. We have recommended you often and will continue to do so. Thanks soooooooo much Dixon (TABA owner) and crew.

David and Chris Shaw
Brunswick, Ohio
Their 16th trip with TABA