2021 Daytona 500 NASCAR Race,Travel Packages - La Fiesta Ocean Inn, St. Augustine Beach- NASCAR Cup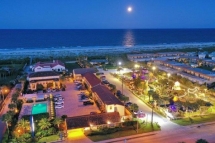 Daytona International Speedway | February 10 - February 15
Package code NAS21-01LF
Our Daytona 500 Travel Packages for the NASCAR Cup Series staying at the La Fiesta Ocean Inn & Suites offer a prime location with easy access to many of Florida's most in-demand destinations, including historic St. Augustine, Walt Disney World, Kennedy Space Center, and Daytona International Speedway. This is the perfect location if you are planning to fly into Jacksonville International Airport (JAX) or Daytona International Airport (DAB) to attend one of our Daytona 500 race tour packages. The La Fiesta Ocean Inn and Suites is a quick drive to historic downtown St. Augustine featuring a variety of attractions such as the Fort Castillo de San Marco, Ripley's Believe It or Not, St. George Street, the St. Augustine Alligator Farm and the St. Augustine Lighthouse. Our NASCAR Daytona 500 Travel Packages include professional and knowledgeable Tour Representatives, excellent Daytona 500 tickets, deluxe bus transportation to Daytona International Speedway, and options to enhance your experience such as UNOH Fanzone passes and scanner rentals.
Daytona 500 Race Ticket in Section 390, or Upgrade, Select below
Two or More Nights at the La Fiesta Ocean Inn - St. Augustine Beach
Roundtrip Deluxe Bus Transfers to the Daytona 500 Sunday
Close Bus Parking to Daytona International Speedway
Free Parking at the La Fiesta Ocean Inn and Suites
Knowledgeable and Professional TABA Tour Representatives
Informative TABA Tour Booklet
TABA Ticket Holder and Lanyard
Welcome Daytona 500 Gift
Covid-19 Protections - Masks and Hand Sanitizer
Race Day Essentials: Bottled Water, Earplugs, Sunscreen, and Koozies
All Taxes
Optional Scanner Rental with TABA's Exclusive FastTrack Service. For over 10 years, we've delivered your scanners and picked them up. No lines, no credit cards, no hassles
We have Excellent tickets for the Daytona 500. Our Cup only tickets are located between Section 390 or you can upgrade to Section 490, Sections 366-367, Sections 363/364, Section 336 or Section 435. Section 390 are Turn 1 Middle, Section 490 is Turn 1 Upper, Sections 366-367 and 363-364 are Pit Out Middle. Sections 336 are Pit In Middle and Section 435 are Pit In Upper. Sections 390, 490, 366-367 and 363-364 are on the 1st Turn side of the start/finish line and a closer walk to our buses. Section 336 and 435 are on the 4th turn side of the start/finish line and are a litte further walk from our buses. You have a unobstructed view of the Daytona International Speedway and of pit road from any of the seats that we offer. All of our seats are folding chair stadium seats. We also have other Upgradeable Tickets for 2-day and 4-day Race Ticket Packages.

Seating Chart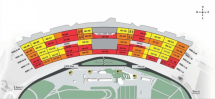 Click to Zoom
Daytona International Speedway
Originally a course that went 1.5 miles down the highway, turned and then came back the same distance on the beach, the evolution of the "World Center of Racing" began with the opening of what is now Daytona International Speedway. Opened in 1959, this 2.5 mile tri-oval superspeedway is home to the "Great American Race"- the Daytona 500, the biggest, richest and most prestigous race in America. With the capacity to seat more than 168,000 fans, Daytona International Speedway offers banking of 3 degrees on the straightaways and 31 degrees in the turns- the most possible before the paving machines actually tipped over.
Drafting was birthed at this track when Junior Johnson discovered he could run faster by tucking his car in close behind another rather than running alone. DIS's Daytona 500, NASCAR's biggest event has hosted many of the sport's greatest moments and possibly its greatest tragedy. In 1998 Dale Earnhardt took the checkered flag after his 20th attempt at the coveted title. Just three years later, the track took his life in a turn 4 wreck on the final lap of the race.
The infamous 2.5 mile Daytona International Speedway promises close side-by-side competition and fast speeds approaching 200 miles per hour along with historical moments all along the way.
Seating Chart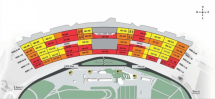 Click to Zoom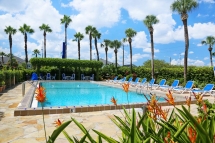 La Fiesta Ocean Inn And Suites - St. Augustine
St. Augustine, FL is America's oldest city and features a variety of attractions, shops, and culinary delights that will make your NASCAR Daytona 500 beach vacation one to remember. La Fiesta Ocean Inn & Suites is is conveniently located only 10 minutes from historic downtown St. Augustine. While in town, guests can easily visit the St. Augustine Amphitheater, St. John's County Fishing Pier, St. Augustine Alligator Farm and nearby St. Augustine Lighthouse. Experience the rich history and charm of St. Augustine FL while staying on the ocean. 14 miles of unspoiled beach is located just footsteps from your door. La Fiesta Ocean Inn & Suites combines an incredible oceanfront location, award winning service, and uncompromising amenities to provide a truly exceptional stay.
La Fiesta - St Augustine Hotel Details
Pertinent Hotel Information
Address:
810 A1A Beach Blvd - St Augustine, FL 32080
Hotel Check In:
3:00 pm
Hotel Check Out:
11:00 am
Smoking Policy:
Non-Smoking Rooms
Self Parking:
Complimentary Off Street Parking
Valet Parking:
Not Available
Pets:
Service Animals Only
Airport Shuttle:
Not Available
Area Shuttle:
Bus Service to Downtown - Old Town Trolley (not included)
On-Site Restaurant:
Not Available
Breakfast:
Continental style breakfast delivered daily to your room
Bar/Lounge:
Not Available
Room Service:
Not Available
Wifi:
Free Wifi in rooms and common area
Pool:
Outdoor Heated Pool
Fitness Center:
Full Access to YMCA Fitness Club
Refrigerator in Room:
Yes
Microwave in Room:
Yes
In Room Coffee/Tea
Yes
Business Center:
Not Available
Conceirge:
No
Car Rental:
No
Accessible Rooms
Accessible Rooms Available On Request
Suite Upgrades:
Not available
Balcony:
All rooms have balconies or patios
Room - Bedding Types:
King or 2 Queens
Sleeper Sofa Availability:
Not available
Cot Availability:
On request for King bed rooms, not in Rooms with 2 beds
Adjacent Rooms:
Can be requested but not guaranteed
Maximum Guests per room
4 including children, exceptions may be available
Resort Fees:
None
Area Information
Closest Airport(s)
JAX - Jacksonville International Airport (65 miles)
DAB - Daytona International Airport (55 miles)
Local Restaurants:
Santiagos
Playa Chacmool
Anthonys Pizza
Sushi Zento
Area Attractions:
St Augustine Aligator Farm (5 miles)
Castillo De San Marcos (6 miles)
Anastasia State Park (4 miles)
Daytona International Speedway (54 miles)
Marineland (13 miles)
Kennedy Space Center (110 miles)
Our Packages Using La Fiesta - St Augustine
Daytona 500
Daytona 500 Packages
Welcome to our Daytona 500 Race Package!
Thursday, February 11th
4:35 pm
GROTS Final Practice
5:45 pm
Pre-race Ceremonies
6:20 pm
NASCAR Cup Series Driver Introductions
7:00 pm
Gander RV Duel 1 (Transportation not available)
8:45 pm
Gander RV Duel 2
Friday, February 12th
2:05 pm
Xfinity Series Final Practice
3:05 pm
NASCAR Cup Series Practice
4:40 pm
GROTS Qualifying
6:15 pm
Pre-race Ceremonies
7:00 pm
GROTS Driver Introductions
7:30 pm
NextEra Energy 250 GROTS Race (Transportation not available)
Saturday, February 13th
9:00 am
Gates Open / UNOH FanZone Opens
9:40 am
Xfinity Series Qualifying
12:05 pm
NASCAR Cup Series Final Practice
1:15 pm
Pre-race Ceremonies
2:00 pm
Xfinity Driver Introductions
2:30 pm
NASCAR Racing Experience XFS Series 300 (Transportation not available)

6:30 pm

Hospitality Desk - Meet your Tour Representative and pick up tickets

and documents if not shipped to you. Meet & Greet is optional.

Sunday, February 14th

7:00 am

Bus departs for Daytona Speedway (All Ticket Packages)

9:00 am
UNOH FanZone Opens
9:00 am
Gates Open
2:00 pm
Pre-race Ceremonies
2:00 pm
NASCAR Cup Series Driver Introductions
2:30 pm
Daytona 500 NASCAR Cup Series Race
Monday, February 15th
11:00 am
Hotel check-out at the La Fiesta
*Times above are subject to change without notice. Please verify your itinerary!
Daytona, Daytona 500, February 2020

Thank you again for another wonderful trip to the Daytona 500. Everything, as usual, exceeded my expectations. I always look forward to traveling with TABA because I just have to show up. Your attention to detail with the race being rained out was awesome. I look forward to seeing everyone at my next race, it's like a family get together.

Ruth DeMand
Oakville, CT
Ruth's 25th Trip with TABA

Daytona, Daytona 500, February 2020

Our (TABA) tour representative Chris was amazing. He was very knowledgeable about how to maximize our experience at the Daytona 500. He told me exactly were to stand so that I can get awesome pictures of all the drivers after driver introductions.

Laura and Wayne Lowes
Woodstock, Ontario - Canada
Their 1st Trip with TABA

Daytona, Daytona 500, February 2020

TABA representatives very helpful. From the phone conversations to Chris and Josh (TABA tour reps) at the track. I will recommend TABA to anybody who traveling to any race. We had a great time on aspects of the tour. Thank You

Phillip and Allison Bittner
Friedens, PA
Their 1st Trip with TABA

Daytona, Daytona 500, February 2020

The Hall of Fame Museum was great. Very good staff!

Bob Neyland
Conroe, TX
Bob's 11th trip with TABA

Daytona, Daytona 500, February 2020

Our (TABA) Tour Representative, Bill, was both knowledgeable and entertaining! This was this was my husband and my first trip to Daytona, and Bill really helped us find our way around.

Dolores and Robert McFadyen
Indianapolis, Indiana
Their 1st Trip with TABA
Daytona, Daytona 500, February 2020

Once again an exceptional race experience. (TABA) Tour Reps Mark and Josh went above and beyond considering rain forcing rescheduling the race to the following day, making alternate travel arrangements quickly without confusion.
Much appreciated. This indicates an experienced company that cares about their customers.

Jim Brown
Sarnia, Ontario - Canada
Jim's 3rd Trip With TABA

Daytona, Daytona 500, February 2020

My NASCAR experiences with There and Back Again Adventures has always been very efficient and pleasant. NASCAR is always exciting to be a part of... I'M HOOKED! I've been over twice now from Sydney, Australia and though its a long way to come, its totally worth it for me. I'm planning to come over once a year now to a different track each time. Looking forward to Charlotte Speedway 2021!!! Can't wait to travel with There and Back Again Adventures Again!

ALEX CHAPPLE
SYDNEY, AUSTRALIA
Alex' 2nd Trip with TABA

Daytona, Daytona 500, February 2020

All was outstanding!

Christopher Blair and Timothy Crooks
Marmora, NJ
Their 1st Trip with TABA

Daytona, Daytona 500, February 2020

1st time going to a NASCAR race and 1st time using TABA. They made the experience for me and my 14 year old nephew outstanding. I just got back less than a week and already recommended to friends to use TABA for their adventures.

Seth Cline and Dylan Hanshaw
Canal Winchester, OH and Prospect, OH
Their 1st Trip with TABA

Daytona, Daytona 500, February 2020

Josh (TABA tour rep) was great! Provided great information and answered all questions. Very pleased with all aspects of our second TABA tour! Made a "big trip" easy to plan, organized and fun!

Kerry Warner and Matt Warner
Glen Cove, NY
Their 2nd Trip with TABA