2020 Daytona 500 Race Packages - Daytona 500 tickets and Bus Transfers - Monster Energy Cup
RESERVE YOUR 2020 62nd Annual DAYTONA 500 NASCAR TRAVEL PACKAGE NOW!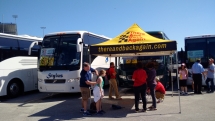 Daytona International Speedway | February 12 - February 17
Package code NAS20-01TB
This 2020 NASCAR Daytona 500 race package includes excellent Daytona 500 race tickets in Section 392 or Upgrade to Sections 491, 380, 435, 366-67, 364, or 338 (see selections below) and deluxe bus transportation to Daytona International Speedway on Sunday, knowledgeable TABA tour representatives at the pick up location and on the bus for assistance, Informative Tour Booklet, Ticket holder and lanyard, Welcome Daytona 500 Gift, all taxes and optional scanner rental, fanzones and more. The 2020 NASCAR racing season begins at Daytona International Speedway with the running of the 62nd "Great American Race", the Daytona 500. This package is for those that may already have a hotel or time share and want to take advantage of our hassle free weekend. Hotel accommodations are not included with this package.
Daytona 500 Race Ticket in Section 392, or Upgrade, select below
Roundtrip Deluxe Bus Transfers to the Daytona 500 Sunday
Knowledgeable TABA Tour Representatives on site and buses to assist
Informative Tour Booklet
TABA Ticket Holder and Lanyard
Welcome Daytona 500 Gift
Race Day Essentials: Bottled Water, Earplugs, Sunscreen, and Koozies
All Taxes
*Hotel Accommodations are not included with this package
*Select # of rooms below to reserve (rooms = passengers for this package)
Optional Scanner Rental with TABA's Exclusive FastTrack Service. For 10 years, we've delivered your scanners and picked them up. No lines, no credit cards, no hassles
We have Excellent tickets for the Daytona 500. Our Monster Energy Cup only tickets that come with our packages are located in Sections 392 (Turn One Mid). These are located in the Mid Level toward Turn One but you will have a good view of the entire track and you can see down Pit Road from these turn one seats. Section 392 is the closest to our bus parking lot. You can also upgrade to the following Sections: Section 491 (Turn One Upper) ; Section 380 (Turn One Mid). These Sections are to the Turn One side of start/finish and close to bus parking. We also have Monster Energy Cup Ticket only tickets that you can upgrade to on the turn 4 side of the Start/finish line located in Section 435 (Pit In Upper). There are 40 rows in the Lower Level (you can see the entire track in the Upper rows of the Lower Level), 30 rows in the Mid Level and 40 rows in the Upper Level. You have a unobstructed view of the Daytona International Speedway and of pit road from any of the seats that we offer. All of our seats are folding chair stadium seats. We also have other Upgradeable Tickets for 2-day and 4-day Race Ticket Packages.
Seating Chart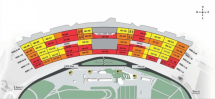 Click to Zoom
Daytona International Speedway
Originally a course that went 1.5 miles down the highway, turned and then came back the same distance on the beach, the evolution of the "World Center of Racing" began with the opening of what is now Daytona International Speedway. Opened in 1959, this 2.5 mile tri-oval superspeedway is home to the "Great American Race"- the Daytona 500, the biggest, richest and most prestigous race in America. With the capacity to seat more than 168,000 fans, Daytona International Speedway offers banking of 3 degrees on the straightaways and 31 degrees in the turns- the most possible before the paving machines actually tipped over.
Drafting was birthed at this track when Junior Johnson discovered he could run faster by tucking his car in close behind another rather than running alone. DIS's Daytona 500, NASCAR's biggest event has hosted many of the sport's greatest moments and possibly its greatest tragedy. In 1998 Dale Earnhardt took the checkered flag after his 20th attempt at the coveted title. Just three years later, the track took his life in a turn 4 wreck on the final lap of the race.
The infamous 2.5 mile Daytona International Speedway promises close side-by-side competition and fast speeds approaching 200 miles per hour along with historical moments all along the way.
Seating Chart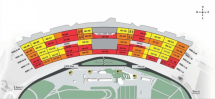 Click to Zoom
Various Hotel Pick Up Locations - Daytona 500
Thursday: The unique Daytona 500 qualifying races: the Gatorade Duels, the two most exciting 60 lap sprints in NASCAR will be held tonight. Upper level race tickets and deluxe bus transfers are optional for tonight.
Friday: The Camping World Truck Series race is at the track tonight. Deluxe Bus Transfers and Upper Level Truck race tickets are optional for tonight with this package from our hotels.
Saturday: The Xfinity Series race, the Daytona 300 and the final Monster Energy Cup practice sessions are also today. Xfinity Series tickets and deluxe roundtrip bus transportation are not included with this Cup only package but are available with our weekend ticket package.
Sunday: The start of the 2020 NASCAR Monster Energy Cup season is here! Our deluxe motorcoach departs early Sunday morning for the stress free ride to Daytona International Speedway for the Great American Race, the 2020 Daytona 500. After an electrifying day of racing, sit back and relax while we take you back to the hotel.
Daytona, Daytona 500, February 2019

We traveled with another tour group to the Daytona 500 last year and this by far was more organized and a much much better experience. We will definitely choose TABA again for our next NASCAR trip. TABA is awesome!

Helene and Woody Smith
Sylvania, OH
Their 1st trip with TABA

Daytona, Daytona 500, February 2019

Best tour package around as far as I'm concerned . TABA tour rep Chris was the best. i will 100% use TABA in the future

Todd Wilson
Houston, TX
Todd's 2nd trip with TABA

Daytona, Daytona 500, February 2019

I saw the start of the race from the fan zone on top of the garages behind pit road, what a view! Then moved up to our seats in the grandstand where I could see the entire track. Perfect!

Nicholas Rossi
Baltimore, MD
Nicholas' 1st trip with TABA

Daytona, Daytona 500, February 2019

Both guides, Rex and Shane were fantastic. Full of personality. Both I felt went above and beyond

Stephen Demello Jr
North Dartmouth, MA
Stephen's 4th trip with TABA

Daytona, Daytona 500, February 2019

The seats we upgraded to were amazing. Mark, our TABA tour guide was great with an awesome personality. Fun experience, will do it again. This is my second time with there and back both times were awesome. You guys and girls know how to do it right. Josh (TABA tour rep) was my person who set everything up. He was awesome, answered all my questions, and really cool to deal with. Thank you so much for the experience.

Mark Anlauf and Mike Anlauf
Seattle WA and Cottage Grove, OR
Their 2nd trip with TABA
Daytona, Daytona 500, February 2019

All was good. First time at Daytona--OMG--so good

Jeff Earle
Ithaca, NY
Jeff's 19th trip with TABA

Daytona, Daytona 500, February 2019

Awesome seats with views of entire pit road, start finish line,front stretch and turn one. Mark (TABA tour rep) was pleasant informative service oriented and very knowledgeable.

Jen and Geof Kusch
Port Huron, Michigan
Their 2nd trip with TABA

Daytona, Daytona 500, February 2019

I have really enjoyed going with TABA to the nascar races. Christopher Stracuzza is such a delight to be the tour rep.

Bob Neyland
Conroe, TX
Bob's 6th trip with TABA

Daytona, Daytona 500, February 2019

Another fabulous trip with TABA. Our seat location was outstanding. The surprise Meet and Greet with Martin Truex Jr was wonderful. Both Rex and Shane (TABA tour reps) did a great job. Can't wait for my next race with TABA.

Ruth Demand
Oakville, CT
Ruth's 24th trip with TABA

Daytona, Daytona 500, February 2019

Our tour guide Mark ensured we all had a great time and all the information needed to have a terrific experience at the Daytona 500.

Alan & Patricia Davis
Bethlehem, PA
Their 1st trip with TABA