2022 Daytona 500 Race Packages - Daytona 500 Tickets and Bus Transfers - Weekend tickets
EXPERIENCE THE DAYTONA 500 AT THE DAYTONA INTERNATIONAL SPEEDWAY!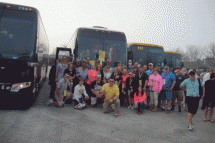 Daytona International Speedway | February 16 - February 21
Package code NAS22-01TBW
We have 2022 Daytona 500 Travel Packages for those who may be staying in one of our host cities of Daytona, Orlando, Altamonte Springs, and St. Augustine. Our Weekend Ticket and Bus Transfers package is ideal for those that may already have a hotel or time share in the area and want to enjoy a hassle free weekend. This Daytona 500 package for the NASCAR Cup and Xfinity Series includes excellent Daytona 500 race tickets in Section 380 or 435 (upgrades available, see options below), deluxe bus transportation to Daytona International Speedway on Saturday and Sunday, professional and knowledgeable There and Back Again Adventure's Tour Representatives at your pick-up location (choose below), and options to enhance your experience such as UNOH Fanzone passes and scanner rentals. Join us on one of our Daytona 500 Travel Packages for the 63rd running of the Daytona 500!
*Hotel accommodations are not included.
Daytona 500 Tickets in Sections 380 or Upgrade
Xfinity Series Tickets in Sections 380 or Upgrade
Roundtrip Deluxe Bus Transfers to Track on Saturday and Sunday
Professional TABA Tour Representatives on site and on buses to assist
Informative TABA Tour Booklet
TABA Ticket Holder and Lanyard
Welcome Daytona 500 Gift
Covid-19 Protections - Masks and Hand Sanitizer
Race Day Essentials: Bottled Water, Earplugs, Sunscreen, and Koozies
All Taxes
*Hotel Accommodations are not included with this package
*Select # of rooms below to reserve (rooms = passengers for this package)
Optional Scanner Rental with TABA's Exclusive FastTrack Service. For 10 years, we've delivered your scanners and picked them up. No lines, no credit cards, no hassles
Xfinity Series & Daytona 500 tickets are in Section 378 (Turn One Middle), Section 435 (Pit In Upper) or Section 339 (Pit In Middle) or you can Upgrade to Section 363-364 (Pit Out Middle) or Section 339 (Pit In Upper). You can also upgrade to Section 340-362 (Start/Finish Tri-Oval Club). Sections 363-364 are in the Mid-Level tickets and are across from the pits. These Sections are to the turn one side of the start/finish line and are closer to bus parking. There are another 40 rows below you in the Lower Grandstand. Sections 435 (Pit In Upper) and 339 (Pit In Middle) are to the turn 4 side of the start/finish line and a further walk from bus parking. You can see the entire track from Mid-level and Upper Level seats and have a great view of pit road. Any of these seats are Great Seats!
Seating Chart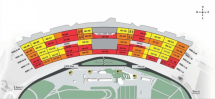 Click to Zoom
Daytona International Speedway
Originally a course that went 1.5 miles down the highway, turned and then came back the same distance on the beach, the evolution of the "World Center of Racing" began with the opening of what is now Daytona International Speedway. Opened in 1959, this 2.5 mile tri-oval superspeedway is home to the "Great American Race"- the Daytona 500, the biggest, richest and most prestigous race in America. With the capacity to seat more than 168,000 fans, Daytona International Speedway offers banking of 3 degrees on the straightaways and 31 degrees in the turns- the most possible before the paving machines actually tipped over.
Drafting was birthed at this track when Junior Johnson discovered he could run faster by tucking his car in close behind another rather than running alone. DIS's Daytona 500, NASCAR's biggest event has hosted many of the sport's greatest moments and possibly its greatest tragedy. In 1998 Dale Earnhardt took the checkered flag after his 20th attempt at the coveted title. Just three years later, the track took his life in a turn 4 wreck on the final lap of the race.
The infamous 2.5 mile Daytona International Speedway promises close side-by-side competition and fast speeds approaching 200 miles per hour along with historical moments all along the way.
Seating Chart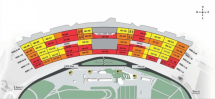 Click to Zoom
Various Hotel Pick Up Locations - Daytona 500
Welcome to our Daytona 500 Race Package!
Track departure times will vary based on your departure hotel. Please check your hotel location package for the bus departure times as well as your ticket pick up meeting times.
Thursday, February 17th
4:35 pm
GROTS Final Practice
5:45 pm
Pre-race Ceremonies
6:20 pm
NASCAR Cup Series Driver Introductions
7:00 pm
Gander RV Duel 1
8:45 pm
Gander RV Duel 2
Friday, February 18th
2:05 pm
Xfinity Series Final Practice
3:05 pm
NASCAR Cup Series Practice
4:40 pm
GROTS Qualifying
6:15 pm
Pre-race Ceremonies
7:00 pm
GROTS Driver Introductions
7:30 pm
NextEra Energy 250 GROTS Race
Saturday, February 19th
9:00 am
Gates Open / UNOH FanZone Opens
9:40 am
Xfinity Series Qualifying
12:05 pm
NASCAR Cup Series Final Practice
1:15 pm
Pre-race Ceremonies
2:00 pm
Xfinity Driver Introductions
2:30 pm
NASCAR Racing Experience XFS Series 300
Sunday, February 20th
9:00 am
UNOH FanZone Opens
9:00 am
Gates Open
2:00 pm
Pre-race Ceremonies
2:00 pm
NASCAR Cup Series Driver Introductions
2:30 pm
Daytona 500 NASCAR Cup Series Race
*Times above are subject to change without notice. Please verify your itinerary!
Daytona, Daytona 500, February 2021

We once again want to thank all of you for the job you do. We realize the added insanity around covid and find it remarkable that all is well. You always deliver and promised. Price for the hotels and tickets are always the best. Thanks Dixon and your staff. We are now working to figure where 2022 will lead

David and Chris Shaw
Brunswick, OH
Their 26th trip with TABA

Daytona, Daytona 500, February 2021

Fourth NASCAR trip and There and Back Again never disappoints. Never have to worry about anything. They cover it all which allows us to truly enjoy the race.

Mary and Rick Horsley
Cincinnati, Ohio
Their 4th trip with TABA

Daytona, Daytona 500, February 2021

I like traveling with TABA because they handle all the details. That way, I can sit back and enjoy the race. THANKS TABA!

Lisa Leuthold
Circle Pines, MN
Lisa's 32nd trip with TABA

Phoenix, Championship Weekend, November 2020

The hotel staff went above and beyond to make sure all of our needs were met to include recommendations for dining options and helping us make arrangements to return to the airport at the end of the tour.
Richard the bus driver kept us entertained and made sure if we had any needs he found a way to meet them. We just can't say enough about Richard. Rex (TABA tour rep) also excelled at his job making sure we arrived at the track in enough time for shopping and any other things we wanted to do before and after the race. Overall excellent experience and looking forward to using There and Back again at a future date.

Pam and Tom Weavil
Meridianville, AL
Their 1st trip with TABA

Daytona, Daytona 500, February 2020

Thank you again for another wonderful trip to the Daytona 500. Everything, as usual, exceeded my expectations. I always look forward to traveling with TABA because I just have to show up. Your attention to detail with the race being rained out was awesome. I look forward to seeing everyone at my next race, it's like a family get together.

Ruth DeMand
Oakville, CT
Ruth's 25th Trip with TABA
Daytona, Daytona 500, February 2020

Our (TABA) tour representative Chris was amazing. He was very knowledgeable about how to maximize our experience at the Daytona 500. He told me exactly were to stand so that I can get awesome pictures of all the drivers after driver introductions.

Laura and Wayne Lowes
Woodstock, Ontario - Canada
Their 1st Trip with TABA

Daytona, Daytona 500, February 2020

TABA representatives very helpful. From the phone conversations to Chris and Josh (TABA tour reps) at the track. I will recommend TABA to anybody who traveling to any race. We had a great time on aspects of the tour. Thank You

Phillip and Allison Bittner
Friedens, PA
Their 1st Trip with TABA

Daytona, Daytona 500, February 2020

The Hall of Fame Museum was great. Very good staff!

Bob Neyland
Conroe, TX
Bob's 11th trip with TABA

Daytona, Daytona 500, February 2020

Our (TABA) Tour Representative, Bill, was both knowledgeable and entertaining! This was this was my husband and my first trip to Daytona, and Bill really helped us find our way around.

Dolores and Robert McFadyen
Indianapolis, Indiana
Their 1st Trip with TABA

Daytona, Daytona 500, February 2020

Once again an exceptional race experience. (TABA) Tour Reps Mark and Josh went above and beyond considering rain forcing rescheduling the race to the following day, making alternate travel arrangements quickly without confusion.
Much appreciated. This indicates an experienced company that cares about their customers.

Jim Brown
Sarnia, Ontario - Canada
Jim's 3rd Trip With TABA