2019 Daytona 500 Race Packages-Holiday Inn Resort - Daytona Beach - 2 day weekend ticket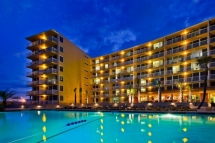 Daytona International Speedway | February 13 - February 18
Package code NAS19-01HIW
Our 2019 Daytona 500 Holiday Inn 2- Day Tower Ticket NASCAR race packages, travel packages and tours include excellent Daytona 500 race tickets in Sections 380 or 435 or upgrade (see selections below). Also included are Saturday FanZone Passes, hotel accommodations at the oceanfront Holiday Inn Resort - Daytona Beach Shores (only 7 miles from the Daytona International Speedway), roundtrip deluxe track transportation to Daytona International Speedway via chartered buses on Saturday and Sunday, Informative Tour Booklet, services of our tour representative at the hotel and on the buses, Welcome Daytona 500 gift, all taxes and more such as optional Fan Zone passes and optional Scanner Rentals. The 2019 NASCAR racing season begins at Daytona International Speedway with the 60th Anniversary "Great American Race", the Daytona 500.
Daytona 500 Tickets in Sections 380 or 435 or Upgrade, Select below
Xfinity Series Tickets in Sections 380 or 435 or Upgrade, Select below
Saturday Fan Zone Pass
Three or More Nights at the Holiday Inn Resort - Daytona Beach
Free Parking at the Holiday Inn
Roundtrip Deluxe Bus Transfers to Track Saturday and Sunday
Close Bus Parking to Daytona International Speedway
Welcome Daytona 500 Gift
TABA Ticket Holder and Lanyard
Informative TABA Tour Booklet
Professional and Knowledgeable TABA Tour Representatives
All Taxes
Xfinity Series & Daytona 500 Monster Energy Cup Series tickets are in Section 380 (Turn One Middle) or Section 435 (Pit In Upper) or you can Upgrade to Section 364 (Pit Out Middle) or Section 437 (Pit In Upper-Closer to start/finish than Section 435). Section 364 is in the Mid-Level tickets and are across from the pits. These Sections are to the turn one side of the start/finish line and are closer to bus parking. There are another 40 rows below you in the Lower Grandstand. Sections 435 and 437 are in the Upper Level with the Mid-Level (30 rows) below you and the Lower Level (40 rows) below that. Sections 435 and 437 are to the turn 4 side of the start/finish line and a further walk from bus parking. Section 437 is closer to the start/finish than Section 435. You can see the entire track from Mid-level and Upper Level seats and have a great view of pit road. Any of these seats are Great Seats!
Seating Chart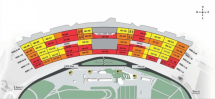 Click to Zoom
Daytona International Speedway
Originally a course that went 1.5 miles down the highway, turned and then came back the same distance on the beach, the evolution of the "World Center of Racing" began with the opening of what is now Daytona International Speedway. Opened in 1959, this 2.5 mile tri-oval superspeedway is home to the "Great American Race"- the Daytona 500, the biggest, richest and most prestigous race in America. With the capacity to seat more than 168,000 fans, Daytona International Speedway offers banking of 3 degrees on the straightaways and 31 degrees in the turns- the most possible before the paving machines actually tipped over.
Drafting was birthed at this track when Junior Johnson discovered he could run faster by tucking his car in close behind another rather than running alone. DIS's Daytona 500, NASCAR's biggest event has hosted many of the sport's greatest moments and possibly its greatest tragedy. In 1998 Dale Earnhardt took the checkered flag after his 20th attempt at the coveted title. Just three years later, the track took his life in a turn 4 wreck on the final lap of the race.
The infamous 2.5 mile Daytona International Speedway promises close side-by-side competition and fast speeds approaching 200 miles per hour along with historical moments all along the way.
Seating Chart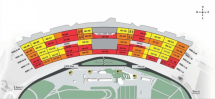 Click to Zoom
Holiday Inn Resort - Daytona Beach, FL
Welcome to the Holiday Inn Resort Daytona Beach Oceanfront at the heart of the World's Most Famous Beach. Our oceanfront Resort hotel in Daytona Beach offers visitors a wonderful vacation experience which includes spacious room or suite accommodations, all with private balconies or patios providing stunning ocean views and a beautiful sunrise.Enjoy Breakfast, Lunch, Dinner or Beverages at our full-service Restaurant and Lounge, featuring indoor or outdoor seating overlooking the pool deck and the Atlantic Ocean. Other resort features include an oceanfront oversized heated swimming pool, children's splash park, hot tub and fire pits. For your vacation pleasure, the resort has scheduled recreational activities and entertainment.The Holiday Inn Resort in Daytona Beach is the ideal location for your vacation with easy access to many popular attractions and recreational activities.We are 1 mile south of International Speedway, the Boardwalk, the Convention Center, and Main Street Pier.Come join us for a vacation destination where the ocean, sand and memories meet!
Check In: 3PM
Check Out: 11AM
Address: 1615 South Atlantic Avenue - Daytona Beach, Florida 32118
Holiday Inn Resort Daytona Beach Hotel's Oceanfront Amenities
•Private Oceanfront Balconies
•Accommodating and Delicious Room Service
•Gorgeous Beachfront Restaurant and Lounge
•Fire Pits, Splash Park and Recreation Activities
•Brand New Building and Decor from Floor to Ceiling
•Free Meal Recreation Activities for the Kids
Our Daytona Beachfront Hotel Also Offers...
•Concierge Service
•ADA Compliant Design
•ATM for Your Convenience
•Business Center
•Game Room & Gift Shop
•Gorgeous Outdoor Pool & Deck
•Restaurant and Cafe Right On the Premises
•High Speed Internet
•Audiovisual Equipment
•Laundry Facility
•Multilingual Staff
•On-Site Dry Cleaning
•Convenience Store
•Safety Deposit Box
•Copier and Fax Machine
•Express Check-In and Check-Out
•Extended Stays
•Fitness Center
•Complimentary Parking
•Jacuzzi Suites Available



Wednesday: You will arrive at the Holiday Inn Hotel in Daytona Beach (Thursday and Friday arrivals are also accepted) and gear up for an exciting week of racing culminating with the Daytona 500, the official start of the 2019 NASCAR race season.
Thursday: At Daytona International Speedway tonight are the unique Daytona 500 qualifying races: the Gatorade Duel Twin 150s, the two most exciting 60 lap sprints in NASCAR. Upper level race tickets and deluxe bus transfers are optional for tonight.
Friday: The NASCAR Camping World Truck Series Race is at Daytona International Speedway tonight. Deluxe Bus Transfers and Upper Level Truck race tickets are optional for tonight with this package.
Saturday: The anticipation heightens as our motorcoach departs early for the Daytona International Speedway for the always exciting Xfinity Series race. You'll enjoy the free Fan Zone pass that we've included in this package. The final Monster Energy Cup practice sessions are also today.
Sunday: The start of the 2019 NASCAR Monster Energy Cup season is here! Our deluxe motorcoach departs early Sunday morning for the stress free ride to Daytona International Speedway for the Great American Race, the Daytona 500. After an electrifying day of racing, sit back and relax while we take you back to the hotel.

Daytona, Daytona 500, February 2018

El Caribe was great! Nice room with king size bed and kitchenette, fruit tray and chocolates on arrival, beachfront room with view. Lovely! I'd go and stay there again. Imogene (TABA tour rep) was so very helpful. Since I was a race novice and was planning this trip cross country, I was really in the dark. I felt very taken care of!

Susan Somers and Corey Worthington
Walnut Creek, California
Their 1st trip with TABA

Daytona, Daytona 500, February 2018

Jeff the driver was great, had a great sense of humor, and very friendly made you feel comfortable. We had Shane (TABA tour rep) the first race, great personality. Jay (TABA tour rep) for the last three races, excellent tour guide!

Barb & Terry Craig
Ontario, Canada
Their 1st trip with TABA

Daytona, Daytona 500, February 2018

After 23 years and 128 Races, that should indicate that we are satisfied with the service TABA provides.

Hal & Barbara Gay
Falls Church, VA
Their 128th trip with TABA

Daytona, Daytona 500, February 2018

Shane & Imogene (TABA tour reps) were super to deal with as we are from Canada and had never been to Florida.

Bob & Michele English
ABBOTSFORD, BC
Their 1st trip with TABA

Daytona, Daytona 500, February 2018

Trip was awesome! No problems at all!

Don and Dianne Bear
Jamestown. ND
Their 1st trip with TABA
Daytona, Daytona 500, February 2018

Very good race tickets and hotel. Highly satisfied with TABA. Will travel again!

Paul and Elaine Augello
Brooklyn, NY
Their 3rd trip with TABA

Daytona, Daytona 500, February 2018

Outstanding experience. We will be back next year. Everything was great!! Timely departure from the track and no stress. Loved it!!

Brenda Aimino and Nathan Sellers
Bradenton, FL
Their 1st trip with TABA

Daytona, Daytona 500, February 2018

We are going on 3 years consecutively"- screams volumes as this is our vacation for the year" can't wait (not to wish time away) for Daytona 500 2019!!!

Todd and Ronda Barr
Skandia, Michigan
Their 3rd trip with TABA

Daytona, Daytona 500, February 2018

Great Seats!!!! Bill (TABA tour rep) is an absolute gem. He took care of us like we were his only customers; great customer service.

Donald Fess
Townsend, MA
Donald's first trip with TABA

Daytona, Daytona 500, February 2018

Imogene and Shane (TABA tour reps) are the 2 main people we have been in contact with both on the phone and at races. They always make a point to look us up when we have gotten our tickets ahead to make sure all is well. We find all your staff to be attentive and able to make the special arrangements we need being in a wheelchair for the race as well as the room at the hotel. Our tickets as well as the hotels that are used by TABA are always great. We want to make a special shout out to THANK YOU for the parking passes you got us for Daytona . We were in the front row not only to park but our race seats as well. It just added to our overall AWESOME time. If only we could have brought the Florida sun back to Ohio. As said before, you are the only company we would use for racing experiences due to the attitude and efficiency of all involved. We have recommended you often and will continue to do so. Thanks soooooooo much Dixon (TABA owner) and crew.

David and Chris Shaw
Brunswick, Ohio
Their 16th trip with TABA