2020 Daytona Coke Zero Sugar 400 NASCAR Race Package Tour- Hilton Altamonte Springs - NASCAR Cup
2020 NASCAR Daytona Coke Zero 400 Race Package!
Only 40 miles from Daytona International Speedway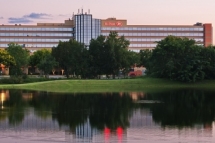 Daytona International Speedway | August 27 - August 30
Package code NAS20-27HH
Our 2020 NASCAR Daytona Coke Zero 400 race packages, travel packages, and tours at the Hilton Altamonte Springs include excellent Daytona Coke Zero 400 race tickets with your choice of race tickets in sections 377 or 327, hotel accommodations at the Hilton - Altamonte Springs just north of Orlando (only 40 miles from Daytona International Speedway), full breakfast daily, deluxe track transportation to Daytona International Speedway on Saturday via chartered motorcoach, professional and knowledgeable TABA tour representatives, Informative Tour Booklet, TABA ticket holder and lanyard, all taxes, optional fan zone passes, optional scanner rental and much more.
Coke Zero 400 Race Ticket - Section 377 or 327 or Upgrade
Two or More Nights - Hilton Altamonte Springs (40 miles to track)
Hotel Breakfast buffet daily
Free Hotel Parking
Track Transfers via Deluxe Motorcoach on Saturday
Professional and Knowledgeable TABA Tour Representatives
TABA Ticket Holder and Lanyard
Informative Tour Booklet
Race Day Essentials: Bottled Water, Earplugs, Sunscreen, and Koozies
All Taxes
Our Daytona Coke Zero Sugar 400 Race Packages include Section 377 (Turn 1 Middle) or Section 327 (Turn 4 Middle) Cup Tickets. You can also upgrade to Section 366 (Pit Out Middle) or 336 (Pit In Middle), Section 363 (Pit Out Middle) or 339 (Pit In Middle) or Sections 340 to 362 (Start/Finish Middle). The Pit In Ticket descriptions are to the 4th Turn side of the Start/Finish line and the Pit Out Descriptions are to the 1st Turn side of the Start/Finish line. All of these seats are Individual Folding Chair Back Stadium Seats. All of the seats have a good to great view of Pit Road and you can see around the entire track from any of these seats.
Please note that bus parking is located behind turn 1. The Ticket Descriptions above that are "Pit Out" are located closer to Bus Parking. Ticket Descriptions with "Pit In" are much further away from bus parking (up to 3/4 mile away). If walking or mobility is an issue, "Pit Out" ticket descriptions will require less walking to and from the bus.
Seating Chart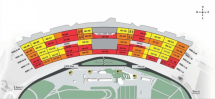 Click to Zoom
Daytona International Speedway
Originally a course that went 1.5 miles down the highway, turned and then came back the same distance on the beach, the evolution of the "World Center of Racing" began with the opening of what is now Daytona International Speedway. Opened in 1959, this 2.5 mile tri-oval superspeedway is home to the "Great American Race"- the Daytona 500, the biggest, richest and most prestigous race in America. With the capacity to seat more than 168,000 fans, Daytona International Speedway offers banking of 3 degrees on the straightaways and 31 degrees in the turns- the most possible before the paving machines actually tipped over.
Drafting was birthed at this track when Junior Johnson discovered he could run faster by tucking his car in close behind another rather than running alone. DIS's Daytona 500, NASCAR's biggest event has hosted many of the sport's greatest moments and possibly its greatest tragedy. In 1998 Dale Earnhardt took the checkered flag after his 20th attempt at the coveted title. Just three years later, the track took his life in a turn 4 wreck on the final lap of the race.
The infamous 2.5 mile Daytona International Speedway promises close side-by-side competition and fast speeds approaching 200 miles per hour along with historical moments all along the way.
Seating Chart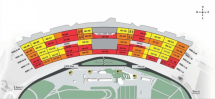 Click to Zoom
Hilton-Altamonte Springs
The Hilton Orlando/Altamonte Springs hotel is one of Orlando, Florida's leading convention and business hotels. The Hilton Orlando hotel in Altamonte Springs is conveniently located along Interstate 4 between it is halfway between Orlando and Daytona. The Disney World® theme parks are only 45 minutes away along with other Orlando, Florida attractions like Downtown Orlando. The Hilton-Altamonte Springs is approximately 40 miles from Daytona International Speedway. The Hilton Orlando/Altamonte Springs, Florida hotel just completed a beautiful renovation to its public space including the lobby, meeting space, restaurant and bar. Hotel guest rooms and suites have also been renovated and are now well appointed with high-speed Internet access, refrigerator, in-room safe, usv ports in wall, oversized desks with ergonomic chairs, upgraded Hilton Sweet Dreams® Beds, and 50" flat-panel televisions. Enjoy the outdoor heated pool, whirlpool, and fitness center or browse the shops and boutiques of Altamonte Springs Mall less than one half mile away.
HOTEL INFORMATION
Check-in: 4:00 pm
Check-out: 11:00 am
Smoking: Non-Smoking
Parking: Free Self parking
Valet: Not Available
Pets:
Service animals allowed: Yes
Pets allowed: No
DINING
At Hilton Orlando Altamonte Springs, dining options are designed with you in mind. Start your day with a nourishing full American breakfast in the U Restaurant. For a faster option, stop by Cool Beans for Starbucks® Coffee and a grab-n-go breakfast delicacy. Savor innovative dishes prepared with only the freshest ingredients, for breakfast, lunch, dinner, and everything in between.
Hours may change to accommodate special business needs and events. Please call ahead for availability.
BURGER BAR
The Burger Bar features an All-American menu with fresh, local ingredients and a wide variety of selections. Come in today to get creative and build a burger as unique as you are with hundreds of possible combinations.
COOL BEANS COFFEE SHOP
Serving Starbucks Coffee, pastries and breakfast sandwiches
IN ROOM DINING
Enjoy delicious menu options and convenient service from the comfort of your own room. Stay in for the night and let us bring your meal to you.
U RESTAURANT
Indulge in a variety of imaginative dishes created from the region's finest ingredients. Enjoy breakfast, lunch or dinner at Orlando/ Altamonte Springs most inviting spot for dining.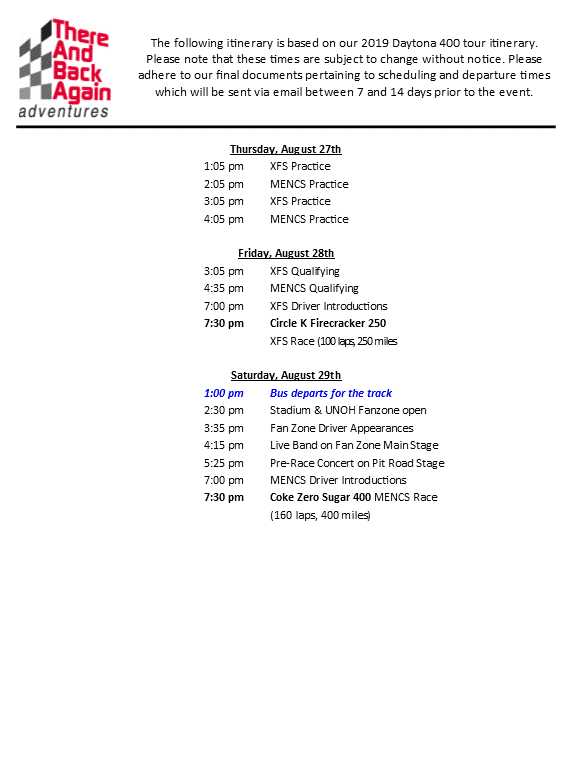 Daytona, Coke Zero Sugar 400, July 2019

Absolutely loved the hotel accommodations!!!! Perfect location!!! Could not have been more pleased!!!! The people at There and Back Again were extremely knowledgeable and personable....felt like talking to old friends.

Richard Newton
Rogersville, AL
Richard's 1st trip with TABA

Daytona, Coke Zero Sugar 400, July 2019

Our TABA Tour Representative, Chris, was friendly, capable and had a great sense of humor. In particular, he did an excellent job explaining what to expect and giving us tips on what to do during the event, which was really helpful as a first-time visitor. The overall package was ideal for the experience I was looking for in terms of duration, organization and cost.

Ed Plager
Brighton, UK
Ed's 1st trip with TABA

Daytona, Coke Zero Sugar 400, July 2019

We stayed at the new Fairfield Inn right across from track. It was amazing, especially since it rained most of the weekend. We were able to walk back to our room in about 10 minutes.

Regina Free and Bill Mixon
Huntsville, Alabama
Their 7th trip with TABA

Daytona, Coke Zero Sugar 400, July 2018

Great experience but, because I live in Australia and 70 years of age I more than likely will be unable to visit your great country again. Josh (TABA staff) was outstanding in any of my queries with prompt replies and great understanding.

John Trouchet
Perth Western Australia
John's 1st trip with TABA

Daytona, Coke Zero Sugar 400, July 2018

Highly satisfied! Josh (TABA staff) was a big help in answering questions.

Russell and Patti Autry
Georgetown, Texas
Their 1st trip with TABA
Daytona, Coke Zero Sugar 400, July 2018

Everyone and everything was very good we enjoyed all of it, was very relaxing!

Mark and Robin Gwines
Sylvester, GA
Their 1st trip with TABA

Daytona, Coke Zero Sugar 400, July 2018

This being the first NASCAR race we attended, we didnt know what to expect. Our seats were reasonably priced and near the pit exit. Visibility of the cars and track was excellent and we were comfortable where we sat. Jay Meeks was an excellent tour host/representative. He was on time to our hotel to drop off tickets, was very friendly, and took time to answer our questions. We departed our hotel for the track on time and the bus driver was very friendly as well. Jay was knowledgeable about NASCAR history and was interesting to listen to. We booked this package for my brother's bachelor party. Over the course of several weeks, some members of our group dropped out and the staff at TABA was more than willing to accommodate us with making amendments to our room/travel packages. Very friendly and willing to help, which was appreciated, given that I don't travel all that much and have never booked a package like this.

Will Gunderson
Enumclaw, WA
Their 1st trip with TABA

Daytona, Coke Zero Sugar 400, July 2018

We will do this again. Awesome!


Sandra Putman
Sabillasville, MD
Sandra's 1st trip with TABA

Daytona, Coke Zero 400, July 2017

Very good and well organized trip as always. Very appreciative of the effort made to make the rescheduled Xfinity race and the fact that taba covered the cost. Thanks

Paul Kempto
Bermuda
Their 3rd Trip with TABA

Daytona, Coke Zero 400, July 2017

Highly satisfied. My Experience at Daytona was an A. I will tour with you again next year.

Anthony Corradi
Altamont NY
Their 1st Trip with TABA