2020 Daytona Coke Zero Sugar 400 Race Package Tours -Holiday Inn Express- Speedway Blvd - NASCAR Cup
WALK TO THE TRACK!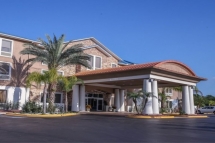 Daytona International Speedway | August 27 - August 30
Package code NAS20-27HE
Our 2020 Coke Zero 400 NASCAR Cup race packages, travel packages and tours include excellent Coke Zero Sugar 400 race tickets (See selection and Upgrades below). Also included are hotel accommodations at the conveniently located Holiday Inn Express Speedway - Daytona Beach (less than 3/4 mile from the Daytona International Speedway), Informative Tour Booklet, all taxes and more This hotel is so close to the track you can walk to the track Bus transfers are not included from this prime location.
Coke Zero 400 race ticket - Section 377 or 327 or Upgrade
Three or More Nights - Holiday Inn Express -Speedway(3/4 mile from track)
Free Parking and WiFi at the Holiday Inn Express
Hot Breakfast daily at the Holiday Inn Express
TABA Ticket Holder and Lanyard
Informative Tour Booklet
All Taxes
Our Daytona Coke Zero Sugar 400 Race Packages include Section 377 (Turn 1 Middle) or Section 327 (Turn 4 Middle) Cup Tickets. You can also upgrade to Section 366 (Pit Out Middle) or 336 (Pit In Middle), Section 363 (Pit Out Middle) or 339 (Pit In Middle) or Sections 340 to 362 (Start/Finish Middle). The Pit In Ticket descriptions are to the 4th Turn side of the Start/Finish line and the Pit Out Descriptions are to the 1st Turn side of the Start/Finish line. All of these seats are Individual Folding Chair Back Stadium Seats. All of the seats have a good to great view of Pit Road and you can see around the entire track from any of these seats.
Please note that Holiday Inn Express is 3/4 of a mile from the 1st Turn of Daytona International Speedway. The Ticket Descriptions above that are "Pit Out" are located closer to the Holiday Inn Express. Ticket Descriptions with "Pit In" are much further away from Holiday Inn Express (up to 1.5 mile away). If walking or mobility is an issue, "Pit Out" ticket descriptions will require less walking to and from the hotel.
Seating Chart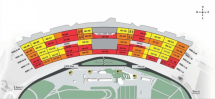 Click to Zoom
Daytona International Speedway
Originally a course that went 1.5 miles down the highway, turned and then came back the same distance on the beach, the evolution of the "World Center of Racing" began with the opening of what is now Daytona International Speedway. Opened in 1959, this 2.5 mile tri-oval superspeedway is home to the "Great American Race"- the Daytona 500, the biggest, richest and most prestigous race in America. With the capacity to seat more than 168,000 fans, Daytona International Speedway offers banking of 3 degrees on the straightaways and 31 degrees in the turns- the most possible before the paving machines actually tipped over.
Drafting was birthed at this track when Junior Johnson discovered he could run faster by tucking his car in close behind another rather than running alone. DIS's Daytona 500, NASCAR's biggest event has hosted many of the sport's greatest moments and possibly its greatest tragedy. In 1998 Dale Earnhardt took the checkered flag after his 20th attempt at the coveted title. Just three years later, the track took his life in a turn 4 wreck on the final lap of the race.
The infamous 2.5 mile Daytona International Speedway promises close side-by-side competition and fast speeds approaching 200 miles per hour along with historical moments all along the way.
Seating Chart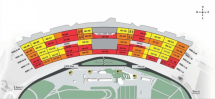 Click to Zoom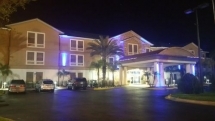 Holiday Inn Express - Daytona Beach Speedway
Holiday Inn Express Daytona Beach Speedway Airport welcomes you to our brand new beautifully renovated hotel. Ideally situated in the center of NASCAR racing, with close proximity to the track you can enjoy the roar of the high octane engines from our newly designed patio and pool deck. Flying in? Our closest airport is Daytona Beach Int'l Airport (DAB) which is less than 2 miles away. Like taking risks? Enjoy the new Daytona Beach Kennel Club and Poker Room located just a short walk from our hotel. Travelers can take a day trip to the World's Most Famous Beach located just 6 miles away and partake in the breathtaking views of our morning sunrise. For added convenience, the hotel's 24-hour Business Center is available to accommodate all of your business needs. While staying on business or for a weekend relaxation getaway, you can enjoy our hotels comfortable amenities which include, a 24-hour Fitness Center, guest laundry, and complimentary full hot breakfast as well as our newly expanded lobby.
Address: 90 PROFESSIONAL BOULEVARD - DAYTONA BEACH, FLORIDA 32114
Newly opened hotel located half a mile from the International Speedway track and positioned directly by I-95 off exit 261A. Centrally located we're a short 6 mile drive to the beach and 1 mile from Daytona International Airport. Come enjoy our brand new enlarged rooms with a modern contemporary feel.
Hotel Amenities
Unstaffed Business Center
PC available
Wireless Data Connection
Health/Fitness Center On-Site
Standard Internet service is free for all guests
Wireless Internet available in Standard Rooms,Executive Rooms,Suites,Business Center,Public Areas
Entertainment and Recreation
Barbeque Grills
Outdoor Pool
Housekeeping and Laundry Services
Daily Housekeeping
Dry Cleaning Pickup/Laundry
Ice Machine
Safety Deposit Box available at Front Desk
Kids Eat Free
Complimentary Parking
Check In: 3pm
Check out: 11am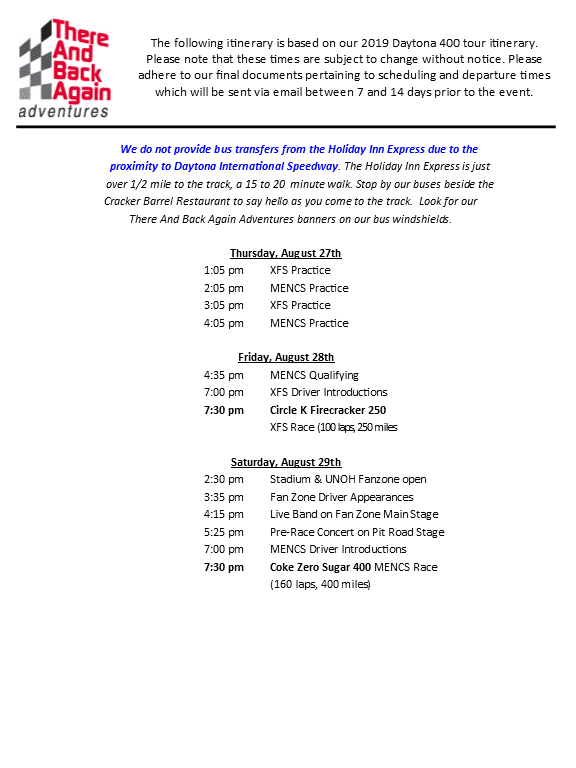 Daytona, Coke Zero Sugar 400, July 2019

Absolutely loved the hotel accommodations!!!! Perfect location!!! Could not have been more pleased!!!! The people at There and Back Again were extremely knowledgeable and personable....felt like talking to old friends.

Richard Newton
Rogersville, AL
Richard's 1st trip with TABA

Daytona, Coke Zero Sugar 400, July 2019

Our TABA Tour Representative, Chris, was friendly, capable and had a great sense of humor. In particular, he did an excellent job explaining what to expect and giving us tips on what to do during the event, which was really helpful as a first-time visitor. The overall package was ideal for the experience I was looking for in terms of duration, organization and cost.

Ed Plager
Brighton, UK
Ed's 1st trip with TABA

Daytona, Coke Zero Sugar 400, July 2019

We stayed at the new Fairfield Inn right across from track. It was amazing, especially since it rained most of the weekend. We were able to walk back to our room in about 10 minutes.

Regina Free and Bill Mixon
Huntsville, Alabama
Their 7th trip with TABA

Daytona, Coke Zero Sugar 400, July 2018

Great experience but, because I live in Australia and 70 years of age I more than likely will be unable to visit your great country again. Josh (TABA staff) was outstanding in any of my queries with prompt replies and great understanding.

John Trouchet
Perth Western Australia
John's 1st trip with TABA
Daytona, Coke Zero Sugar 400, July 2018

Highly satisfied! Josh (TABA staff) was a big help in answering questions.

Russell and Patti Autry
Georgetown, Texas
Their 1st trip with TABA

Daytona, Coke Zero Sugar 400, July 2018

Everyone and everything was very good we enjoyed all of it, was very relaxing!

Mark and Robin Gwines
Sylvester, GA
Their 1st trip with TABA

Daytona, Coke Zero Sugar 400, July 2018

This being the first NASCAR race we attended, we didnt know what to expect. Our seats were reasonably priced and near the pit exit. Visibility of the cars and track was excellent and we were comfortable where we sat. Jay Meeks was an excellent tour host/representative. He was on time to our hotel to drop off tickets, was very friendly, and took time to answer our questions. We departed our hotel for the track on time and the bus driver was very friendly as well. Jay was knowledgeable about NASCAR history and was interesting to listen to. We booked this package for my brother's bachelor party. Over the course of several weeks, some members of our group dropped out and the staff at TABA was more than willing to accommodate us with making amendments to our room/travel packages. Very friendly and willing to help, which was appreciated, given that I don't travel all that much and have never booked a package like this.

Will Gunderson
Enumclaw, WA
Their 1st trip with TABA

Daytona, Coke Zero Sugar 400, July 2018

We will do this again. Awesome!


Sandra Putman
Sabillasville, MD
Sandra's 1st trip with TABA