2020 Dover NASCAR Race Packages, Travel and Tours Drydene 400 - Embassy Suites - NASCAR Cup Ticket
Preferred Travel Partner of Dover International Speedway!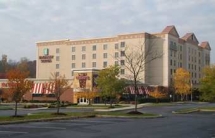 Dover International Speedway | August 21 - August 24
Package code NAS20-26ES
Our 2020 Dover NASCAR travel and race packages include excellent upper-level race tickets for the Drydene 400, first-class Embassy Suites-Newark, DE suite hotel accommodations, deluxe track transfers via deluxe motorcoach from the hotel to Dover International Speedway on Sunday, a knowledgeable and professional TABA tour representative, ticket holder/lanyard, informative tour booklet and several options to optimize your "Monster Mile" experience such as scanner rentals or Fan Suite upgrade and more. Our Embassy Suites hotel is conveniently located only 45 miles from the track and you enjoy breakfast and cocktails daily. Dover International Speedway hosts the NASCAR Xfinity Series and the NASCAR Cup Series this weekend.



Dover 400 Race Ticket-Upper Section 224 or Upgrade
Pre-race Track Pass Sunday
Two or More Nights - Embassy Suites Hotel - Newark, DE
Track Transfers via Deluxe Motorcoach on Sunday
Cooked to order Breakfast daily
Cocktail Reception daily
Pre-Race Track Tour Sunday
Pre-Race Tailgate Party
TABA Ticket Holder and Lanyard
Informative Tour Booklet
TABA Tour Representatives
Race Day Essentials: Bottled Water, Earplugs, Sunscreen, and Koozies
All Taxes
Excellent tickets for the Dover Drydene 400 are located in the upper level of Section 224 in turn one, rows 31-36. These seats are on the front stretch toward turn one, looking straight down pit road. You can also upgrade to the Upper Level Front Stretch across from the pits, rows 32-40. The Front Stretch may have a better view of the pits and the Turn One seats may have a little better view of the entire track. Both NASCAR Cup Series tickets options have great views of the track and the pits.
Seating Chart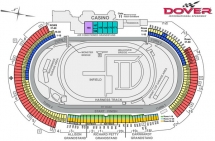 Click to Zoom
Dover International Speedway
Completed in 1969, Dover International Speedway, is a one mile high banked concrete oval Superspeedway nicknamed the "Moster Mile". With a seating capacity of 135,000 fans, this track is home to the NASCAR triple header and is part of the "Chase for the Championship". DIS boasts a racing surface 48-58 feet wide with 9 degrees of banking on the straightaways and 24 degrees in the turns. 2008 celebrated Dover International Speedway's 40th year in NASCAR Monster Energy Cup Series racing history.
Seating Chart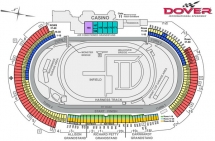 Click to Zoom
Embassy Suites Hotel - Newark, DE
We invite you to experience our reinvented hotel, situated minutes from downtown Newark, DE, and minutes from Wilmington's corporate centers. The Embassy Suites by Hilton Newark Wilmington South hotel is one of the closest hotels near the University of Delaware campus, located across from the Bob Carpenter Center and Delaware Stadium.
This hotel's 154 suites boast modern and updated amenities, beds, furniture, and artwork. Great for families, our two-room suites offer a separate living room with a sleeper sofa, two TVs, a refrigerator, microwave and WiFi. Choose an executive suite for a dining table with chairs — ideal for business meetings.
Relax in our contemporary lobby and choose your favorite foods at our complimentary cooked-to-order breakfast. Unwind at our complimentary Evening Reception*, which includes a variety of beverages and snacks, and enjoy dinner and cocktails in our TGI Friday's restaurant. Maintaining your exercise routine is easy at our complimentary 24-hour fitness center and indoor pool.
*Service of alcohol subject to state and local laws. Must be of legal drinking age.
Hotel Information
Check-in: 3:00 pm
Check-out:12:00 pm
Smoking:Non-Smoking
Parking:Self parking: (Parking Lot)
Valet: Not Available
Service animals allowed: Yes
Pets allowed: No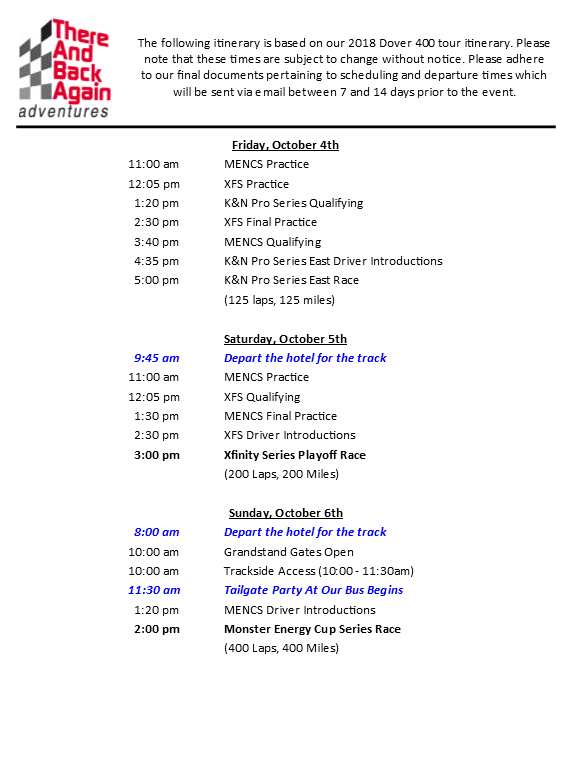 Dover, Drydene 400, October 2019

Just love that we get the scanners on the bus!!!!! Saves sooo much time! The Whole trip was just great!!!! Park your car at hotel, and never have to use it until you leave! WONDERFUL

Diane & Gary Vetter
Pearl River, NY
Their 3rd trip with TABA

Dover, Apache Warrior 400, Oct 2017

I can't say enough about TABA staff and related associates. Both Drew (bus driver) and Imogene (TABA tour rep) are wonderful...They go above and beyond every time.

Jay McGarry
Minoa, New York
Jay's 2nd trip with TABA

Dover, Apache Warrior 400, Oct 2017

Our tickets for Sundays race were OUTSTANDING! We were at the start/finish line, row 33, great seats! Our Tour Representative, Imogene, was most gracious, pleasant, and helpful, and caring person! Her and Drew, our bus driver made the trip very memorable! We had a wonderful time. Breakfast was great, and the cocktail party in the evening was a plus!


Gary and Diane Vetter
Pearl River, New York
Their 1st Trip with TABA

Dover, Apache Warrior 400, Oct 2017

Drew (bus driver) and Imogene (TABA tour rep) were outstanding!! Went above and beyond the job they both had fun and were very professional!!

Daniel and Peggy Benjamin
Larsen, Wisconsin
Their 3rd Trip with TABA

Dover, Apache Warrior 400, Oct 2017

Outstanding experience with TABA! We will tour again next year.

Jack and Kelly Thornburg
Denver, Colorado
Their 1st Trip with TABA
Dover, Apache Warrior 400, Oct 2017

Imogene (TABA tour rep) always does a great job.After 22 years (and my count 125 races) we are still with you.

Harold & Barbara Gay
Falls Church, Virginia
Their 125th Trip with TABA

Dover, Citizen Soldier 400, October 2016

Imogene (TABA Tour representative) was wonderful. Informative on race day as far as starting positions and what not, attentive to the needs of all, accurate in all aspects of her position as coordinator.
Our Bus driver was a gem. He really made all of us comfortable, helpful with presentations and lunch. He did not just drive the bus and walk away. He helped set up for lunch, layed straw over the mud (rain day) helped clean up after. A great guy. Bus transportation was right on the money from start to finish - all time schedules were met, lunch schedule was on target and both the bus driver and the tour rep. were outstanding and went out of their way to ensure that a great time was had by all. Everything (tour booklet & information) received via our email was exactly as the tour stated it would be. Over and above our expectations.

Jay McGarry
Syracuse, NY
Their 1st Trip with TABA

Dover, Citizen Soldier 400, October 2016

Imogene, our (TABA) tour representative was outstanding, along with Drew, our bus driver. We can't say enough good things about both of them. Imogene had all the information for us and made sure she got us all the correct information for our rained out Xfinity race. She always had our best interest and always had a smile for everyone

Ramon and Susan Mercado
Oakdale, CT
Their 1st Trip with TABA

Dover, Citizen Soldier 400, October 2016

Our tour guide was great and answered all of our questions. The bus driver was great. Tour Booklet was very informative. Very good and informal website.

William Steele Kimberly Steele
Eagan, Minnesota
Their 1st Trip with TABA

Dover, Citizen Soldier 400, October 2016

Outstanding! We will tour with you again next year.

Richard Sweat, Steve Sweat, Rick Brand, Rick Brand Jr, Mark Taylor, Rondy Smith
Lodi,CA; Sparks NV; Lodi, CA; Lodi, CA; Lodi, CA; Willits, CA
Their 2nd Trip with TABA