2020 Dover Gander RV 400 NASCAR Race Packages Travel and Tours - Weekend Tickets
Preferred Travel Partner of Dover International Speedway!
Dover International Speedway | May 1 - May 4
Package code NAS20-11ESW
Our 2020 Dover Gander RV weekend race packages, travel packages and tours include excellent upper-level NASCAR Cup and Xfinity Series race tickets, hotel accommodations at the Embassy Suites - Newark, DE, full breakfast daily, cocktail reception nightly, roundtrip track transfers to Dover International Speedwayt by deluxe motorcoach on Saturday and Sunday, knowledgeable and professional TABA tour representatives to assist at the hotel and on the buses, ticket holder/lanyard and several options to optimize your "Monster Mile" experience. Dover International Speedway hosts the Truck Series, Xfinity Series and the NASCAR Cup Series this weekend.

Dover 400 ticket - Section 222 or Upgrade
Xfinity Ticket - Upper Earnhardt, Petty or Allison Grandstands (Front Stretch)
Three Nights - Embassy Suites - Newark, DE
Track Transfers via Deluxe Motorcoach Saturday and Sunday
Pre-Race Tailgate Party on Sunday
Full Daily Hotel Breakfast
Free Hotel Parking
Cocktail Reception Nightly
Monster Energy Cup Race Day Track Tour
TABA Ticket Holder and Lanyard
Informative Tour Booklet
Knowledgeable TABA Tour Representative
Race Day Essentials: Bottled Water, Earplugs, Sunscreen, and Koozies
All Taxes
Excellent tickets for the NASCAR Cup race are located in the upper level of section 222 in turn one, rows 32-35. These seats are on the front stretch looking down pit road as the cars exit. You can also upgrade to the Front Stretch Upper Level. The Xfinity Series tickets are near the start/finish line, upper rows. Both Xfinity and NASCAR Cup tickets have an excellent view of the entire track and the pits.

Seating Chart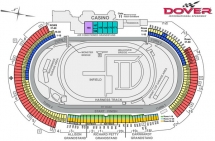 Click to Zoom
Dover International Speedway
Completed in 1969, Dover International Speedway, is a one mile high banked concrete oval Superspeedway nicknamed the "Moster Mile". With a seating capacity of 135,000 fans, this track is home to the NASCAR triple header and is part of the "Chase for the Championship". DIS boasts a racing surface 48-58 feet wide with 9 degrees of banking on the straightaways and 24 degrees in the turns. 2008 celebrated Dover International Speedway's 40th year in NASCAR Monster Energy Cup Series racing history.
Seating Chart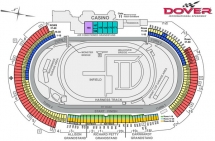 Click to Zoom
Embassy Suites Hotel - Newark, DE
We invite you to experience our reinvented hotel, situated minutes from downtown Newark, DE, and minutes from Wilmington's corporate centers. The Embassy Suites by Hilton Newark Wilmington South hotel is one of the closest hotels near the University of Delaware campus, located across from the Bob Carpenter Center and Delaware Stadium.
This hotel's 154 suites boast modern and updated amenities, beds, furniture, and artwork. Great for families, our two-room suites offer a separate living room with a sleeper sofa, two TVs, a refrigerator, microwave and WiFi. Choose an executive suite for a dining table with chairs — ideal for business meetings.
Relax in our contemporary lobby and choose your favorite foods at our complimentary cooked-to-order breakfast. Unwind at our complimentary Evening Reception*, which includes a variety of beverages and snacks, and enjoy dinner and cocktails in our TGI Friday's restaurant. Maintaining your exercise routine is easy at our complimentary 24-hour fitness center and indoor pool.
*Service of alcohol subject to state and local laws. Must be of legal drinking age.
Hotel Information
Check-in: 3:00 pm
Check-out:12:00 pm
Smoking:Non-Smoking
Parking:Self parking: (Parking Lot)
Valet: Not Available
Service animals allowed: Yes
Pets allowed: No
Dover, Gander RV 400, April 2019

Even with the rain, this was a fabulous trip. Our hostess was very positive and made the trip fun. Bus driver so polite and friendly.

Pat McGoff
Mecalf Ontario - Canada
Their 4th trip with TABA

Dover, Gander RV 400, April 2019

Everything was good except the rain. We drove to the track on Monday--all good!

Jeffery Earle
Ithaca, NY
Their 22nd trip with TABA

Dover, Gander RV 400, April 2019

Imogene (TABA tour rep) was amazing love her and she made the trip very exciting.

Carrie Lamay
Windsor Locks, CT
Their 1st trip with TABA

Dover, Gander Outdoors 400, October 2018

Everyone was very helpful. Imogene (TABA tour rep) is absolutely wonderful. She could not be more helpful and hardworking as well.

Jay McGarry and Craig Beebe
Minoa, NY
Their 3rd trip with TABA

Dover, Gander Outdoors 400, October 2018

Our seats were absolutely amazing. Watching the cars come off pit road was very cool. Both our drivers Drew and Glen were great. Imogene (TABA tour rep) was just wonderful and cute as a button. Her personality suits what she does. She has a very big heart and we wish her all the best in her working and personal life. We had such a blast on this trip. It was close to my birthday and Imogene even went out and got me a cake through the mentioning of our friends. That to me was over and above. Thank You so very much. I'll never ever forget that!

Steve and Brenda von Schoenberg
Glenburnie Ont. Canada
Their 2nd trip with TABA
Dover, Gander Outdoors 400, October 2018

We've done 6 races with TABA and will continue to do so in the future. Imogene is a great TABA Tour Representative.

Raymond & Annette Naylor
Bryan, Texas
Their 3rd trip with TABA

Dover, AAA 400, May 2018

It is always a pleasure to have Imogene (TABA tour rep) and see how she treats the kids on the bus. She always has something special for them. It is great PR and helps in promoting TABA to attract new clients and keep the old ones. Everyone one on the bus appreciates her friendly personality, efficiency and all matters concerning the trip. TABA has an excellent staff of tour reps.

Hal & Barb Gay
Falls Church, VA
Their 129th trip with TABA

Dover, AAA 400, May 2018

Highly satisfied! Both Imogene (TABA tour rep) and Drew the bus driver were excellent. Thanks both.

Ian Penny
Tredegar UK.
Ian's 1st trip with TABA

Dover, AAA 400, May 2018

TABA is our preferred NASCAR tour provider. This was our 14th tour with TABA. We appreciate the convenience of booking a complete race experience (hotel, transportation, tickets and extras at the track) and their attention to every detail. Imogene is a terrific tour rep and she obviously enjoys what she does. We are looking forward to our next race!

James and Linda Robertson
Eugene, Oregon
Their 14th trip with TABA

Dover, AAA 400, May 2018

Awesome weekend. Thanks Imogene (TABA tour rep) and Drew (bus driver) for giving us a great time. Thank the caterer for us. The spread at the tailgate Sunday was great also.

Brock Glenn
Chesley, Ontario
Brock's 2nd trip with TABA