2019 Homestead Ford EcoBoost 400 NASCAR Race Packages Travel Tours - Hyatt Regency - Weekend Tickets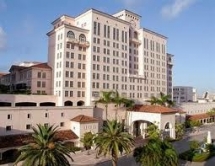 Homestead Miami Speedway | November 15 - November 18
Package code NAS19-38HYW
These Homestead Miami Ford EcoBoost 400 NASCAR Championship Weekend Ticket race packages, travel packages, and tours include Excellent Ford Ecoboost 400 Monster Energy Cup and Ford 300 Xfinity race tickets, hotel accommodations at the luxurious Hyatt Regency - Coral Gables, roundtrip deluxe bus transportation from the hotel to Homestead Motor Speedway on Saturday and Sunday, informative tour booklet, ticket holder/lanyards, services of a knowledgeable tour representative at hotel and on bus to assist you and more plus we have exciting add on options to enhance your race weekend such as scanner rentals and pit passes.. The 2018 Gander Outdoors Truck Series, Xfinity Series, and Monster Energy Cup Series culminate with the season finale weekend in Homestead. With the new high banking at Homestead Miami Speedway, competition here is incredible and makes for always exciting racing. New champions will be crowned and the anticipation for the next season begins. The Gander Outdoors Truck Series will be under the lights this year and the Xfinity and Monster Energy Cup Series races will start in the afternoon. Our hotel, the Hyatt Regency-Coral Gables is a deluxe first class property located just off of the Miracle Mile Shopping District. Plenty to do and see at this property located in the "Beverly Hills of Miami".
Ford Ecoboost 400 Ticket - Sections 197 or 246 or Upgrade
Xfinity 300 Ticket - Sections 197 or 246 or Upgrade
Two or More Nights - Luxurious Hyatt Regency Coral Gables
Full Hotel Breakfast Included Daily
Track Transfers via Deluxe Bus Saturday and Sundayy
TABA Ticket Holder and Lanyard
Informative Tour Booklet
Knowledgeable TABA Tour Representatives
Race Day Essentials: Bottled Water, Earplugs, Sunscreen, and Koozies
All Taxes
Homestead Ford 400 Monster Energy Cup Tickets are in your choioe of Section 197, rows 39-48 (Turn 1 area) or Section 246, rows 41-46 (Turn 4 area) These are great tickets in the upper levels of the front stretch grandstand. Section 197 is toward turn one where the grandstand starts to bend around turn one but has a great angle to view the track and pit road without having to lean out to see. You can also choose Section 246 in located high outside Turn 4 and is located closest to our bus parking. You can also Upgrade your Monster Cup tickets to Section 210 located in rows 36-39 between the Start/Finish Line and Turn 1 and across from pit road and the top qualifier's pits. You can also Upgrade your tickets to Section 232, rows 22-27 at the Start/Finish Line and right in the middle of pit road. These seats have an outstanding view of the track and pit road also; however, due to the straight frontstretch and the straight grandstand, you may have to stand up longer or lean out to see to your left or right.
Xfinity Series Tickets are general admission if you choose Weekend Tickets with Cup tickets in Section 197 or 246. Xfinity tickets are reserved seats if Upgrading to Section 210 or 232 or to our Premium Speedway Club or Champions Club Seats.
Truck Series Tickets will be general admission unless you Upgrade to our Premium Speedway Club or Champions Club Seats (quantities are limited).
Premium Seats:
Speedway Club: These are 3-day Tickets and are individual stadium style seats located high at the start/finish line with an exclusive lounge that you have access to overlooking your seats and the track. Beverages and Food are available at a cash bar.
Champions Club: These are 3-day Tickets and are box style seats are outside your Exclusive Champions Club Lounge located up above Turn One overlooking the track where you can dine and drink until your heart's content on upscale food buffet stations and open bars. Beverages and Food are included each day with this Ticket Package.
Seating Chart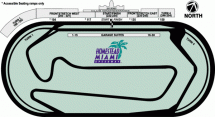 Click to Zoom

Homestead Miami Speedway
Ground breaking for Homestead Miami Speedway took place in 1993 with the construction being completed in 1995. The first NASCAR Monster Energy Cup Series race was in 1999 with Tony Stewart taking the checkered flag. Referred to as one of the most beautiful sports facilities in America, HMS is ideally located just 25 miles south of the Miami International Airport and boasts a fabulous view of the Miami skyline to the Northeast.
A 1.5 mile asphalt oval, HMS has 20 degree variable banking in the turns making it a very competitive track. This state of the art facility holds in excess of 65,000 fans and is home to NASCAR's Championship Weekend for all three NASCAR Series.

Seating Chart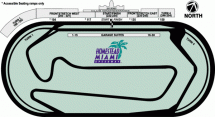 Click to Zoom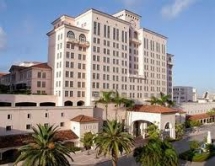 Hyatt Regency- Coral Gables
Experience the Mediterranean in Coral Gables. Marked by a two-story marble lobby, antique accents, and Spanish-style windows, Hyatt Regency Coral Gables offers a quiet refuge within easy reach of the strip. Stay in the "Beverly Hills of Miami," near the Art Deco District and the high-end shops and restaurants of Miracle Mile, just two blocks away. Explore neighboring Key Biscayne and Miami Beach. Or, stroll through Coconut Grove and visit the galleries of the Village of Merrick Park.
HOTEL FEATURES
253 elegant hotel rooms with views
Expansive outdoor heated pool
Large sundeck with poolside lounge
24-hour StayFit™ Gym
Smoke-free
Self-parking
SERVICES
Lost & Found
Valet parking​
ACTIVITIES
YogaAway™
Two Sisters Restaurant offers an exciting menu that blends the bold flavors of Miami with classic American cuisine. Bar 50 is the perfect spot to unwind with a cocktail or watch sports on large flat-screen TVs. Perks serves up freshly brewed Starbucks® coffee, a variety of Tazo teas, and fresh pastries for an on-the-go breakfast. To satisfy your need for a quick bite, Market serves fresh sandwiches, salads, and snacks, 24 hours a day. The expansive menu showcases a mixture of Mediterranean specialties and the bold flavors of Miami cuisine. Dine indoors and watch as your meal is prepared in the open kitchen, or opt for cocktails in the lively courtyard.
Hours: Breakfast: 6:30 am to 11:00 am Lunch: 11:00 am to 3:00 pm Dinner: 5:00 pm to 10:00 pm
Bar 50, located in the hotel lobby, is open from early afternoon to late evening. Enjoy drinks, appetizers or dinner while watching sports on TV or meeting with friends. Be sure to check our happy hour and two-for-one specials.
Hours: 2:00pm to close daily
Perks serves up freshly brewed Starbucks® coffee, a variety of Tazo teas, and fresh pastries for an on-the-go breakfast. Stop by later in the day for beverages, snacks, or sandwiches.
Hours 6:30 am to 2:00 pm daily
Parking: Hyatt Regency Coral Gables offers valet and self-parking, and charges include in/out privileges. Please note: parking is not available for vehicles over 6 feet high.
Valet or Self Parking: $35 per day
Pool - Take advantage of our inviting outdoor heated pool, Jacuzzi, saunas, and sundeck—all conveniently located on the fifth floor of our luxury hotel.
Hours 6:30 a.m. to 10:00 p.m. daily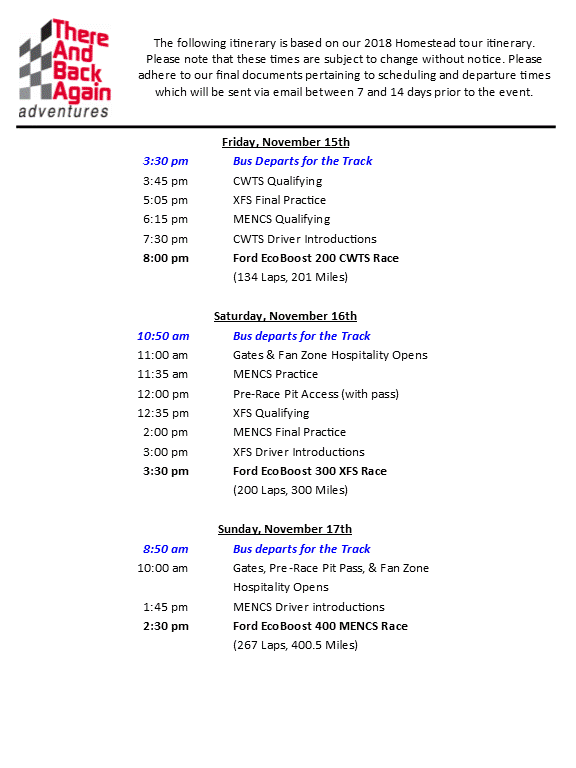 Homestead, Ford EcoBoost 400, November 2018

Overall the experience was great, however Mary Jo the bus driver was particularly awesome. She found routes out of track to avoid traffic and got us back to hotel relatively quick considering.

Robert & Keri Douglas
Stroud, OK
Their 1st trip with TABA

Homestead, Ford EcoBoost 400, November 2018

We booked with Josh who was very helpful! He even remembered working with us when we picked up our documents on the tour! Mark (TABA tour rep) was friendly and entertaining. Great tour guide!!

Rena and Bob Powell
Delanson, NY
Their 3rd trip with TABA

Homestead, Ford EcoBoost 400, November 2018

Both the bus driver and the tour rep Josh made sure everyone was looked after.....koodos!

Eric von der Recke and Bob Healy
Ontario, Canada
Their 1st trip with TABA

Homestead, Ford EcoBoost 400, November 2018

We look forward to a father son weekend with NASCAR. This was our first time to Homestead and we were very impressed with the facilities and their offerings. We have never been disappointed by any of the hotels that we have used through TABA. Always central to all the amenities, clean, tidy and friendly staff. TABA has done their homework on the hotel offerings. All dealings with TABA are first class and have your best interests in mind. Never an issue, never a complaint. Perfect!

WILLIAM AND KEVIN OSTERMEIER
Ontario, Canada
Their 1st trip with TABA

Homestead, Ford EcoBoost 400, November 2018

Mark (TABA tour rep) is great. Nice that he worked in the business because it gives him a complete view of the track experience. Another GREAT weekend. TABA never disappoints. When there is a problem, they deal with it immediately. Worry free tours keeps us coming back.


Monte & Candy Siebrecht
Mesquite, NV
Their 9th trip with TABA
Homestead, Ford EcoBoost 400, November 2018

This was my first time to a race though I have been a fan for years. I thought the service of your organization was first rate. From the parking pass because I would arrive too late to take the Friday bus, to making sure my missing pit passes were replaced. I thought Mark was exceptional and made the bus ride pass quickly.
It's not often I can say someone over delivered. Congrats, good luck, and see you again!

Christine Potempa
Shelby Township, MI
Christine's 1st Trip with TABA

Homestead, Ford EcoBoost 400, November 2018

Very friendly and well informed driver and tour guide. Easy to book and enough info about tour and hotel to know what to expect. This was our third race with There and Back. Will book with them again.

Tim and Sandy Trost
Carleton, MI
Their 3rd trip with TABA

Homestead, Ford Eco-Boost 400, November 2017

Great time!

Nancy Kramer & Earl Urkevich
Shushan, New York & Stillwater, New York
Their 3rd Trip with TABA

Homestead, Ford Eco-Boost 400, November 2017

This is my second tour with you and was happy with the experience always!

Jane Whitnall
Toronto, Ontario
Jane's 2nd Trip with TABA

Homestead, Ford Eco-Boost 400, November 2017

We enjoyed the entire experience. The people we met on the tour were friendly and shared their previous tour experiences with us. The transportation to and from the track took a lot of stress out of the experience since we didn't have to worry about traffic, routes or being the designated driver. Thanks for a great time.

Clay and Belinda McClinton
Grand Bay, Alabama
Their 1st Trip with TABA