2019 Kentucky Quaker State 400 NASCAR Race Packages - Embassy Suites - Covington - Weekend Ticket
Preferred Travel Provider for Kentucky Speedway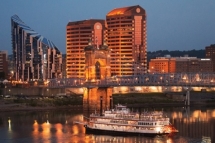 Kentucky Speedway | July 11 - July 14
Package code NAS19-21ESW-C
Our 2019 Kentucky Speedway Quaker State 400 NASCAR race packages, travel packages and tours include excellent Kentucky Speedway Cup and Xfinity race tickets in your choice of Grandstand 3, 4 or upgrade to the Kentucky Tower, the Indiana Tower, or the Quaker State Tower, hotel accommodations at the Embassy Suites - Covington, KY, roundtrip track transfers Friday and Saturday by deluxe motorcoach to Kentucky Speedway Saturday, experienced Tour Representative, Informative tour booklet, and all taxes and a few options to enhance your race experience. Downtown Cincinnati is just across the River from the hotel. Many restaurants and activities in the area.

Quaker State 400 race ticket - Grandstand 3 or 4 or Upgrade, Select Below
Two or More Nights - Embassy Suites - Covington, KY (Cincinnati)
Cooked to Order Breakfast Daily
High Speed Internet
Track Transfers via Deluxe Motorcoach Friday & Saturday
TABA Ticket Holder and Lanyard
Informative Tour Booklet
Knowledgeable Tour Representatives on site and on buses to assist
Race Day Essentials: Bottled Water, Earplugs, Sunscreen, and Koozies
All Taxes
Our Kentucky Speedway tickets are great seats located in your choice of Grandstand 3 or 4, rows 29-32. or you can upgrade to the Kentucky Tower, the Indiana Tower, or the Quaker State Tower. Granstand 3 and 4 are bench style seats with a back and offer unobstructed views of the entire track. You can also upgrade to the Kentucky and Quaker State Towers. The Kentucky, Indiana, and Quaker State Towers are a wider seat and are folding stadium style seats. Please select your seat choice in the options listed below. Grandstand 3 and the Kentucky Tower are located to the turn one side of the start finish line across from the pit road exit. Grandstand 4 and the Quaker State Tower are located to the fourth turn side of the start/finish line across from entrance to pit road.

Seating Chart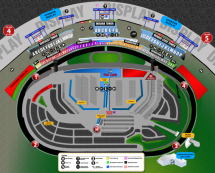 Click to Zoom

Kentucky Speedway
Located in Sparta, KY., and constructed on 820 acres of land, Kentucky Speedway showcases the most prominent race series on its 1.5-mile tri-oval with 14-degree banking in the turns and a 1,600-foot backstretch. The tri-oval is 70-feet wide and includes a 12-foot apron. The facility also features a paved quarter-mile track.
Seating Chart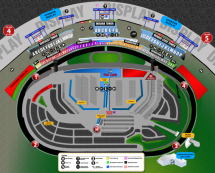 Click to Zoom
Embassy Suites - Cincinnati River Center
Welcome to the Embassy Suites by Hilton Cincinnati RiverCenter hotel, located on the banks of the Ohio River. Our Cincinnati hotel is just a two-minute drive from downtown Cincinnati, nearby attractions like Paul Brown Stadium, US Bank Arena, Duke Energy Convention Center, and Aronoff Center for the Arts. We're also only 2.7 miles from the excitement of Jack Casino.
Southbank Shuttle Trolley stops outside the hotel, offering easy access to downtown. Cincinnati/Northern Kentucky International Airport is only 20 minutes away and the hotel is adjacent to the Northern Kentucky Convention Center with easy access to I-71, I-75 and many Covington, KY attractions.
Feel at home in a spacious two-room suite at this Covington hotel. All 227 suites feature a private bedroom and separate living area. Enjoy a free made-to-order breakfast every morning along with a view of the Cincinnati skyline. Drinks and snacks are available in the open-air atrium at our Evening Reception*.
Highlights
All-suite Riverfront hotel with views of downtown Cincinnati, the Ohio River and the Roebling Bridge
Free made-to-order breakfast and complimentary Evening Reception*
Enjoy a variety of grab-and-go items and Starbucks Coffee from the E'terie
Weekday shuttles within two miles, offering access to restaurants and businesses

Check-in: 4:00 pm
Check-out: 12:00 pm
Non-Smoking
A fee of up to $250 USD will be assessed for smoking in a non-smoking room. Please ask the Front Desk for locations of designated outdoor smoking areas.
Self parking: $10.00 (Covered Parking)
Valet: $26.00 (Unlimited, per day)
Service animals allowed: Yes
Pets allowed: No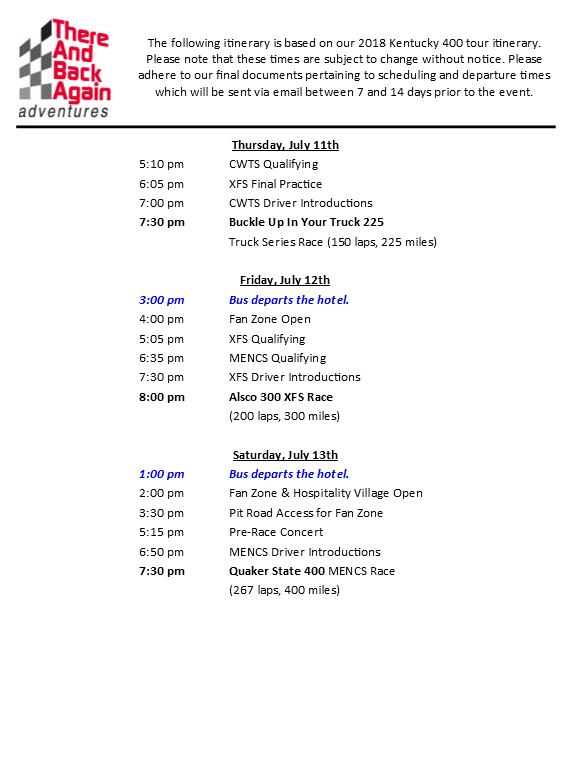 Bristol, Bass Pro Shops Night Race, August 2018

Great staff. Great time, really only way to go for a carefree experience.

David Hunt
Stamford, NY
David's 15th trip with TABA

Kentucky, Quaker State 400, July 2018

Everyone did a great job!! Thanks.

Linda and Clarence Lohmann
Coral Springs, FL
Their 2nd trip with TABA

Kentucky, Quaker State 400, July 2018

The BlueGrass tickets gave me the best view of the track and offered the opportunity to enter the infield to look at the cars going through tech and come into the winners circle. Our bus driver was great, she was informative and accommodating, nothing was a problem. Rex (TABA tour guide) was easy to get on with and helpful and knowledgeable with anything I asked. Would recommend TABA to anybody wanting an easy way to get to the track with knowledgeable people to show you where, when and how to get the best out of the experience.

Kimm Wray
Auckland, New Zealand
Kimm's 1st Trip with TABA

Kentucky, Quaker State 400, July 2018

Excellent seats for race. My husband absolutely loved the fan zone. The race scanners made it great to listen to the live commentary to give the experience more detail. Hotel amazing absolutely beautiful and in great location. Great bus driver she was very interactive with tour group p I'll lite helpful and great safe driver. The bus was very clean great comfortable seats plus good clean toilet on board. Rex was an excellent tour guide very knowledgeable and easy to communicate with. First time to USA and first time to NASCAR fantastic enjoyable experience. Thank you.

Debra & Paul Rainbird
New Norfolk, Tasmania - Australia
Their 1st trip with TABA

Kentucky, Quaker State 400, July 2018

Bus driver, Diane, was very courteous, friendly, and drove safely, but got us to the race track on time both days! Diane worked hard to make her customers happy and comfortable! Diane was fantastic! Rex was a great tour representative for TABA! He made sure all of us had a great weekend at race and hotel!

Bill and Donna Wilson
Warner Robins, Georgia
Their 7th trip with TABA
Kentucky, Quaker State 400, July 2017

We have traveled with TABA at least 30 times now and have recommended them to family and friends. Nobody has been disappointed.

Bob and Mary Ann James
Stouffville, ON, Canada
Their 30th Trip with TABA

Kentucky, Quaker State 400, July 2017

Rex (TABA tour rep) is one of the best tour reps. Has so much good information about each city, restaurants, directions and fun on the ride to races.

Carolyn Tex & Mike Hruban
Indianapolis, IA
Their 10th Trip with TABA

Kentucky, Quaker State 400, July 2017

Always pleased with TABA and will continue to use your service for our future NASCAR trips

Jim & Paulette West
West Arcadia, OK
Their 30th Trip with TABA

Kentucky, Quaker State 400, July 2017

Thanks for another great race weekend!

Diane Philip
Sylvania, OH
Their 23rd Trip with TABA

Kentucky, Quaker State 400, July 2016

Rex (TABA Tour Representative) was awesome as usual! Imogene and Shane (TABA Staff) are super folks to deal with!!!! This is somewhere around our 15th race tour with TABA and that speaks to both the quality of the TABA staff and the tour packages you put together!

Bruce Soule
Butler, PA
Their 19th Trip with TABA