2020 Las Vegas NASCAR Packages and Race Tours Travel-South Point 400 - Treasure Island - NASCAR Cup
Best Selection of Las Vegas NASCAR Packages and Race Tours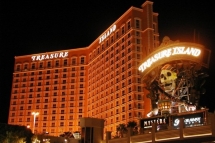 Las Vegas Motor Speedway | September 24 - September 28
Package code NAS20-31TI
Our 2020 Treasure Island Cup only Las Vegas NASCAR packages, travel packages and race tours include excellent South Point 400 Tickets (Section White and above, no low Red Section tickets) and hotel accommodations at the fabulous Treasure Island Las Vegas Hotel and Casino plus we provide track transfers to Las Vegas Motor Speedway on Sunday. In addition, we offer several options to optimize your Las Vegas NASCAR packages such as ticket upgrades, Neon Garage and pit passes and scanner rentals. Treasure Island Las Vegas is a swash buckling yet fashionable and seductive resort, creating a feeling of an Caribbean Adventure as you stroll through the many shops, restaurants and casino. The location is at the heart of the Las Vegas Strip, surrounded by the most well known resorts such as Caesars, Mirage, Venetian, Harrahs, Flamingo and more. You are just steps away from everything Las Vegas has to offer. Join us on one of our Las Vegas NASCAR Packages for a great and hassle-free vacation.
South Point 400 Ticket - Grandstand 2 White or Upgrade
Two or More Nights - Treasure Island - Las Vegas Strip
Complimentary Guest Room Internet Access
Fitness Center Passes Daily
Round Trip Deluxe Bus Transfers to the Track Sunday
**Exclusive Route Through Nellis AFB leaving Sunday race**
Preferred Bus Parking Close to the Track and Your Seats
TABA Ticket Holder and Lanyard
Informative TABA Tour Booklet
TABA Tour Representatives on Site and the Buses to Assist
Race Day Essentials: Bottled Water, Earplugs, Sunscreen, and Koozies
Hotel Resort Fees
All Taxes
Tickets for the Las Vegas NASCAR South Point 400 weekend are in Grandstand 2 White (Mid-Level) on the front stretch (rows 20-27). You can upgrade your tickets to Grandstand 2 Blue. Grandstand 2 Blue tickets are in rows 28-38. You can also upgrade your tickets to the Petty Terrace or the Earnhardt Terrace (rows 39-72). The Petty Terrace seats are located to the Turn 1 side of the Start/Finish line and the Earnhardt Terrace is located to the Turn 4 side of the Start/Finish line. Petty and Earnhardt Terrace seats are individual stadium style folding chair seats. Grandstand 2 is bench style seating with a back and is where the Start/Finish Line is. Due to the Neon Garage and the new banking at the track, viewing lines are best established at row 20 or above.
Our Row numbers:
Grandstand 2 White: Rows 20-27
Grandstand 2 Blue: Rows 28-38
Earnhardt and Petty Terraces: Rows 39-72
We do not recommend nor do we offer the Less Desirable Low Row Red Section Tickets where you can not see around the entire track.
Seating Chart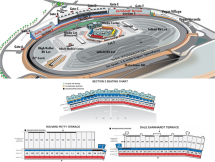 Click to Zoom

Las Vegas Motor Speedway
In 1995 ground breaking took place to construct the $200 million dollar complex known as the Las Vegas Motor Speedway. This construction was completed in 1996 with the inaugural NASCAR Monster Energy Cup Series race event being held in 1998 and Mark Martin taking the checkered flag for the event.
Located just a few miles North of the Las Vegas Strip, the unique motorsports facility is considered to be like a diamond in the desert. The 1.5 mile D-shaped oval boasts 20 degrees of banking in the turns and 9 degrees of banking on the straightaways and has a seating capacity of 142,000 race fans.
Front straight: 2,275 feet
Back straight: 1,572 feet
NEW Banking [2007]: Corners:20°, Front Straight: 9°, Back Straight: 9°
OLD Banking: Corners:12 degrees, Front Straight: 8 degrees, Back Straight: 3 degrees

Seating Chart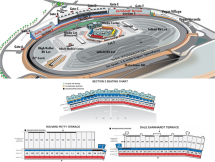 Click to Zoom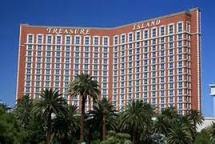 TI -Treasure Island
The ideal location on the Las Vegas Strip.
Treasure Island - TI Hotel Casino is the most exciting, distinctive and friendly resort destination in Las Vegas. The hotel is within walking distance or short driving distance of all the best restaurants, shopping, shows, hotels and entertainment offered on the Las Vegas Strip, downtown and beyond.
Treasure Island is located on the southwest corner of Spring Mountain Road and Las Vegas Boulevard (The Strip). TI is connected to The Mirage Hotel and Casino by a tram (on the south), and connected by pedestrian bridges to Palazzo / The Venetian and Sands Expo (on the east), and The Fashion Show Shopping Mall (on the north). The Wynn/Encore Las Vegas hotels are located on the northeast corner of Spring Mountain Road and Las Vegas Boulevard (The Strip), and TI is less than 1.5 miles from the Las Vegas Convention Center.
There are many restaurants, bars and lounges along with entertainment at Treasure Island and the surrounding area. And of course there is the thrill of the casino.
Free Parking at Treasure Island.
Las Vegas, South Point 400, September 2019

TABA takes away any worries or concerns about the race. Once you arrive at your hotel everything is taken care of. We love the positive people associated with TABA--the tour directors and bus drivers.

Kaye and Bill Isakson
Provo, UT
Their 3rd trip with TABA

Las Vegas, South Point 400, September 2019

Our seats for the truck race were upgraded and we greatly appreciated them. As always our trip with you was very enjoyable. We have never had a poor experience since we started touring with you.

Joan and Gerald Elder
Beaverton, OR
Their 6th trip with TABA

Las Vegas, South Point 400, September 2019

Overall had an amazing time and There and Back Again made things simple and easy for us to navigate.

Spencer Bennett
Orem, UT
Their 6th trip with TABA

Las Vegas, South Point 400, September 2019

As always, our trip with TABA was great! We enjoyed having Josh as our tour rep! Thanks again for a well put together fun trip

Gary and Val Waers
Canal Winchester, OH
Their 26th trip with TABA

Las Vegas, South Point 400, September 2019

We loved every minute of it. We first used your services at Daytona 500 and your guys were great to and from the track. Everything was great again. Josh was an excellent tour guide, very helpful when asked questions. Made the experience much better.

Barb and Terry Craig
London, Ontario - Canada
Their 2nd trip with TABA
Las Vegas, South Point 400, September 2019

I booked the races for my husband's birthday. We had a great time! Everything was organized, fast, and friendly!! All in all, it was a great weekend!! The races were great, our tour guide was awesome!

JENNIFER STEVENS AND SEAN ALBERS
PORTLAND, OR
Their 1st trip with TABA

Las Vegas, South Point 400, September 2019

We would stay at the Golden Nugget again. Hotel employees all very nice and helpful. Imogene and Honey (TABA tour reps) were both very helpful and knowledgeable.

Cam and Pat Krueger
Victoria, B.C. Canada
Their 5th trip with TABA

Las Vegas, South Point 400, September 2019

Josh (TABA tour rep), helped me a lot on the phone organizing the trip. Very helpful. Imogene (TABA tour rep) helped during the trip, a BIG Thank you.... First time I used you all. Wasn't to sure at first, lots of scams out there... But you all have it together, & organized.. Very impressed!!! You saved us money, time, & less worrying. I have already told my buds about you....

Alexis Gonzalez, Amy Cooper and Sue Piland
Valley Center, CA
Their 1st trip with TABA

Las Vegas, South Point 400, September 2019

Imogene (TABA tour rep) is my go to person.Thank you so much for the help and the information that you gave both days on the way to the race. Imogene is very knowledgeable and helpful. I wouldn't hesitate to contact her again. Thank you again for everything!

PEGGY and Clive PETERSON
WEST VALLEY CITY, UT
Their 1st trip with TABA

Las Vegas, South Point 400, September 2019

We had a great time with There and Back Again adventures. Thank you very much

Jeff and Candice Warrilow
Red Deer, Alberta - Canada
Their 1st trip with TABA