2021 Las Vegas NASCAR Travel Packages, Race Tours - Pennzoil 400 - Flamingo - NASCAR Cup
Best Selection of Las Vegas NASCAR Packages and Race Tours
Las Vegas Motor Speedway | March 4 - March 8
Package code NAS21-02FL
Our 2021 Flamingo Las Vegas NASCAR Packages, travel and race tours include excellent Las Vegas Pennzoil 400 NASCAR Cup Series race tickets and upgraded hotel accommodations at Flamingo Las Vegas, hotel to track transfers to Las Vegas Motor Speedway via deluxe motorcoach on Sunday with Preferred and Close Bus Parking to your seats, Professional and Knowledgeable Tour Representatives, welcome gift, tour booklet, and much more. In addition, we offer several options to optimize your Las Vegas NASCAR Packages such as ticket upgrades, neon garage passes, scanners and more. At the Flamingo you can relax amid the Tropical themes of the Carribean in the Casino, the 15 acres of Caribbean-Style Water Playground of cascadubg Waterfalls, 4 Pools, and Waterslides, and their Wildlife Habitat has free admission is home to Flamingos, Penguins and other Exotic Animals. The Flamingo features 2 onsite entertainment showrooms and an energetic Margaritaville Club/Restaurant. Join us on one of our Las Vegas NASCAR Packages and have a great, hassle-free NASCAR experience.
Pennzoil 400 Ticket - Grandstand 2 White or Upgrade
Two or More Nights - Flamingo Las Vegas Strip
Complimentary Guest Room Internet Access
Fitness Center Passes Daily
Roundtrip Deluxe Bus Transfers to Pennzoil 400 on Sunday using an exclusive Nellis AFB route
Preferred Bus Parking Close to the Track and Your Seats
TABA Ticket Holder and Lanyard
Informative Tour Booklet
TABA Tour Representatives on-site to Assist
Welcome Las Vegas gift
Race Day Essentials: Bottled Water, Earplugs, Sunscreen, and Koozies
Hotel Resort Fees
All Taxes
Tickets for the Las Vegas NASCAR Pennzoil 400 weekend are in Grandstand 2 White (Mid-Level) on the front stretch (rows 20-27). You can upgrade your tickets to Grandstand 2 Blue. Grandstand 2 Blue tickets are in rows 28-38. You can also upgrade your tickets to the Petty Terrace or the Earnhardt Terrace (rows 39-72). The Petty Terrace seats are located to the Turn 1 side of the Start/Finish line and the Earnhardt Terrace is located to the Turn 4 side of the Start/Finish line. Petty and Earnhardt Terrace seats are individual stadium style folding chair seats. Grandstand 2 is bench style seating with a back and is where the Start/Finish Line is. Due to the Neon Garage and the new banking at the track, viewing lines are best established at row 20 or above.
Our Row numbers:
Grandstand 2 White: Rows 20-27
Grandstand 2 Blue: Rows 28-38
Earnhardt and Petty Terraces: Rows 39-72
We do not recommend nor do we offer the Less Desirable Low Row Red Section Tickets where you can not see around the entire track.
Seating Chart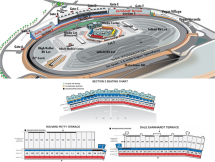 Click to Zoom

Las Vegas Motor Speedway
In 1995 ground breaking took place to construct the $200 million dollar complex known as the Las Vegas Motor Speedway. This construction was completed in 1996 with the inaugural NASCAR Monster Energy Cup Series race event being held in 1998 and Mark Martin taking the checkered flag for the event.
Located just a few miles North of the Las Vegas Strip, the unique motorsports facility is considered to be like a diamond in the desert. The 1.5 mile D-shaped oval boasts 20 degrees of banking in the turns and 9 degrees of banking on the straightaways and has a seating capacity of 142,000 race fans.
Front straight: 2,275 feet
Back straight: 1,572 feet
NEW Banking [2007]: Corners:20°, Front Straight: 9°, Back Straight: 9°
OLD Banking: Corners:12 degrees, Front Straight: 8 degrees, Back Straight: 3 degrees

Seating Chart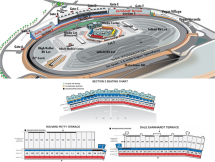 Click to Zoom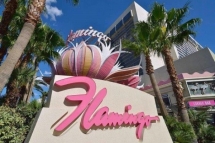 Flamingo Las Vegas
The Flamingo, Bugsy Siegel's desert dream, is located on the famous Four Corners of the Las Vegas Strip, contains grandiose features, such as a 77,000 square-foot casino, headline entertainment, a wildlife habitat, and a water playground, and is approximately four miles north of McCarran International Airport.The Flamingo's casino features a vibrant Caribbean theme, and offers more than 1,600 slot machines, a sports book, and 89 table games. The Wildlife Habitat is admission free, and is home to flamingos, penguins, and other exotic animals. The 15-acre Caribbean-style water playground features cascading waterfalls, four pools, pool cabana rentals, seasonal poolside Flamingo Beach Club Cafe, and seasonal waterslides. Dining options include Asian cuisine at Hamada of Japan, Java Coast, the tropical menu of Margaritaville, the Paradise Garden Buffet, featuring views of animals frolicking in the habitat, Steakhouse46, the Tropical Breeze Cafe, and Burger Joint. Athletic activities include tennis courts, and access to the offsite Cascata and Rio Secco Golf Clubs. Two onsite showrooms feature live headline entertainment. Also featuring a 73,000-square-foot conference center, Alexandra Salon, and a fitness center and spa, containing three whirlpools, saunas, and therapeutic and beauty treatments. Rounding out the amenities are a business center, video arcade, bell staff, laundry and dry cleaning, full-service UPS store, complimentary parking, valet laundry service, a hair salon, shopping, three bars, and 24-hour room service.All 3,545 rooms feature high-speed Internet access (fee applies), Web TV (with video games), voicemail, irons and ironing boards, hairdryers, individual climate control, safes (fee applies), and cable TV.
The Flamingo - Las Vegas Strip Hotel Details
Pertinent Hotel Information
Address:
3555 S Las Vegas Blvd, Las Vegas, NV 89109
Hotel Check In:
4:00 pm
Hotel Check Out:
11:00 am
Smoking Policy:
Not Available
Self Parking:
$15/day On-site Parking Garage
Valet Parking:
$24/day Valet
Pets:
Yes - Additional Fee $85 per day
Airport Shuttle:
Not Available (Uber/Lyft)
Area Shuttle:
Not Available
On-Site Restaurant:
Bugsy and Meyers Steakhouse (Coming Soon)
Margaritaville
Beach Club Bar & Grill
Paradise Garden Buffet
Carlos n Charlies Restaurant
Club Cappachino
Flamingo Food Court
Cafe Express
Breakfast:
Not Included
Bar/Lounge:
See above restaurants
Room Service:
Yes - 24 hours
Wifi:
Free Wifi
Pool:
Outdoor Pools
Fitness Center:
Yes
Refrigerator in Room:
No
Microwave in Room:
No
In Room Coffee/Tea
No
Business Center:
Yes
Conceirge:
Yes
Car Rental:
Yes
Accessible Rooms
Accessible Rooms Available On Request
Suite Upgrades:
Upgrades available by request
Balcony:
Not Available
Room - Bedding Types:
King or 2 Queens
Sleeper Sofa Availability:
Available in certain room types
Cot Availability:
Not Available
Adjacent Rooms:
Can be requested but not guaranteed,
Maximum Guests per room
4 including children, exceptions may be available
Resort Fees:
Included in package price
Area Information
Closest Airport(s)
LAS - McCarran International Airport (2 miles)
Local Restaurants:
Yardbird Southern Table and Bar
Mon Abi Gabi
Maggianos Little Italy
Gordon Ramsay Burger
Places of Interest:
Fountains of Bellagio (.5 miles)
Gondola Rides at the Venetian (1 miles)
Vegas Indoor Skydiving (2 miles)
Hersheys Chocolate World (2 miles)
High Roller (.5 miles)
Our Packages Using The Flamingo - Las Vegas Strip
Pennzoil 400

Pennzoil 400 Packages

South Point 400

South Point 400 Packages
Welcome to our Las Vegas Pennzoil 400 Race Package!
Friday, March 5th

1:15 pm

Bus departs for the Las Vegas Motor Speedway (3-Day Ticket Packages only)

2:10 pm
GROTS Qualifying
3:35 pm
XFS Final Practice
4:40 pm
NCS Qualifying
5:30 pm
GROTS Driver Introductions
6:00 pm
Strat 200 GROTS Race
Saturday, March 6th

8:30 am

Bus departs for the Las Vegas Motor Speedway (Weekend Ticket Packages only)

9:40 am
Xfinity Series Qualifying
11:30 am
NASCAR Cup Series Final Practice
12:30 pm
Xfinity Series Driver Introductions
1:00 pm
XFS Boyd Gaming 300 Race
Sunday, March 7th

7:40 am

Bus departs for Las Vegas Motor Speedway (All Ticket Packages)

9:00 am
Track Walk
10:30 am
NASCAR Cup Series Driver's Meeting
11:50 am
NASCAR Cup Series Driver Introductions
12:30 pm
Pennzoil 400 NASCAR Cup Series Race
Monday, March 8th
11:00 am
Hotel check-out at Flamingo Resort
*Times above are subject to change without notice. Please verify your itinerary!
Las Vegas, Pennzoil 400, February 2020

Always a great time. Very down to earth company.

Ray and Jill Carrington
Wyanet, IL
Their 5th Trip with TABA

Las Vegas, Pennzoil 400, February 2020

We had such a great time and we were highly impressed with the outstanding There and Back Again employees who made our experience so enjoyable and worry free.

Kerry and Judy Bransford
Rio Rancho, New Mexico
Their 1st trip with TABA

Las Vegas, Pennzoil 400, February 2020

TABA, did a fine job and it is obvious that you have been doing these tours for some time. Appreciated all the little extras like the sunglasses, event pin etc.

Jack and Nancy Kenny
Brockville, Ontario, Canada
Their 1st trip with TABA

Las Vegas, Pennzoil 400, February 2020

Scanner rental was No fuss no muss, pick up and return at bus is great!

Kevin Hudson
Prince George, British Columbia - Canada
Kevin's 1st trip with TABA

Las Vegas, Pennzoil 400, February 2020

Great Vacation! TABA; Wonderful group, well run. Have used for 2 years & plan to use again next year. Mark was our TABA tour guide this time.
He was Wonderful! Very informative, funny, good sense of humor. Teased with all of us ,in a good way. I loved it...Thank you all so much! AG.

Alexis Gonzalez
Valley Center, CA.
Alexis' 2nd Trip with TABA
Las Vegas, Pennzoil 400, February 2020

The bus driver was perfect, professional, and on time. Mark (TABA tour rep) did a great job pointing out local landmarks and points of interest along the way. They made the trip fun!


Nick Rossi
Essex, MD
Nick's 2nd trip with TABA

Las Vegas, Pennzoil 400, February 2020

Both tour guides we had were the best!

Doug & Anita McDonald
Edmonton, Alberta - Canada
Their 1st trip with TABA

Las Vegas, Pennzoil 400, February 2020

We had a great time. Tour representatives were fun and very knowledgeable about the travel, the track and what to expect. We always felt well informed which made for a stress free trip. Our seats were great, the race was good even though Harvick didn't win. We also loved the bus ride through Nellis Airforce Base. We are already planning our next trip. We highly recommend There and Back Again.

Jim and Robin Nading
Seattle, WA
Their 1st Trip with TABA

Las Vegas, Kobalt 400, March 2017

TABA Tour Representative along with Tour planning and attention to detail were outstanding.

Tammie Payne, Aaron Payne, Kasi Payne
Breezewood, PA
Their 3rd Trip with TABA

Las Vegas, Kobalt 400, March 2017

The seats provided by TABA always have a great view of the track with the amenities and convenience stores nearby. Shane and Imogene (TABA Tour Representatives) are great. Fast responses and eager to please. Even Dixon is easy to deal with and he is the boss! Only travelled with TABA twice but there has been a good selection of accommodation, transport is clean and punctual and the race tickets have not disappointed. Extras like Fanvision are provided and returned directly to TABA so there are no queues at the rental vans. If you order it, you will get it unless something exceptional happens. TABA even hand out sunscreen, sunglasses and carry bags if needed. Great little touches. All of the staff from TABA that I have contacted have been friendly and helpful. When you are an overseas customer, it can be difficult to identify a legitimate organization just from the internet. TABA 'IS' legitimate and can be used with confidence. If you have something extra that you require on a tour, just ask..... I am sure that TABA will do their best to provide your request if it is possible.

Roger Ford
Eagle Ford, Sydney, Australia
Their 2nd Trip with TABA