2021 Las Vegas NASCAR Race Packages Tours Travel - Pennzoil 400 - Tickets/Transfers - NASCAR Cup
2021 Las Vegas NASCAR Race And Travel Packages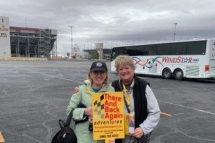 Las Vegas Motor Speedway | March 4 - March 8
Package code NAS21-02TB
Our 2021 Las Vegas Pennzoil 400 NASCAR packages include NASCAR Cup Tickets and bus transportation to and from the track. This package is for those who already have their own hotel accommodations for Las Vegas Race Weekend. We have great tickets (only Section White and better, no low rows or bad tickets in the Red Sections) plus we provide track transfers via deluxe buses to Las Vegas Motor Speedway Sunday. We have experience TABA Tour representatives at our locations and on the buses to assist you. In addition, we offer several options to optimize your Pennzoil 400 race weekend such as ticket upgrades, Neon Garage and pit passes and scanner rentals. We have several hotel pick up locations including several Las Vegas Strip hotels and from Downtown Las Vegas. We can ship your tickets or hold them for pick up at the buses. Pertinent information will be sent to you prior to Race Weekend. Hotel accommodations are not included with this package. Choose your departure hotel below.
Pennzoil 400 Race ticket - Grandstand 2 White or Upgrade
Roundtrip Deluxe Bus Transfers to Pennzoil 400 on Sunday using an exclusive Nellis AFB route
Preferred bus parking close to the track and your seats
TABA Ticket Holder and Lanyard
Informative TABA Tour Booklet
TABA Tour Representatives on-site to assist
Welcome Las Vegas gift
Race Day Essentials: Bottled Water, Earplugs, Sunscreen, and Koozies
All Taxes
*Hotel Accommodations are not included with this package
*Select # of rooms below to reserve (rooms = passengers for this package)
2021 Las Vegas Race Date is Not Confirmed, Do Not Book Airfare Yet
Tickets for the Las Vegas NASCAR Pennzoil 400 weekend are in Grandstand 2 White (Mid-Level) on the front stretch (rows 20-27). You can upgrade your tickets to Grandstand 2 Blue. Grandstand 2 Blue tickets are in rows 28-38. You can also upgrade your tickets to the Petty Terrace or the Earnhardt Terrace (rows 39-72). The Petty Terrace seats are located to the Turn 1 side of the Start/Finish line and the Earnhardt Terrace is located to the Turn 4 side of the Start/Finish line. Petty and Earnhardt Terrace seats are individual stadium style folding chair seats. Grandstand 2 is bench style seating with a back and is where the Start/Finish Line is. Due to the Neon Garage and the new banking at the track, viewing lines are best established at row 20 or above.
Our Row numbers:
Grandstand 2 White: Rows 20-27
Grandstand 2 Blue: Rows 28-38
Earnhardt and Petty Terraces: Rows 39-72
We do not recommend nor do we offer the Less Desirable Low Row Red Section Tickets where you can not see around the entire track.
Seating Chart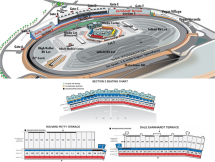 Click to Zoom

Las Vegas Motor Speedway
In 1995 ground breaking took place to construct the $200 million dollar complex known as the Las Vegas Motor Speedway. This construction was completed in 1996 with the inaugural NASCAR Monster Energy Cup Series race event being held in 1998 and Mark Martin taking the checkered flag for the event.
Located just a few miles North of the Las Vegas Strip, the unique motorsports facility is considered to be like a diamond in the desert. The 1.5 mile D-shaped oval boasts 20 degrees of banking in the turns and 9 degrees of banking on the straightaways and has a seating capacity of 142,000 race fans.
Front straight: 2,275 feet
Back straight: 1,572 feet
NEW Banking [2007]: Corners:20°, Front Straight: 9°, Back Straight: 9°
OLD Banking: Corners:12 degrees, Front Straight: 8 degrees, Back Straight: 3 degrees

Seating Chart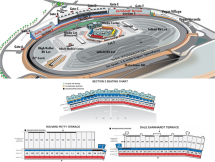 Click to Zoom
No Hotel
Welcome to our Las Vegas Pennzoil 400 Race Package!
Please check the hotel package where you are picking up from for departure times and ticket pick up meeting times.
Friday, February 19th
2:10 pm
GROTS Qualifying
3:35 pm
XFS Final Practice
4:40 pm
NCS Qualifying
5:30 pm
GROTS Driver Introductions
6:00 pm
Strat 200 GROTS Race
Saturday, February 20th
9:40 am
Xfinity Series Qualifying
11:30 am
NASCAR Cup Series Final Practice
12:30 pm
Xfinity Series Driver Introductions
1:00 pm
XFS Boyd Gaming 300 Race
Sunday, February 21st
9:00 am
Track Walk
10:30 am
NASCAR Cup Series Driver's Meeting
11:50 am
NASCAR Cup Series Driver Introductions
12:30 pm
Pennzoil 400 NASCAR Cup Series Race
*Times above are subject to change without notice. Please verify your itinerary!
Las Vegas, Pennzoil 400, February 2020

Always a great time. Very down to earth company.

Ray and Jill Carrington
Wyanet, IL
Their 5th Trip with TABA

Las Vegas, Pennzoil 400, February 2020

We had such a great time and we were highly impressed with the outstanding There and Back Again employees who made our experience so enjoyable and worry free.

Kerry and Judy Bransford
Rio Rancho, New Mexico
Their 1st trip with TABA

Las Vegas, Pennzoil 400, February 2020

TABA, did a fine job and it is obvious that you have been doing these tours for some time. Appreciated all the little extras like the sunglasses, event pin etc.

Jack and Nancy Kenny
Brockville, Ontario, Canada
Their 1st trip with TABA

Las Vegas, Pennzoil 400, February 2020

Scanner rental was No fuss no muss, pick up and return at bus is great!

Kevin Hudson
Prince George, British Columbia - Canada
Kevin's 1st trip with TABA

Las Vegas, Pennzoil 400, February 2020

Great Vacation! TABA; Wonderful group, well run. Have used for 2 years & plan to use again next year. Mark was our TABA tour guide this time.
He was Wonderful! Very informative, funny, good sense of humor. Teased with all of us ,in a good way. I loved it...Thank you all so much! AG.

Alexis Gonzalez
Valley Center, CA.
Alexis' 2nd Trip with TABA
Las Vegas, Pennzoil 400, February 2020

The bus driver was perfect, professional, and on time. Mark (TABA tour rep) did a great job pointing out local landmarks and points of interest along the way. They made the trip fun!


Nick Rossi
Essex, MD
Nick's 2nd trip with TABA

Las Vegas, Pennzoil 400, February 2020

Both tour guides we had were the best!

Doug & Anita McDonald
Edmonton, Alberta - Canada
Their 1st trip with TABA

Las Vegas, Pennzoil 400, February 2020

We had a great time. Tour representatives were fun and very knowledgeable about the travel, the track and what to expect. We always felt well informed which made for a stress free trip. Our seats were great, the race was good even though Harvick didn't win. We also loved the bus ride through Nellis Airforce Base. We are already planning our next trip. We highly recommend There and Back Again.

Jim and Robin Nading
Seattle, WA
Their 1st Trip with TABA

Las Vegas, Pennzoil 400, March 2019

Dixon and Josh were great tour hosts! Thanks for helping us make some great memories. And what a race. Perfect weather. Less than four hour race, i.e. accident free, and that special pass across Nellius Air Force base got us back to the casinos in time for dinner.


Doug and Cynthia Alpaugh
Tinton Falls New Jersey
Their 1st trip with TABA

Las Vegas, Pennzoil 400, March 2019

There and Back Again Adventures was great. Utilized their service for the NASCAR race in Las Vegas. My friend is the racing fan and I'm the Vegas fan. We were both very well taken care of as expert and novice. The service was spectacular and felt very personal despite the number of people they had. Everything we needed was provided promptly and at a high quality. I would highly recommend this service to anyone traveling for a big event whether it's something new to them or they're a seasoned pro.


Raymond Lovell and Shawn Miller
Providence, RI
Their 1st trip with TABA