2021 Las Vegas Pennzoil 400 NASCAR race packages, tours travel - Bellagio - NASCAR Cup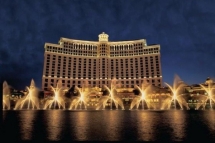 Las Vegas Motor Speedway | March 4 - March 8
Package code NAS21-02BE
Our 2021 Las Vegas NASCAR Cup race packages, travel packages and tours include excellent Las Vegas Pennzoil 400 race tickets and luxurious hotel accommodations at the fabulous Bellagio Resort plus we provide track transfers to Las Vegas Motor Speedway on Sunday. In addition, we offer several options to optimize your Pennzoil 400 race weekend such as ticket upgrades, scanners, neon garage passes and more. The Bellagio Fountains in front of the resort are a work of art in themselves and are mesmerizing. Once inside the resort, real works of art impress and the floral gardens and scents intoxicate you and lure you to them. The restaurants and entertainment here are second to none. The Bellagio Resort is centrally located between Caesars Palace and the City Center and across from Ballys and Paris. If you are looking for luxurious decadence, this resort is it.

Pennzoil 400 race ticket - Grandstand 2 White or upgrade
Two or More Nights - Luxurious Bellagio Resort and Casino - Las Vegas
Free High Speed Internet Service
Access to the Fitness Center at the Bellagio
Track Transfers via Deluxe Motorcoach Sunday, using an exclusive route through Nellis AFB
Preferred bus parking close to the track and your seats
TABA Ticket Holder and Lanyard
Informative Tour Booklet
TABA Tour Representatives on site and buses to assist
Welcome Las Vegas gift
Hotel Resort Fees
All Taxes
Tickets for the Las Vegas NASCAR Pennzoil 400 weekend are in Grandstand 2 White (Mid-Level) on the front stretch (rows 20-27). You can upgrade your tickets to Grandstand 2 Blue. Grandstand 2 Blue tickets are in rows 28-38. You can also upgrade your tickets to the Petty Terrace or the Earnhardt Terrace (rows 39-72). The Petty Terrace seats are located to the Turn 1 side of the Start/Finish line and the Earnhardt Terrace is located to the Turn 4 side of the Start/Finish line. Petty and Earnhardt Terrace seats are individual stadium style folding chair seats. Grandstand 2 is bench style seating with a back and is where the Start/Finish Line is. Due to the Neon Garage and the new banking at the track, viewing lines are best established at row 20 or above.
Our Row numbers:
Grandstand 2 White: Rows 20-27
Grandstand 2 Blue: Rows 28-38
Earnhardt and Petty Terraces: Rows 39-72
We do not recommend nor do we offer the Less Desirable Low Row Red Section Tickets where you can not see around the entire track.
Seating Chart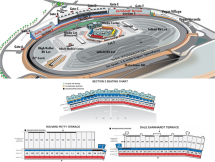 Click to Zoom

Las Vegas Motor Speedway
In 1995 ground breaking took place to construct the $200 million dollar complex known as the Las Vegas Motor Speedway. This construction was completed in 1996 with the inaugural NASCAR Monster Energy Cup Series race event being held in 1998 and Mark Martin taking the checkered flag for the event.
Located just a few miles North of the Las Vegas Strip, the unique motorsports facility is considered to be like a diamond in the desert. The 1.5 mile D-shaped oval boasts 20 degrees of banking in the turns and 9 degrees of banking on the straightaways and has a seating capacity of 142,000 race fans.
Front straight: 2,275 feet
Back straight: 1,572 feet
NEW Banking [2007]: Corners:20°, Front Straight: 9°, Back Straight: 9°
OLD Banking: Corners:12 degrees, Front Straight: 8 degrees, Back Straight: 3 degrees

Seating Chart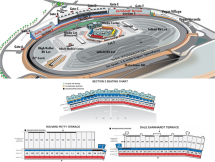 Click to Zoom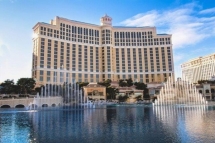 Bellagio Resort and Casino
Bellagio is located in the heart of the Las Vegas Strip, and overlooks a Mediterranean-blue lake in which fountains perform a magnificent ballet choreographed to music and lights. The lobby displays an 18-foot ceiling coffer filled with exquisite glass sculpture. Bellagio Conservatory and Botanical Gardens display changes with the four seasons and Chinese New Year. An onsite Gallery of Fine Art, featuring works by world-renowned artists (general admission is $15).The outdoor pool area resembles a Mediterranean villa, and includes a courtyard, whirlpools, and cabanas for rent. Guests can try their luck in the 100,000 square foot casino including the race and sports book. A full-service spa & salon offers world therapies, beauty treatments, a fitness center, and fitness classes. Live entertainment includes 'O' by Cirque du Soleil. The resort's retail promenade, Via Bellagio, includes the luxury shops of Giorgio Armani, Gucci, Tiffany & Co., Prada, Fred Leighton, Chanel, Dior, Yves Saint Laurent, Bottega Veneta and Fendi. Amenities include a full-service business center, valet parking, concierge, and wedding services. Bellagio offers 19 restaurants including two AAA Five Diamond restaurants (Picasso and Le Cirque), 16 Sommeliers, and a record 4 Master Sommeliers. Fine dining options include Le Cirque, Circo, Prime Steakhouse, Picasso, Michael Mina and Jasmine. Contemporary dining options include Todd English's Olives, Sensi, Noodles, FIX and Yellowtail Japanese Restaurant & Lounge. Casual dining options include Cafe Bellagio, the Buffet, and the Pool Cafe. The daily resort fee is included in your package price and the amenities included are high speed wireless Internet, In-room local and toll-free calls, Fitness Center access, and airline boarding pass printing.
Treasure Island - Las Vegas Strip Hotel Details
Pertinent Hotel Information
Address:
3600 Las Vegas Blvd S, Las Vegas, NV 89109
Hotel Check In:
3:00 pm
Hotel Check Out:
11:00 am
Smoking Policy:
Non-smoking (except for certain accommodations in the Bellagio Tower)
Self Parking:
$18 Daily
Valet Parking:
$30 Daily
Pets:
Dog friendly (additional fees apply)
Airport Shuttle:
Not Available (Uber/Lyft)
Area Shuttle:
Not Available
On-Site Restaurant:
Jasmine (Mon - Sun: 5:30pm - 10:00pm)
Picasso (Mon, Wed - Sun: 5:30pm - 9:30pm)
Harvest by Roy Ellamar (Mon - Sun: 5:00pm - 10:00pm)
Sadelle's Cafe (Mon - Sun: 6:00am - 12:00am)
Noodles (Mon - Sun: 11:00am - 2:00am)
Prime Steakhouse (Mon - Sun: 5:00pm - 10:00pm)
Fix (Wed - Sun: 5:00pm - 10:00pm)
The Buffet (Mon - Sun: 7:00am - 10:00pm)
Breakfast:
Not Included
Bar/Lounge:
See above restaurants
Room Service:
Yes - 24 hours
Wifi:
Free Wifi
Pool:
Outdoor Pools
Fitness Center:
Yes
Refrigerator in Room:
N/A
Microwave in Room:
No
In Room Coffee/Tea
No
Business Center:
Yes
Conceirge:
Yes
Car Rental:
Yes
Accessible Rooms
Accessible Rooms Available On Request
Suite Upgrades:
Upgrades available by request
Balcony:
Not Available
Room - Bedding Types:
King or 2 Queens
Sleeper Sofa Availability:
Available in certain room types
Cot Availability:
Not Available
Adjacent Rooms:
Can be requested but not guaranteed,
Maximum Guests per room
4 including children, exceptions may be available
Resort Fees:
Included in package price
Area Information
Closest Airport(s)
LAS - McCarran International Airport (4 miles)
Local Restaurants:
Yardbird Southern Table and Bar
Eiffel Tower Restaurant
Maggianos Little Italy
Bahama Breeze
Places of Interest:
Fountains of Bellagio (1 miles)
Gondola Rides at the Venetian (.5 miles)
Vegas Indoor Skydiving (1 miles)
Hersheys Chocolate World (2 miles)
High Roller (1 miles)
Our Packages Using Treasure Island - Las Vegas Strip
Pennzoil 400

Pennzoil 400 Packages

South Point 400

South Point 400 Packages
Welcome to our Las Vegas Pennzoil 400 Race Package!
Friday, March 5th

1:15 pm

Bus departs for the Las Vegas Motor Speedway (3-Day Ticket Packages only)

2:10 pm
GROTS Qualifying
3:35 pm
XFS Final Practice
4:40 pm
NCS Qualifying
5:30 pm
GROTS Driver Introductions
6:00 pm
Strat 200 GROTS Race
Saturday, March 6th

8:30 am

Bus departs for the Las Vegas Motor Speedway (Weekend Ticket Packages only)

9:40 am
Xfinity Series Qualifying
11:30 am
NASCAR Cup Series Final Practice
12:30 pm
Xfinity Series Driver Introductions
1:00 pm
XFS Boyd Gaming 300 Race
Sunday, March 7th

7:40 am

Bus departs for Las Vegas Motor Speedway (All Ticket Packages)

9:00 am
Track Walk
10:30 am
NASCAR Cup Series Driver's Meeting
11:50 am
NASCAR Cup Series Driver Introductions
12:30 pm
Pennzoil 400 NASCAR Cup Series Race
Monday, March 8th
11:00 am
Hotel check-out at Bellagio Resort
*Times above are subject to change without notice. Please verify your itinerary!
Las Vegas, Pennzoil 400, February 2020

Always a great time. Very down to earth company.

Ray and Jill Carrington
Wyanet, IL
Their 5th Trip with TABA

Las Vegas, Pennzoil 400, February 2020

We had such a great time and we were highly impressed with the outstanding There and Back Again employees who made our experience so enjoyable and worry free.

Kerry and Judy Bransford
Rio Rancho, New Mexico
Their 1st trip with TABA

Las Vegas, Pennzoil 400, February 2020

TABA, did a fine job and it is obvious that you have been doing these tours for some time. Appreciated all the little extras like the sunglasses, event pin etc.

Jack and Nancy Kenny
Brockville, Ontario, Canada
Their 1st trip with TABA

Las Vegas, Pennzoil 400, February 2020

Scanner rental was No fuss no muss, pick up and return at bus is great!

Kevin Hudson
Prince George, British Columbia - Canada
Kevin's 1st trip with TABA

Las Vegas, Pennzoil 400, February 2020

Great Vacation! TABA; Wonderful group, well run. Have used for 2 years & plan to use again next year. Mark was our TABA tour guide this time.
He was Wonderful! Very informative, funny, good sense of humor. Teased with all of us ,in a good way. I loved it...Thank you all so much! AG.

Alexis Gonzalez
Valley Center, CA.
Alexis' 2nd Trip with TABA
Las Vegas, Pennzoil 400, February 2020

The bus driver was perfect, professional, and on time. Mark (TABA tour rep) did a great job pointing out local landmarks and points of interest along the way. They made the trip fun!


Nick Rossi
Essex, MD
Nick's 2nd trip with TABA

Las Vegas, Pennzoil 400, February 2020

Both tour guides we had were the best!

Doug & Anita McDonald
Edmonton, Alberta - Canada
Their 1st trip with TABA

Las Vegas, Pennzoil 400, February 2020

We had a great time. Tour representatives were fun and very knowledgeable about the travel, the track and what to expect. We always felt well informed which made for a stress free trip. Our seats were great, the race was good even though Harvick didn't win. We also loved the bus ride through Nellis Airforce Base. We are already planning our next trip. We highly recommend There and Back Again.

Jim and Robin Nading
Seattle, WA
Their 1st Trip with TABA

Las Vegas, Kobalt 400, March 2017

TABA Tour Representative along with Tour planning and attention to detail were outstanding.

Tammie Payne, Aaron Payne, Kasi Payne
Breezewood, PA
Their 3rd Trip with TABA

Las Vegas, Kobalt 400, March 2017

The seats provided by TABA always have a great view of the track with the amenities and convenience stores nearby. Shane and Imogene (TABA Tour Representatives) are great. Fast responses and eager to please. Even Dixon is easy to deal with and he is the boss! Only travelled with TABA twice but there has been a good selection of accommodation, transport is clean and punctual and the race tickets have not disappointed. Extras like Fanvision are provided and returned directly to TABA so there are no queues at the rental vans. If you order it, you will get it unless something exceptional happens. TABA even hand out sunscreen, sunglasses and carry bags if needed. Great little touches. All of the staff from TABA that I have contacted have been friendly and helpful. When you are an overseas customer, it can be difficult to identify a legitimate organization just from the internet. TABA 'IS' legitimate and can be used with confidence. If you have something extra that you require on a tour, just ask..... I am sure that TABA will do their best to provide your request if it is possible.

Roger Ford
Eagle Ford, Sydney, Australia
Their 2nd Trip with TABA