2019 Las Vegas NASCAR Packages Race Tours And Travel - Pennzoil 400 - South Point - Cup Ticket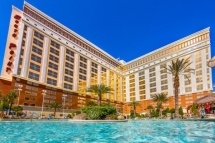 Las Vegas Motor Speedway | March 1 - March 4
Package code NAS19-03SP
Our 2019 South Point Las Vegas NASCAR packages, travel packages and race tours include excellent Pennzoil 400 race tickets (Section White and above, no low Red Section tickets) and hotel accommodations at the great "racing resort" South Point Las Vegas Hotel Casino and Spa plus we provide track transfers to Las Vegas Motor Speedway Sunday. In addition, we offer several options to optimize your 2019 Las Vegas NASCAR Packages such as ticket upgrades, Neon Garage pit passes and scanner rentals. South Point Las Vegas is a distinctive resort featuring a bowling alley and an Equestrian Center. The hotel accommodations have well appointed spacious rooms, 42" plasma tvs, Point Plush Mattresses, free wifi and an airport shuttle. There are many restaurants and bars/lounges surrounding the resort. Brendan Gaughan, driver of the #62 Xfinity Series car and his family own South Point and there are special racing events that are held there on race weekend. The NASCAR Hauler Parage stages and starts at South Point. And quite a few race teams stay there. The location of South Point is just South of the airport on Las Vegas Blvd, just minutes from the City Center. Join us on one of our Las Vegas NASCAR Packages to have a great, hassle-free NASCAR experience.
Pennzoil 400 Race Ticket in Grandstand 2 White or Upgrade, select below
Two or More Nights at South Point Hotel Casino and Spa - Las Vegas
Complimentary Guest Room Internet Access
Fitness Center Access Daily
Airport Shuttle by South Point Hotel
Roundtrip Deluxe Bus Transfers to Pennzoil 400 Sunday using an exclusive Nellis AFB route
Preferred bus Parking Close to the Track and Your Seats
TABA Ticket Holder and Lanyard
Informative TABA Tour Booklet
TABA Tour Representatives On-site to Assist
Welcome Las Vegas 400 gift
All Taxes
Tickets for the Las Vegas NASCAR Pennzoil 400 weekend are in Grandstand 2 White (Mid-Level) on the front stretch (rows 20-27). You can upgrade your tickets to Grandstand 2 Blue. Grandstand 2 Blue tickets are in rows 28-38. You can also upgrade your tickets to the Petty Terrace or the Earnhardt Terrace (rows 39-72). The Petty Terrace seats are located to the Turn 1 side of the Start/Finish line and the Earnhardt Terrace is located to the Turn 4 side of the Start/Finish line. Petty and Earnhardt Terrace seats are individual stadium style folding chair seats. Grandstand 2 is bench style seating with a back and is where the Start/Finish Line is. Due to the Neon Garage and the new banking at the track, viewing lines are best established at row 20 or above.
Our Row numbers:
Grandstand 2 White: Rows 20-27
Grandstand 2 Blue: Rows 28-38
Earnhardt and Petty Terraces: Rows 39-72
We do not recommend nor do we offer the Less Desirable Low Row Red Section Tickets where you can not see around the entire track.
Seating Chart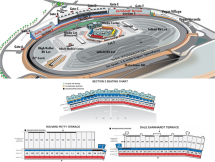 Click to Zoom

Las Vegas Motor Speedway
In 1995 ground breaking took place to construct the $200 million dollar complex known as the Las Vegas Motor Speedway. This construction was completed in 1996 with the inaugural NASCAR Monster Energy Cup Series race event being held in 1998 and Mark Martin taking the checkered flag for the event.
Located just a few miles North of the Las Vegas Strip, the unique motorsports facility is considered to be like a diamond in the desert. The 1.5 mile D-shaped oval boasts 20 degrees of banking in the turns and 9 degrees of banking on the straightaways and has a seating capacity of 142,000 race fans.
Front straight: 2,275 feet
Back straight: 1,572 feet
NEW Banking [2007]: Corners:20°, Front Straight: 9°, Back Straight: 9°
OLD Banking: Corners:12 degrees, Front Straight: 8 degrees, Back Straight: 3 degrees

Seating Chart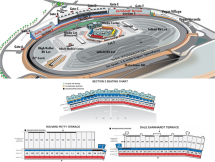 Click to Zoom
South Point Hotel Casino and Spa
South Point is located in the heart of the premiere southwest Las Vegas valley, just minutes away from the famous Las Vegas Strip. Some of our many amenities include a 16-screen Century Theatre movie complex, 64-lane bowling center and a handful of restaurants that cater to all appetites and tastes. Our casino features a large selection of table games and the latest slot and video poker machines. Our distinctive hotel features spacious rooms and suites with 42-inch Plasma televisions, Point Plush mattresses and Wireless Fidelity throughout. A unique feature to this property is its Equestrian Center, which is the finest horse facility in the country. South Point also has a fabulous 400-seat showroom that features headliner entertainment and dancing to live bands on weekends. Stop by the South Point Hotel, Casino and Spa today, we are sure you will want to stay.
Friday: You will arrive at South Point Hotel Casino and Spa in Las Vegas (Saturday and other arrival dates are also available). NASCAR Monster Energy Cup and Xfinity Series qualifying and practice along with the Truck Series race are held at the track today. Friday track transfers are not provided with this package, but are available as an option with our with our 3 Day Ticket package.
Saturday: .
The Xfinity Series race and the Monster Energy Cup Series practice sessions take place at the Las Vegas Motor Speedway today. Xfinity Series tickets and roundtrip track transfer are not included with this Cup ticket only package. Tickets and Transfers are available with our Weekend Ticket Package.
Sunday: We will depart South Point by deluxe motorcoach for our hassle-free transfers to Las Vegas Motor Speedway for the Las Vegas NASCAR Pennzoil 400 Monster Energy Cup race. After the race, we will get you out of the track and back to the hotel in time for a show or to place more bets.
Las Vegas, South Point 400, September 2018

Very well executed and organized.

Matthew Ori
NORTH HAVEN, CT
Matthew's 1st trip with TABA

Las Vegas, Pennzoil 400, March 2018

Honey (TABA tour rep) and the office staff did a great job. The scanner return man made it so easy. Appreciated seeing all of the staff in easily recognizable YELLOW shirts/vests waving their big signs. Larry is a good driver and knew a shorter route back after race. Honey made the trip fun both ways by engaging everybody in games and stories.

Dennis & Debora Tillett
Richland, Washington
Their 1st trip with TABA

Las Vegas, Pennzoil 400, March 2018

Mark Bumgarner (TABA tour rep) was AWESOME!! Very friendly and informative! He is the real reason we will be coming back with your company! We really enjoyed the whole experience!! Great seats at the race!!! Mark and Imogene (TABA tour rep) were great people to work with!! It means a lot to us to work with pleasant and friendly people. They both tried really hard to get us what we wanted.. Great company and we will be back in the future to go to more races!! You take the stress and worry out of it and that is priceless!!! Thanks for an enjoyable experience!!!!

Bob & Jalaine Ruegsegger
Darlington, WI
Their 1st trip with TABA

Las Vegas, Pennzoil 400, March 2018

We have done this package for several years. We are very happy with all the choices that we can make, from all that you offer, to the race fans. You offer a fantastic service. Keep up the great work.

Steve & Denise Maresh
Chattaroy, WA
Their 4th trip with TABA

Las Vegas, Pennzoil 400, March 2018

We had a great time at the race.No problems with transportation to and from the track and our tickets were excellent! We plan on using TABA for our next race trip!

Christy and Wendy DellaNeve
DEPEW, NY
Their 2nd trip with TABA
Las Vegas, Pennzoil 400, March 2018

This was our second experience with TABA and very satisfied with the company. Great experience both times. Went to Charlotte NC the first trip with them. Was amazing, garage tours!!

Dawn Stultz, Missi Amburgey, Kim Young and Cheryl Thibodeau
Angola, In and Hamilton Ontario - Canada
Their 2nd trip with TABA

Las Vegas, Pennzoil 400, March 2018

What a great tour and the options available made it easier for our group to make their own reservations, but still be seated together at the race!! Scanner rentals were quick and easy - and thank you for finding my husband's phone and waiting for us to arrive at FedEx in Las Vegas so it could be returned.

Jacki and Scott Hildebrandt
Island Lake, IL
Their 1st trip with TABA

Las Vegas, Pennzoil 400, March 2018

I booked our tickets on line and made an error. I really appreciate Josh (TABA tour rep) calling me and fixing the problem ahead of time so we were not disappointed when we arrived. We were very happy with the office staff. thank you

Jim & Lisa Morris
Mackenzie, BC Canada
Their 1st trip with TABA

Las Vegas, Pennzoil 400, March 2018

Honey is an amazing (TABA) tour guide. Super friendly and down to earth. She made the bus trips so much better.

Christine Christianson
Lake Williams, BC - Canada
Their 1st trip with TABA

Las Vegas, Pennzoil 400, March 2018

We appreciated all representatives of the company. We never had a problem that wasn't answered or solved immediately. The package contained all that we hoped for.

Kaye and Bill Isakson
Provo, Utah
Their 2nd trip with TABA