2020 New Hampshire Foxwoods Resort Casino 301 NASCAR Race Packages, Tours and Travel - NASCAR Cup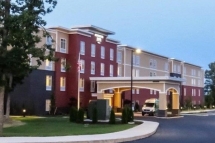 New Hampshire Motor Speedway | July 17 - July 20
Package code NAS20-23HW
Our 2020 New Hampshire Motor Speedway NASCAR race packages, travel packages and tours include excellent New Hampshire Foxwoods Resort Casino 301 NASCAR Cup series race tickets, deluxe hotel accommodations at Homewood Suites by Hilton at Gateway Hills Nashua, full breakfast daily, roundtrip track transfers to New Hampshire Motor Speedway via deluxe bus, delicious tailgate party prior to the NASCAR Cup race, our professional tour representatives to assist, informative tour booklet, informative tour booklet, all taxes and more. New Hampshire Motor Speedway hosts the largest sporting event in the Northeast. New Hampshire Motor Speedway is nicknamed "The Magic Mile".

NASCAR Cup ticket - Concord or Main Grandstands
Two or More Nights - Homewood Suites by Hilton - Nashua, NH
Hot Full Breakfast Daily
Track Transfers via Deluxe Motorcoach Sunday
Pre-race tailgate party prior to NASCAR Cup race
TABA Ticket Holder and Lanyard
Informative Tour Booklet
Professional and Knowledgeable TABA Tour Representative
Race Day Essentials: Bottled Water, Earplugs, Sunscreen, and Koozies
All Taxes
Excellent race tickets for the NASCAR Cup Series race in either the Upper Level of the Concord Grandstand in Turn One or the Main Grandstand, Section H, row 47 or similar. In either Grandstand, the seats are in the top rows of that grandstand. The Concord Grandstand is in turn one looking straight down pit road. The Main Grandstand is located on the located on the front stretch near the start/finish line. You can see the entire track and pit road from both Grandstands. These are outstanding tickets.

Seating Chart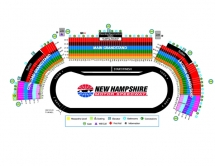 Click to Zoom

New Hampshire Motor Speedway
New Hampshire International Speedway opened in 1990 and was then purchased in 2008 by Bruton Smith and Speedway Motorcorp, Inc. At this time the Speedway's name changed to New Hampshire Motor Speedway to coordinate with the other Speedways in Smith's corporation.
Located just one hour North of Boston in Loudon, NH, this multi-sport complex is the largest sports facility in New England drawing crowds larger than SuperBowl attendance. It is a 1.058 mile oval with seating capacity for just over 105,000 race fans and has seven degree variable banking in the turns.
This was the first superspeedway to be constructed in the United States since 1969 and annually hosts the first races in both the "race to the chase" and the "chase to the championship".
Seating Chart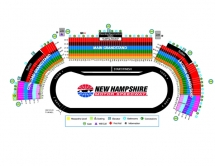 Click to Zoom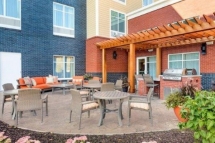 Homewood Suites by Hilton Gateway Hills Nashua
Experience a peaceful retreat at our Homewood Suites by Hilton Gateway Hills Nashua hotel, located in the heart of the Gateway Hills campus. This is a great hotel to enjoy your New Hampshire NASCAR race weekend. The Hilton is close to the Massachusetts state border with easy access to downtown Nashua, Chelmsford and Lowell, MA. The hotel is also convenient to shopping and dining at the Tara Commons retail village and businesses in Gateway Hills.
You'll find everything you need for a comfortable stay. Start each day with a complimentary full, hot breakfast, and unwind Monday through Thursday evenings with a social hour and drinks. Shop the 24-hour convenience mart for snacks, chilled meals and toiletries, or use the grocery shopping service. Many outdoor activites surround the Homewood Suites. Swim in the indoor pool and work out in the fitness room. Golf and tennis facilities are also nearby or grab one of our bicycles and explore the miles of paved nature trails around our Nashua, NH hotel. Complimentary bicycle loans are available to guests over the age of 18 (helmets not included).
Homewood Suites - Nashua, NH Hotel Details
Pertinent Hotel Information
Address:
15 Tara Blvd, Nashua, NH 03062
Hotel Check In:
3:00 pm
Hotel Check Out:
12:00 pm
Smoking Policy:
Non-Smoking
Self Parking:
Complimentary On-site Parking
Valet Parking:
Not Available
Pets:
Service Animals Only
Airport Shuttle:
Not Available
Area Shuttle:
Not Available
On-Site Restaurant:
Not Available - 24 hr Snack Shop in Lobby
Breakfast:
Free Hot Breakfast
Bar/Lounge:
Evening social in lobby with small plates and drinks
Room Service:
No
Wifi:
Free Wifi
Pool:
Indoor Pool
Fitness Center:
Yes
Refrigerator in Room:
Yes
Microwave in Room:
Yes
In Room Coffee/Tea
Yes
Business Center:
Yes
Conceirge:
No
Car Rental:
No
Accessible Rooms
Accessible Rooms Available On Request
Suite Upgrades:
All rooms are suites
Balcony:
Not Available
Room - Bedding Types:
King or 2 Queens
Sleeper Sofa Availability:
Available in certain room types
Cot Availability:
Not Available
Adjacent Rooms:
Can be requested but not guaranteed,
Maximum Guests per room
4 including children, exceptions may be available
Resort Fees:
None
Area Information
Closest Airport(s)
BOS - Boston Logan International Airport (42 miles)
MHT - Manchester Boston Regional Airport (22 miles)
ASH - Nashua Airport (9 miles)
Local Restaurants:
Lilac Blossom Chinese
Pressed Cafe
Longhorn Steakhouse
IHOP
Places of Interest:
Mine Fall Park (6 miles)
Lincoln Park (8 miles)
Canobie Lake Park (17 miles)
Minute Man National Historical Park (24 miles)
New Hampshire Speedway (54 miles)
Our Packages Using Homewood Suites Nashua
Foxwoods Resort Casino 301
Foxwoods Resort Casino 301

Packages
Welcome to our New Hampshire 301 Race Package!
Friday, July 17th
12:05 pm
NASCAR Cup Series Practice
1:05 pm
XFS Practice
3:35 pm
XFS Final Practice
4:35 pm
NASCAR Cup Series Qualifying
Saturday, July 18th
7:00 am
Breakfast is served in the hotel breakfast area, until 10 am
10:00 am
Fan Gates and Infield Open
11:35 am
NCS Practice
1:30 pm
Xfinity Series Driver Introductions
3:00 pm
Lakes Region XFS Series 200 (Transportation not provided)
5:15 pm
Whelen Modified Driver Introductions
5:45 pm
Nor'easter 100 Whelen Modified Tour

6:30 pm

Hospitality Desk - Meet your Tour Representative and pick up tickets

and documents if not shipped to you. Meet & Greet is optional.

Sunday, July 19th
7:00 am
Breakfast is served in the hotel breakfast area, until 10 am

8:45 am

Bus departs for New Hampshire Motor Speedway

10:00 am
Fan Gates Open
11:45 am
Tailgate Party Begins (11:45am - 2:00pm)
12:00 pm
Pre-race Concert
2:20 pm
NASCAR Cup Series Driver Introductions
3:00 pm
Foxwoods Resort Casino 301 NASCAR Cup Series Race
Monday, July 20th
7:00 am
Breakfast is served in the hotel breakfast area, until 10 am
11:00 am
Hotel check-out at the Homewood Suites
*Times above are subject to change without notice. Please verify your itinerary!
New Hampshire, Foxwoods Resort 301, July 2019

The tickets were good in that we were out of the sun by race time and we could see the entire track. The man who did our tailgate party put on a spread! Turkey and dressing, roast beef, rolls, veggies, fruit, and dessert. He went the extra mile for us. Great bus driver and bus. Imogene is a great TABA Tour Rep. We always enjoy having her.

Raymond & Annette Naylor
Bryan, TX
Their 6th trip with TABA

New Hampshire, Foxwoods Resort 301, July 2019

Imogene (TABA tour rep), the food caterer for the tailgate party, and the coach driver were all great.The seats were awesome. Even though the temp was high 90s the shade was great. Oh yeah! the pre race tailgate party was awesome!I We had turkey, dressing, roll, veggies, and fruit trays. It was thanksgiving all over again. AWESOME!!!!!



Mike Hruban and Carolyn Tex
Indidanapolis, IN
Their 16th trip with TABA

New Hampshire, Foxwoods Resort 301, July 2019

TABA ready to assist at every need and always professional. We've planned our own tours but find the TABA package to be nearly the same cost and lots less headache.

Byron & Barbara Perdue
Monroe, Washington
Their 2nd trip with TABA

New Hampshire, Foxwoods Resort 301, July 2019

Great experience from the start. Questions were always answered, staff professional and polite. Imogene (TABA tour rep) went out of her way to make sure everyone on the tour was comfortable and had what they needed. There were a few repeat customers so that was nice to see. It was an enjoyable first time trip wit TABA and I really hope to be able to use them again. Safe way to travel with kids for people not comfortable with travelling - I would highly recommend.

Stephanie Callahan
Whitby, Ontario - Canada
Their 1st trip with TABA

New Hampshire, Foxwoods Resort 301, July 2019

It was the first time I ever went to a race in my 73 years. I had a wonderful, exciting time.

Betty Wilder
Greenfield, MA
Betty's 1st trip with TABA
New Hampshire, Foxwoods Resort 301, July 2019

What a super nice treat the tailgate party is to have for a race. The gentleman who provides this spread is nothing short of awesome. For the fan and for you, I hope you can keep this feature going some time into the future! Transportation to the track could not have been more smooth in my opinion.


Alan Boatman
Arlington, WA
Alan's 2nd Trip with TABA

New Hampshire, Foxwoods Resort 301, July 2019

The tailgate meal was awesome!! Plenty of food. Loved having Imogene as our Tour Rep.

Michele Decaire and Kevin Clancy
Cicero, NY
Their 1st trip with TABA

New Hampshire, Foxwoods Resort 301, July 2019

Very helpful to have a representative on site. The bus driver made me feel safe and drove very well. The food was awesome! Very nice people!

Ernest and Rose Townsend
Upper Clyde Shelburne Nova Scotia Canada
Their 1st trip with TABA

New Hampshire, Foxwoods Resort 301, July 2018

Chris (TABA tour rep) was great! Everything was fun even with the rain delay!

Gary and Valerie Waers
Canal Winchester, Ohio
Their 23rd trip with TABA

New Hampshire, Foxwoods Resort 301, July 2018

Chris and his mom (Imogene) were great tour reps!

Bill & Laura Shorter
New Castle, DE
Their 2nd trip with TABA