2019 Martinsville Garage Tour Hospitality NASCAR Race Packages Travel - Fall - Weekend Tickets
Tour the Monster Energy Cup Garage before the First Data 500!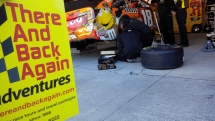 Martinsville Speedway | October 25 - October 28
Package code NAS19-35SIWG
Our 2019 Martinsville Speedway First Data 500 Garage Tour Hospitality NASCAR weekend race packages, travel packages and tours include excellent Monster Energy Cup Series in your choice of tickets high in Monster Energy Tower in Turn 1 or the France Tower in Turn 4 and great Truck Series race tickets, Pre-race Garage Tour and Pit Access prior to the First Data 500, hospitality tent with food and beverages, the deluxe Roanoke Hotel and Conference Center, full breakfast buffet daily, deluxe track transportation to Martinsville Speedway Saturday and Sunday via motorcoach, services of a knowledgeable Tour Representative, Informative Tour Booklet, ticket holder/lanyard, free parking at the hotel and other options such as Track Passes and Scanner Rentals to enhance your racing experience. Martinsville Speedway hosts the NASCAR Monster Energy Cup and Camping World Truck Series races this weekend. Martinsville Speedway, a 1/2 mile short track opened in 1947, relives the golden days of NASCAR as it plays host to the seventh race in the Chase for the Championship.
Martinsville Cup Ticket - Bill France Tower or Upgrade, Select Below
Exclusive Pre-Race Garage Tour and Pit Access prior to the First Data 500
Hospitality Chalet featuring breakfast, lunch and unlimited beverages
Pre-Race Experience Access featuring Driver Appearances and Q & A
Pre-Race Track Pass and Driver Introductions
Driver Meeting Access (controlled by NASCAR)
Truck Series Tickets - General Admission
Two or More Nights at the Roanoke Hotel and Conference Center
Daily Breakfast Buffet at the Hotel
Free Hotel Parking
Track Transfers via Deluxe Motorcoach Saturday and Sunday
Close Bus Parking at Martinsville Speedway and our Hospitality Tent
Ticket Holder and Lanyard
Informative Tour Booklet
Knowledgeable TABA Tour Representative
All Taxes
Race tickets for the Monster Energy Cup Series are in the upper level of the Bill France Tower in Turn Four. This grandstand has an outstanding view of the track and pits because of its location on Turn 4. This enables you to see the whole track and the pits without having to turn your head from side to side and you do not stand up as much because of the angle. We also have a ticket upgrade option available for the upper level for the First Turn Tower. The view from this Tower is the same as the Bill France Tower only from the Turn One side of the track and across from where the top qualifiers generally pit their cars. Truck Series tickets are general admission tickets. You'll be able to sit almost anywhere you would like.
Seating Chart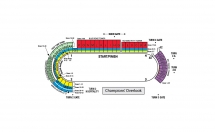 Click to Zoom

Martinsville Speedway
Opened in 1947 and having hosted the inaugural NASCAR Monster Energy Cup Series race in 1948, Martinsville Speedway certainly is seeded in rich racing history. This .526 mile "paperclip" shaped oval is referred to as "two drag strips with a turn around on each end". The track has not changed a bit since its inception except for the paving of the track surface, which is 55 feet wide and offers 20 degree banking in the turns. Located just three miles south of Martinsville, VA, the Speedway is the only original NASCAR sanctioned track still running Cup Series events.
Seating Chart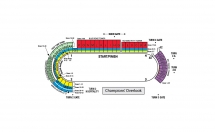 Click to Zoom
Sheraton Hotel & Conference Center - Roanoke VA
Sheraton Roanoke Hotel & Conference Center is a newly designed oasis of comfort and unassuming style surrounded by the majestic Blue Ridge Mountains.
Each of our rooms and suites are furnished with Sheraton Sweet Sleeper(SM) Beds, for optimum comfort when you turn in. Wake up to the scenic Blue Ridge Mountains, and find plenty to do right nearby, from downtown Roanoke to the Blue Ridge Parkway.
Their full service business center and onsite sundries shop are conveniently located in their lobby area. They offer a fully equipped health club, which is located next to our indoor and outdoor pool and whirlpool.
They also offer a 24-hour front desk, in-room dining, and much more.
Hotel Services
Complimentary Fitness Facility
Sauna
Express Check-In and Check-Out
Free High Speed Internet Access in Business Center
Cash Machine (ATM)
Secretarial Service
Copy/Printing Service
Dry Cleaning Service
Laundry/Valet Service
Smoke Detectors
Safe Deposit Boxes
Fire Alarm With Light
Sprinklers
Airport Check-In
Vending Machine
Air Conditioned Facilities
Wheelchair Access
Ice Machine
Shopping Nearby
100% Non-Smoking Rooms and Facilities
Braille Elevators
Ramp Access To Buildings
Multilingual Staff
Disability Accessible Facilities
Luggage Storage
Wake-up Service Available
Bellmen/Porters
Free Airport Pick-Up and Drop-Off (Limited)
Concierge Service
Gift/Sundry Shop
VIP Floor
Business Center
Free Self Parking Facilities
Outdoor Pool
Indoor Heated Pool
Indoor Whirlpool
Some of the services and facilities above may not be available on a 24-hour basis or without advance request. Fees on certain facilities/services may apply.
Check in: 3:00 PM
Check out: 12:00 PM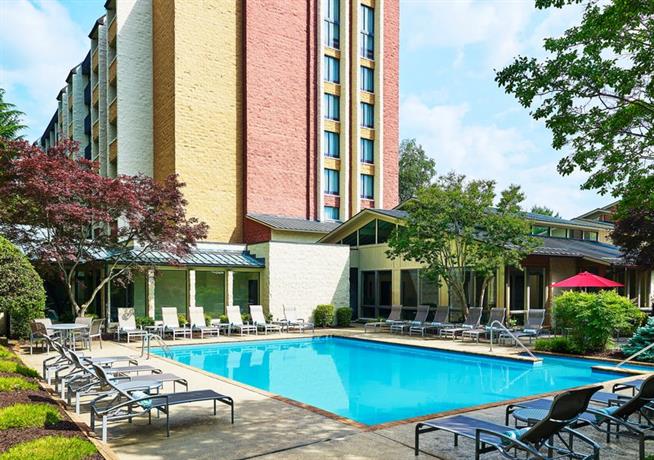 Friday: You will arrive at the Roanoke Hotel and Conference Center for an exciting weekend of short track racing (other arrival dates are available). Monster Energy Cup Series qualifying is today, however, track transfers are not available.
Saturday: We will depart the hotel by deluxe motorcoach and make our way to the Martinsville Speedway for an exciting NASCAR Camping World Truck Series race and Monster Energy Cup practice sessioins. Relax and leave the driving to us.
Sunday: We will depart the hotel by deluxe motorcoach early for Martinsville Speedway for the First Data 500 Monster Energy Cup Series race- the seventh race in the Chase for the Championship. You will have plenty of time to tour the Monster Energy Cup Garage prior to the First Data 500, enjoy food and beverages in our hospitality tent, enjoy the pre-race activities or souvenir shop prior to the race. Afterwards, relax as we provide a stress free ride back to the hotel.

Martinsville, First Data 500, October 2017

TABA is a very professional tour company. Everything is taken care of and it is very enjoyable!

Phillip, Carol, and Andrea Arndt
Provost, Alberta - Canada
Their 2nd Trip with TABA

Martinsville, First Data 500, October 2017

Jay (TABA tour rep) was a fantastic tour guide. He was so friendly and made our visit to Martinsville more enjoyable. I hope we can have him as a guide next year!

Tricia & Wayne Frenette
Lancaster, New Hampshire
Their 1st Trip with TABA

Martinsville, First Data 500, October 2017

We thoroughly enjoy our racing adventures with TABA and Martinsville was no exception. We looked forward to a lot of side by side racing and we were not disappointed. Great hospitality and garage tour package at the track. We highly recommend TABA and look forward to racing with them again in 2018 and beyond. Imogene is a great TABA rep and helped make the bus rides fun. We have very much enjoyed our trips with her over the years.

James & Linda Robertson
Eugene, Oregon
Their 13th Trip with TABA

Martinsville, First Data 500, October 2017

I had an awesome time at Martinsville!! I want to go to Martinsville again! I had a great time with the group. I recommend TABA highly!!

Laura Paschold
Delta, BC - Canada
Laura's 3rd Trip with TABA

Martinsville, First Data 500, October 2017

None better than our bus driver Jules and our TABA Tour Rep Imogene.

Harold & Barbara Gay
Falls Church, Virginia
Their 118th Trip with TABA
Martinsville, First Data 500, October 2017

Very impressive on the how quickly we returned to the hotel after the race. Thank you for another great trip!

Pamela Kinker and Missy Hilbert
Greensburg, Indiana
Their 21st Trip with TABA

Martinsville, First Data 500, October 2017

Staff was knowledgeable & friendly,will book again with TABA. No complaints

Pat McGoff
Metcalfe, Ontario - Canada
Pat's 2nd trip with TABA

Martinsville, First Data 500, October 2017

Imogene (TABA tour rep) and Jay (TABA tour rep) do a great job and are very nice people. Highly Satisfied with the tour!

Doug & Kathy Brown
Butler, Pennsylvania
Their 12th Trip with TABA

Martinsville, First Data 500, October 2017

Great job, hospitality and on-track activities are worth the additional price.

David Hunt
Stamford, New York
Larry's 15th Trip with TABA

Martinsville, First Data 500, October 2017

We really appreciated the involvement of the tour representatives, they truly made our experience better. Food in the hospitality tent was very good! Just a wonderful tour, the best of all the NASCAR tour companies we have used. Personalized caring service. We will be a repeat customer for sure. Imogene and Jay were the best a person could hope for!

Rob and Marg Grandfield
Stettler Alberta, Canada
Their 1st Trip with TABA