2019 MARTINSVILLE FIRST DATA 500 RACE PACKAGE-HAMPTON INN- WEEKEND TICKETS HOSPITALITY & GARAGE TOUR
Tour the Monster Energy Cup Garage before the First Data 500!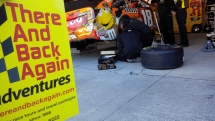 Martinsville Speedway | October 25 - October 28
Package code NAS19-35HXWG
Our 2019 Martinsville Speedway First Data 500 Garage Tour Hospitality NASCAR weekend race packages, travel packages and tours include excellent Monster Energy Cup Series in your choice of tickets high in Monster Energy Tower in Turn 1 or the France Tower in Turn 4, or Blue Ridge Tower and great Truck Series race tickets, Pre-race Garage Tour and Pit Access prior to the First Data 500, hospitality tent with food and beverages, hotel accomodations at the Hampton Inn & Suites - Roanoke Airport, hot breakfast daily, deluxe track transportation to Martinsville Speedway Saturday and Sunday via motorcoach, services of a knowledgeable Tour Representative, Informative Tour Booklet, ticket holder/lanyard, free parking at the hotel and optional scanner rentals to enhance your racing experience. Martinsville Speedway hosts the NASCAR Monster Energy Cup and Camping World Truck Series races this weekend. Martinsville Speedway, a 1/2 mile short track opened in 1947, relives the golden days of NASCAR as it plays host to the seventh race in the Chase for the Championship.
Martinsville Cup Ticket - Bill France Tower or Upgrade
Exclusive Pre-Race Garage Tour and Pit Access
Hospitality Chalet featuring breakfast, lunch and unlimited beverages
Pre-Race Experience Access featuring Driver Appearances and Q & A
Pre-Race Track Pass and Driver Introductions
Driver Meeting Access (controlled by NASCAR)
Truck Series Tickets - General Admission
Three Nights - Hampton Inn & Suites Roanoke Airport
Daily Hot Breakfast at the Hotel
Free Hotel Parking and free internet
Track Transfers via Deluxe Motorcoach Saturday and Sunday
Close Bus Parking at Martinsville Speedway
Ticket Holder and Lanyard
Informative Tour Booklet
Knowledgeable TABA Tour Representative
Race Day Essentials: Bottled Water, Earplugs, Sunscreen, and Koozies
All Taxes
Race tickets for the Monster Energy Cup Series are in the upper level of the Bill France Tower in Turn Four. This grandstand has an outstanding view of the track and pits because of its location on Turn 4. This enables you to see the whole track and the pits without having to turn your head from side to side and you do not stand up as much because of the angle. We also have a ticket upgrade option available for the upper level for the First Turn Tower. The view from this Tower is the same as the Bill France Tower only from the Turn One side of the track and across from where the top qualifiers generally pit their cars. A second upgrade option is the The Blue Ridge Tower between Turn 4 and Turn 1 on the start/finsh straightaway. They are located directly across from pit road. Truck Series tickets are general admission tickets. You'll be able to sit almost anywhere you would like.
Seating Chart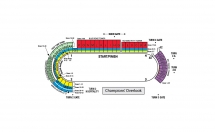 Click to Zoom

Martinsville Speedway
Opened in 1947 and having hosted the inaugural NASCAR Monster Energy Cup Series race in 1948, Martinsville Speedway certainly is seeded in rich racing history. This .526 mile "paperclip" shaped oval is referred to as "two drag strips with a turn around on each end". The track has not changed a bit since its inception except for the paving of the track surface, which is 55 feet wide and offers 20 degree banking in the turns. Located just three miles south of Martinsville, VA, the Speedway is the only original NASCAR sanctioned track still running Cup Series events.
Seating Chart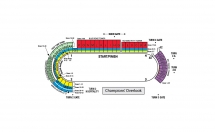 Click to Zoom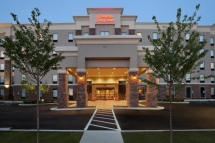 Hampton Inn & Suites Roanoke Airport
Easily accessible from I-581 and I-81, Hampton Inn & Suites Roanoke Airport boasts a fantastic location minutes from the beautiful Blue Ridge Parkway and just two miles from Roanoke Airport with an airport shuttle. Enjoy access to nearby colleges, including Virginia Tech and shopping and dining at the adjacent Valley View Mall. Both the Roanoke and Salem Civic Centers are just 10 minutes from our welcoming hotel in Roanoke, VA. Visit local attractions include the Dixie Caverns and the unique Natural Bridge and discover museums, markets, shops, restaurants and entertainment in downtown Roanoke, VA.
Settle into a spacious guest room at this Roanoke Airport hotel, equipped with a variety of modern amenities designed to make you feel at home, including a microwave, a refrigerator and a coffeemaker. Check emails with free WiFi, watch movies on the 42-inch flat-panel TV and sleep well on the queen or king-sized clean and fresh Hampton bed®. Upgrade to a suite for a spacious separate living area and a large wet bar.
Start each day right with Hampton's free hot breakfast buffet and buy snacks and travel essentials in our 24-hour Suite Shop. Refresh with a dip in the heated indoor saline pool or energize in the large free fitness center.
Hotel Information:
Check-in: 3:00 pm
Check-out:12:00 pm
Smoking:Non-Smoking
Parking: Self parking: (Free Onsite Parking)
Valet: Not Available
Service animals allowed: Yes
Pets allowed: No
5033 Valley View Blvd. North, Roanoke, Virginia, 24012, USA TEL: +1-540-366-6300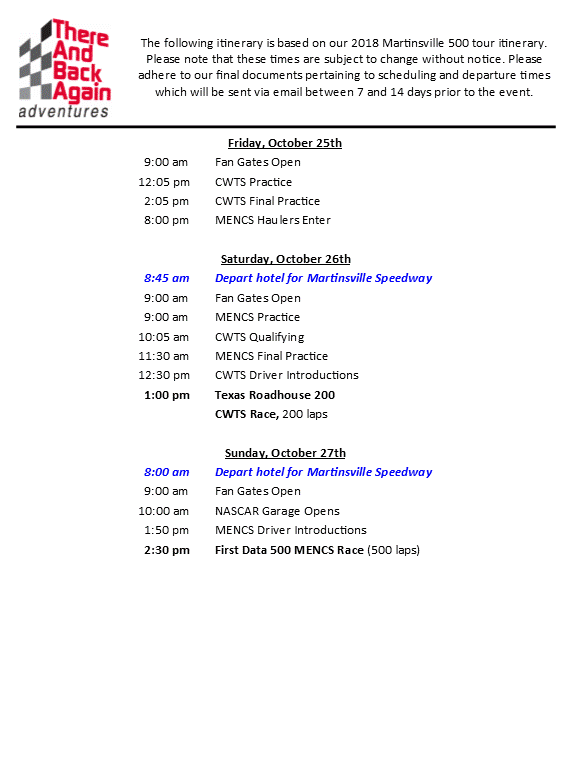 Martinsville, First Data 500, October 2018

The Pre-Race Pass was amazing. Great opportunity to walk on the track, sign the finish line, and watch the driver introductions up close and personal! Imogene (TABA tour rep) was excellent. TABA office staff are always helpful and have a great "can-do" attitude. My Martinsville trip was fun, as usual. Imogene is a great tour rep. and provided extra assistance, when I needed it. The bus was clean and the driver did a great job. This was my ninth trip with TABA and have never been disappointed. Looking forward to Daytona, Atlanta, and the Poconos next year!


Lisa Leuthold
Circle Pines, MN
Lisa's 9th Trip With TABA

Martinsville, First Data 500, October 2018

Imogene (TABA tour rep) did her usual fine job. Same old story, TABA is still doing good.

Hal & Barb Gay
FALLS CHURCH, VA
Their 123rd trip with TABA

Martinsville, First Data 500, October 2017

TABA is a very professional tour company. Everything is taken care of and it is very enjoyable!

Phillip, Carol, and Andrea Arndt
Provost, Alberta - Canada
Their 2nd Trip with TABA

Martinsville, First Data 500, October 2017

Jay (TABA tour rep) was a fantastic tour guide. He was so friendly and made our visit to Martinsville more enjoyable. I hope we can have him as a guide next year!

Tricia & Wayne Frenette
Lancaster, New Hampshire
Their 1st Trip with TABA

Martinsville, First Data 500, October 2017

We thoroughly enjoy our racing adventures with TABA and Martinsville was no exception. We looked forward to a lot of side by side racing and we were not disappointed. Great hospitality and garage tour package at the track. We highly recommend TABA and look forward to racing with them again in 2018 and beyond. Imogene is a great TABA rep and helped make the bus rides fun. We have very much enjoyed our trips with her over the years.

James & Linda Robertson
Eugene, Oregon
Their 13th Trip with TABA
Martinsville, First Data 500, October 2017

I had an awesome time at Martinsville!! I want to go to Martinsville again! I had a great time with the group. I recommend TABA highly!!

Laura Paschold
Delta, BC - Canada
Laura's 3rd Trip with TABA

Martinsville, First Data 500, October 2017

None better than our bus driver Jules and our TABA Tour Rep Imogene.

Harold & Barbara Gay
Falls Church, Virginia
Their 118th Trip with TABA

Martinsville, First Data 500, October 2017

Very impressive on the how quickly we returned to the hotel after the race. Thank you for another great trip!

Pamela Kinker and Missy Hilbert
Greensburg, Indiana
Their 21st Trip with TABA

Martinsville, First Data 500, October 2017

Staff was knowledgeable & friendly,will book again with TABA. No complaints

Pat McGoff
Metcalfe, Ontario - Canada
Pat's 2nd trip with TABA

Martinsville, First Data 500, October 2017

Imogene (TABA tour rep) and Jay (TABA tour rep) do a great job and are very nice people. Highly Satisfied with the tour!

Doug & Kathy Brown
Butler, Pennsylvania
Their 12th Trip with TABA