2020 Michigan NASCAR Race, Travel Package - Firekeepers Casino 400 - Hilton Garden Inn - NASCAR Cup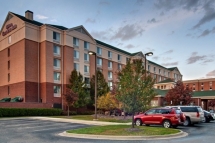 Michigan Speedway | June 5 - June 8
Package code NAS20-17HG
Our 2020 Michigan International Speedway Firekeeper Casino 400 NASCAR race packages, travel packages and tours include excellent Michigan race tickets for the NASCAR Cup Series, pre-race pit pass with driver intros for Sunday, access to the red-carpet leading to the drivers meeting, deluxe hotel accommodations at the Hilton Garden Inn - Detroit Airport, breakfast daily, deluxe bus transfers to Michigan Speedway and much more. Recognized as one of the premier facilities in motorsports, Michigan Speedway is situated on 900 acres of scenic countryside in the rolling Irish Hills. This track provides drivers with three and four grooves to run around the two-mile speedway, making for always exciting racing.

Firekeepers Casino 400 race ticket - Upper Center Grandstand
Pre-race pit pass with driver intros Sunday
Two or Three Nights at the Hilton Garden Inn - Detroit Airport-Romulus
Breakfast Daily and free parking at HIlton
Roundtrip Deluxe Bus Track Transfer Sunday
Knowledgeable TABA Tour Representatives
TABA Ticket Holder and Lanyard
Informative Tour Booklet
Airport Transfers provided by hotel
Race Day Essentials: Bottled Water, Earplugs, Sunscreen, and Koozies
All Taxes
Race tickets for the Monster Energy Cup Series Race are in the upper level of the Center grandstand across from pit road. You can see the entire track without obstructions. The Center grandstand offers a terrific view of pit road as well.

Seating Chart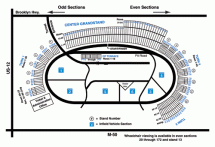 Click to Zoom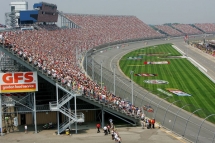 Michigan Speedway
Home of Michigan state's largest single day, paid admission sporting events since 1991, Michigan International Speedway plays hosts to NASCAR Monster Energy Cup Series race events twice a year with more than over a half million fans visiting the complex between the two combined race weekends.
Ground breaking for this motorsports facility took place in 1967 with the inaugural NASCAR Monster Energy Cup event being held in 1969 and Cale Yarborough battling til the end to take the checkered flag. The two mile D-shaped oval boasts 73 foot wide sweeping turns with 18 degrees of banking and provides drivers with three and four grooves to run in.
After more than 40 years of constant improvements and updates, MIS is still considered one of the country's premiere racing facilities.
Seating Chart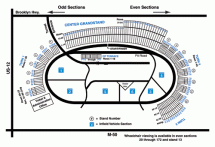 Click to Zoom
Hilton Garden Inn - Romulus - Detroit Airport
Welcome to the Hilton Garden Inn Detroit Metro Airport hotel. Located in the city of Romulus, the hotel is just one mile from Detroit Metro Airport (DTW) and easily accessible to downtown Detroit. The hotel offers a complimentary airport shuttle service for your convenience. Enjoy easy access to Interstate 94 and I-275. Leading corporations near our Romulus hotel include Ford Motor Company, Coca-Cola and General Electric.
Stay connected while travelling on the road with complimentary internet access throughout the hotel. Every guest room features a handy microwave and refrigerator. Enjoy complimentary facilities including a 24-hour business center, fitness center and swimming pool (our daily pool hours are from 8am-10pm). For delicious cuisine, the Garden Grille & Bar is open daily for breakfast and dinner.
Our Detroit Airport hotel is a great choice for meetings and events. Select from 3,000 sq. ft. of function space to host a business meeting or social event with proximity to the DTW airport.
Whether you are here for work, play or just to get away from it all, this Romulus hotel guarantees everything you need for a successful stay.
Complimentary internet access
Restaurant and Pavilion Pantry
Fitness center and pool
24-hour Business Center
3,000 sq. ft. of function space
Complimentary shuttle to and from DTW Airport
Rejuvenate in comfort at this Romulus hotel. Savor hearty cuisine for breakfast and dinner at the Garden Grille & Bar. Enjoy an invigorating workout at the fitness center or plunge into the pool. Pick up snacks or ready meals from the 24-hour Pavilion Pantry to enjoy in the comfort of your guest room or suite. Take advantage of the airport location and host a business meeting or function in one of the hotel's versatile meeting rooms. The business center provides a professional and relaxing base to catch up on work and stay in touch with the office back home.
Check-in: 3:00 pm
Check-out: 12:00 pm
Smoking: Non-Smoking
This hotel is a 100% smoke-free facility. There will be a $250.00 USD penalty fee for any guests found smoking inside guest rooms, or anywhere within hotel premises.
Parking: Self parking: (On night(s)of stay)
Valet: Not Available
Pets:
Service animals allowed: Yes
Pets allowed: No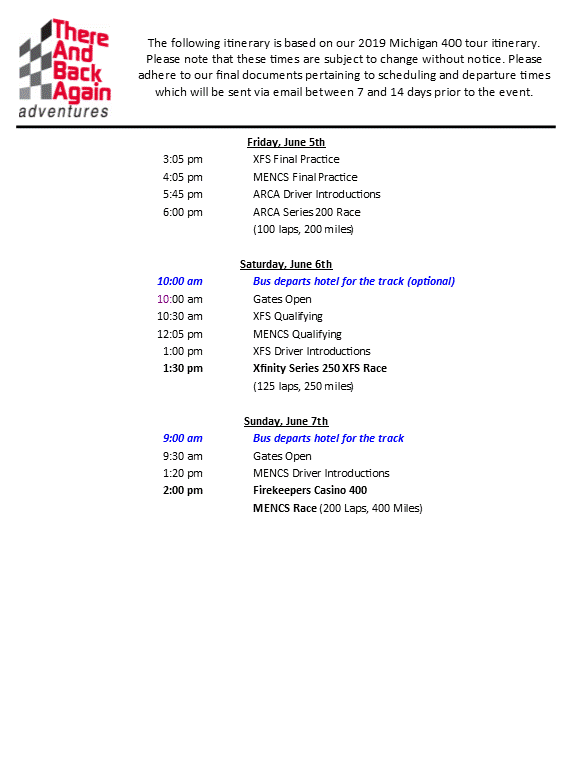 Michigan, Firekeeper's Casino 400, May 2019

We had a great weekend! We met some great people and will be keeping in touch with one couple! Bill (TABA tour rep) was the best! He was very informative and chatty and had all the answers! My husband and I enjoyed our dinner with him. My husband especially enjoyed the conversations with Bill at dinner and on the bus!! Keep him coming back!!
Cheers, Pam and Jason

Pamela and Jason Anderson
Orangeville, Ontario
Their 1st trip with TABA

Michigan, FireKeepers Casino 400, June 2018

Rex (TABA tour rep) was outstanding and knowledgeable about the entire aspect of the trip. That man is awesome, and made the entire experience much more enjoyable.

Thoras R. Dye
Albuquerque, NM
Their 1st trip with TABA

Michigan, FireKeepers Casino 400, June 2018

We had a great experience, the two tour reps (Bill and Rex) were fantastic. Very nice hotel with a great breakfast.

Kevin Hale and Richard Hale
Oakville and Brantford, Ontario - Canada
Their 1st trip with TABA

Michigan, Firekeepers Casino 400, June 2017

As usual everything was well planned and Rex (TABA Tour Representative) was a great tour rep. Everyone at TABA is awesome!

Bruce, Traci, and Lexi Soule

Their 15th Trip with TABA

Michigan, Firekeepers Casino 400, June 2017

Tour Representative, Attention to Details and Overall Value of Package were Outstanding.

Pam and Steve Lubbers
Dayton, OH
Their 13th Trip with TABA
Michigan, Firekeepers Casino 400, June 2017

I had an awesome time at Michigan International Speedway! I would highly recommend using TABA for your next race package! I loved having Rex (TABA Tour Representative) as tour host! He's awesome!!

Laura Paschold
Delta, BC Canada
Their 2nd Trip with TABA

Michigan, Firekeepers Casino 400, June 2017

Highly satisfied. Everything was outstanding.

Jeff and Mary Paulick
Oshkosh, WI
Their 10th Trip with TABA

Michigan, Firekeepers Casino 400, June 2017

This is our fifth trip with There and Back. It is the only way to go to avoid the hassle of traffic and inconvenient parking. Hotel accommodations have always been excellent. This trip our guide, Rex (TABA Tour Representative), was experienced, laid back, and exceptionally helpful, providing needed information and answering all of the questions we had. He provided great tips on dining in the area and shared some great racing stories. Great value for the cost. We look forward to our next adventure.

William and Carol Davis
Eureka, Illinois
Their 5th Trip with TABA

Michigan, Firekeepers Casino 400, June 2017

Outstanding! We will tour again with you next year!

Daniel and Susan Groom
Spokane, WA
Their 1st Trip with TABA

Michigan, Firekeepers Casino 400, June 2017

Your company has always delivered for a great experience. Rex (TABA Tour Representative) is very professional and organized. Once again my wife and I had a very enjoyable experience. From very good bus drivers with very clean equipment to very good tour representatives. Our hotels have always been very nice. We will be visiting you guys for two more trips we plan next year. Atlanta and Sonoma. Keep up the great work. Steve

Steve and Joyce Sparenblek
Indianapolis, Indiana
Their 6th Trip with TABA