2020 PHOENIX NASCAR CUP CHAMPIONSHIP RACE PACKAGES TOURS TRAVEL - EMBASSY SUITES - CUP ONLY
First Ever Cup Championship hosted at Phoenix Raceway!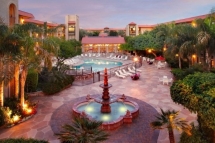 Phoenix Raceway | November 5 - November 9
Package code NAS20-37ES
Our 2020 Phoenix NASCAR Cup Championship race travel packages and tours include excellent NASCAR Cup Series race tickets, hotel accommodations at the Embassy Suites by Hilton Scottsdale Resort, deluxe roundtrip bus transfers Sunday via motorcoach to Phoenix Raceway knowledgeable tour representative, ticket holder and lanyards, informative tour booklet and all taxes plus we have many options to enhance your race weekend. Phoenix Raceway is recognized as the world's fastest one-mile oval, and only there can you find cactii surrounding the track. Join us for a Wild West Shootout! NASCAR Truck Series tickets and transfers for Friday and NASCAR Xfinity Series tickets and transfers for Saturday are available as options. Our resort hotel, the Embassy Suites Scottsdale Resort, features 2 room suites, refrigerator and microwave, cooked to order breakfast daily, 2 hours of afternoon/evening cocktails and a location that is only a couple blocks from Old Town Scottsdale and across from Fashion Square Mall. This is the place you want to be!
Phoenix Cup Ticket - Sections 145-146
Two or More Nights - Embassy Suites by Hilton Scottsdale Resort
Track Transfers via Deluxe Motorcoach Sunday
Full "Cooked to Order" Breakfast Daily
2 Hours Afternoon Cocktails Daily
TABA Ticket Holder and Lanyard
Informative Tour Booklet
Knowledgeable TABA Tour Representatives
Race Day Essentials: Bottled Water, Earplugs, Sunscreen, and Koozies
All Taxes
Our Phoenix 500 Cup Series tickets are in the newest Grandstand at Phoenix Raceway (Opened November 2018). Our seats are located in Premium Rows 31-34 in Sections 145-146. These are individual folding stadium chair seats are located between Turn 4 and the Start/Finish Line and are across from pit road. Concessions and restrooms are on the mezzanine and are close to your seats. You are able to see all of pit road and the entire track from any of our seats.
Seating Chart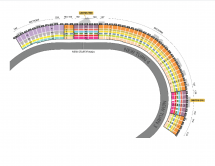 Click to Zoom
Phoenix Raceway
Carved out of the foothills of the Estrella Mountains in 1964, Phoenix Raceway (then named Phoenix International Raceway) hosted its inaugural NASCAR Cup Series race event in 1988 with Alan Kulwicki taking the checkered flag. Phoenix Raceway is a major sporting attraction for the "Valley of the Sun" and the Fall race weekend is now one of the state of Arizona's largest events. The uniquely shaped one mile oval has just completed a complete facelift and renovation. Phoenix Raceway still has it's unique oval with a Dog leg; however, the track has flipped the front and back stretch for 2018. Now the Dog Leg is close to the start/finish line.
Seating Chart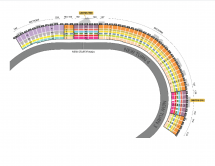 Click to Zoom
Embassy Suites by Hilton Scottsdale Resort
The Embassy Suites by Hilton -Scottsdale Resort is a deluxe all-suite hotel located just 30 miles from the Phoenix International Raceway. The property features two pools, an outdoor jacuzzi, full service restaurant and lounge, exercise room, tennis courts, airport, cooked to order breakfast each morning and 2 hours of afternoon cocktails daily. Only 1/2 mile from Old Town Scottsdale, this resort is sure to please!
Overlooking Camelback Mountain in the heart of Scottsdale, Embassy Suites by Hilton Scottsdale Resort is just minutes from championship golf courses, spa facilities, shopping, dining, art galleries, MLB Spring Training and outdoor recreation. Our recently renovated Scottsdale hotel is only 15 miles to downtown Phoenix, Talking Stick Arena and Chase Field, and offers convenient freeway access to the University of Phoenix Stadium and the Gila River Arena.
Our contemporary two-room suites offer WiFi, 43-inch HDTV's and spacious work stations. Upgrade to a larger suite for perks like a whirlpool tub or a conference table, or choose our Presidential Suite for the ultimate stay. Work out in the fitness center, energize on the tennis court or soak up the sunshine in one of our resort-style swimming pools. Enjoy American favorites in the restaurant, and relax with a drink in our welcoming lounge. Take advantage of room service between 11am – 11pm, or buy snacks in our 24-hour convenience store. Start each day with a complimentary cooked-to-order breakfast, and enjoy an evening social with complimentary drinks* and snacks.
Automated Teller (ATM) ($3.50 fee)
Baggage Storage
Bar Area
Car Rental Desk
Coin Laundry
Concierge Desk
Electric Service
Elevators
Gift Shop
Laundry/Valet Service
Lounge
Luggage Hold
Room Service
Safety Deposit Box
Fitness Room
Pool
Tennis Court
Check-in: 3:00 pm
Check-out:11:00 am
Non-Smoking
Self parking: $15.00 (+ tax per/car/day)
Valet: $15.00 (+ tax per/car/day)
Service animals allowed: Yes
Pets allowed: No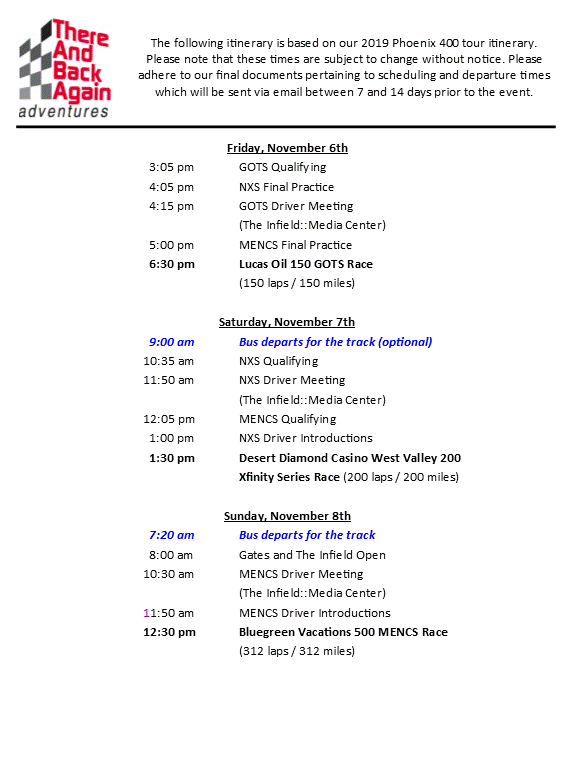 Phoenix, Bluegreen Vacations 500, November 2019

How relaxing it is to have THERE AND BACK AGAIN take care of all the details for our NASCAR adventure! My daughter and I feel safe and secure and know that we will have the trip of a lifetime with THERE AND BACK AGAIN! The Phoenix 500 at ISM Raceway was incredible and the Embassy Suites was gorgeous. A great big thank you to THERE AND BACK AGAIN!

Tamara Humphreys and Lisa McFarlane
CRESWELL, OR
Their 2nd Trip with TABA

Phoenix, Bluegreen Vacations 500, November 2019

The seats were amazing! The staff at TABA were amazing! Josh and Dixon (TABA staff) worked so hard to find last minute arrangements for me. Thank you gentlemen so much! The customer service is amazing, their excitement level is amazing and I can't wait to do this again next year. The tour made the weekend so smooth with every detail taken care of.

Angie Handel
Los Angeles, CA
Their 1st Trip with TABA

Phoenix, Bluegreen Vacations 500, November 2019

Well organized and everything went smoothly. Enjoyed the Embassy Suites in Scottsdale. Have already signed up for the November Phoenix 2020 Championship Race with There and Back Again!

Kelley and Chris Roach
Tucson, AZ
Their 2nd Trip with TABA

Phoenix, Bluegreen Vacations 500, November 2019

My TABA trip to Phoenix was an awesome adventure. I got great seats as always. I also got an INFIELD pass to see garage, driver intros and walk across the track to my seat which was awesome. I especially liked that I got to climb on the hillside at ISM Raceway to see a great view of the track. I also liked walking outside of the track around it to see other things about it. My hotel had excellent staff that helped me find places around their area. Jay (TABA tour rep) was good at getting tickets to fans at hotels and was awesome in entertaining fans and making sure to keep everybody in line for pick up and take off. Thanks again TABA for another memorable trip that I'll never forget.

Ben Carson
Rochester, Wisconsin
Ben's 9th Trip with TABA

Phoenix, Bluegreen Vacations 500, November 2019

Jay did an outstanding job as a tour guide!!! Have enjoyed may trips over many years, at different tracks, and all trips have been outstanding. Keep up the good work.

Wayne & Sandy Smith
Kingman, Arizona
Their 14th trip with TABA
Phoenix, Bluegreen Vacations 500, November 2019

Great driver, tour guide was good. Convenient drop off location. Great seats! Overall a very positive experience.

Jim and Hunter Bruney
Albuquerque, NM
Their 1st trip with TABA

Phoenix, Bluegreen Vacations 500, November 2019

Jay (TABA tour rep) is great and the overall experience was fantastic!

Ron Wolf and Frank McCourt
Las Vegas, NV
Their 2nd trip with TABA

Phoenix, Bluegreen Vacations 500, November 2019

Overall experience was good, thanks!

Todd Stoddart
Durham, Ontario, Canada
Todd's 1st Trip with TABA

Phoenix, Bluegreen Vacations 500, November 2019

Great seat selection. Jay (TABA tour rep) was a great host. This is and exceptional experience and you make it very simple and easy..

Roger Delph, Tim & Dave Delph - Dayton Ohio
Visalia, CA and Dayton, OH
Their 12th trip with TABA

Phoenix, Can-Am 500, October 2018

Both Jay and Dixon (TABA tour reps) are little darlings! HAHA
Thanks for the great seating at the track. It was appreciated!!!!!!!!!!

Wayne & Sandy Smith
Kingman, AZ
Their 14th trip with TABA