2020 Richmond Toyota Owner's 400 NASCAR Race Travel Packages and Tours - NASCAR Cup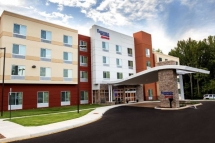 Richmond Raceway | April 17 - April 20
Package code NAS20-09FI
Our 2020 NASCAR Cup race packages, travel packages, and race tours for the Toyota Owners 400 include spectacular NASCAR Cup Series Richmond race tickets, deluxe hotel accommodations at the Fairfield Inn & Suites Richmond Midlothian, hot breakfast each morning of your stay, Sunday track transfers by deluxe bus to Richmond Raceway, knowledgeable tour representative, informative tour booklet, ticket holder/lanyard and and several options to enhance your race weekend experience such as Hospitality with pit road passes, ticket upgrades, scanner rentals and more. Join us to see why Richmond Raceway is called "The Action Track". Richmond Raceway hosts some of the best short track racing around this weekend.
Toyota Owners 400 ticket-Upper Commonwealth Grandstand or Upgrade
Two or More Nights - Fairfield Inn & Suites - Richmond Midlothian
Hot Breakfast daily
Free Parking at the hotel
Track Transfers via Deluxe Motorcoach Sunday
TABA Ticket Holder and Lanyard
Informative Tour Booklet
Knowledgeable TABA Tour Representative on site and buses to assist
Race Day Essentials: Bottled Water, Earplugs, Sunscreen, and Koozies
All Taxes
Tickets for the NASCAR Cup Series are in your choice of the upper level of the Commonwealth Grandstand. The Commonwealth grandstand is located directly across from pit road on the front stretch. These seats have an excellent view of the track. You can also upgrade to the Commonwealth Mezzanine that are individual stadium style seats, which is just above the Commonwealth Grandstand.

Seating Chart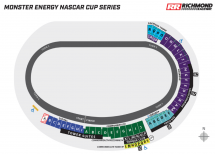 Click to Zoom
Richmond Raceway
Richmond Raceway hosted its first NASCAR race in 1953 as a half mile oval with Lee Petty dominating the race from the pole to the checkered flag. In 1988 the track was reconfigured to be a 3/4 mile track. Since the first race at this raceway, the track has had three name changes, five track configuration changes, one surface change (dirt to asphalt), multiple grandstand additions and the addition of lights. Richmond Raceway is also known as the "action track" because of its exciting side by side racing.
Seating Chart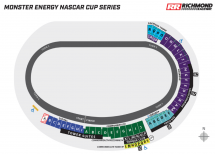 Click to Zoom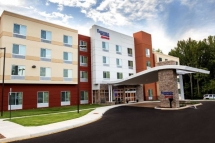 Fairfield Inn and Suites Richmond Midlothian
Experience the newest Marriott hotel in Richmond, Virginia! This is the newest hotel in the market and the only Marriott hotel in the Midlothian corridor. The brand new Fairfield Inn & Suites Richmond-Midlothian is centrally located only minutes from downtown Richmond, Virginia and everywhere in between. With close proximity to Northrop Grumman, Johnston Willis Hospital, Chesterfield Towne Center Mall, River City Sportplex and SwimRVA – this makes our hotel the ideal location for the business traveler or the leisure guest looking to explore all that the historic river city has to offer. Our hotel boasts over 1000 square feet in meeting space, a generous-sized fitness center and our spacious suites, complimentary hot breakfast and free Wi-Fi makes us a value that is hard to match. We look forward to welcoming you to Richmond's newest hotel, the Fairfield Inn & Suites Richmond Midlothian conveniently located off the Midlothian Turnpike!
Check-in: 3:00 PM
Check-out: 11:00 AM
Express Checkout
Internet Access
Guest rooms: Wireless
Enhanced High Speed: Video chat, download large files + stream video for 4.95 USD/day
Lobby and public areas: Complimentary Wireless
Meeting rooms: Wireless
Complimentary on-site parking
Property Details
5 floors, 68 Rooms, 23 suites
Pets not allowed
This hotel has a smoke-free policy
Richmond, Toyota Owner's 400, April 2019

Hotel was good and location to race was very good. I really like the 2 page overview that you now have. Points of interest noted were good also. Went to the Poe museum in the morning before the race. Very Good

Jeffery Earle
Ithaca, New York
Jeff's 21st trip with TABA

Richmond, Toyota Owner's 400, April 2019

After 24 years that should tell you something.

Hal & Barbara Gay
Falls Church, VA
Their 124th trip with TABA

Richmond, Toyota Owners 400, April 2018

We have always been happy with the race packages that we've had over the years. All Tour Guides have been well organized, helpful, friendly, accommodating, and knowledgeable. Imogene was our Tour Guide for this race and did a great job.

Raymond & Annette Naylor
Bryan, Texas
Their 6th trip with TABA

Richmond, Toyota Owners 400, April 2018

Have used TABA many times and have always found staff to be professional and well informed. Imogene (TABA tour rep) is the best.

Jeffery Earle
Ithaca, NY
Their 14th trip with TABA

Richmond, Toyota Owners 400, April 2018

Mezzanine seats were great. We had a wonderful time. Everything went smooth. Thanks Imogene (TABA tour rep) for your hospitality'.

Fred Bolk And Maura Dawson
Islip, NY
Their 2nd trip with TABA
Richmond, Toyota Owners 400, April 2017

Dixon (TABA staff), If you and the staff weren't good we would not be coming back after 22 years and 115 races. Highly satisfied!

Hal and Barbara Gay
Falls Church, VA
Their 115th Trip with TABA (yes 115)

Richmond, Toyota Owners 400, April 2017

Everything was very good. We will tour with you again next year.

Dan and Melissa Esber
Fort Myers, FL
Their 5th Trip with TABA

Richmond, Toyota Owners 400, April 2016

Highly satisfied. Everything was outstanding or very good.

David Rowden
Monrovia,Ca
Their 1st Trip with TABA

Richmond, Toyota Owners 400, April 2016

Had a great time - the convenience of the package can't be beat. Overall value of the package was outstanding.

Peter Filkins and Milt Clary
Fairfax, VA
Their 1st Trip with TABA

Richmond, Toyota Owners 400, April 2016

Our upgraded tickets were great. Imogene (TABA Tour Rep) was great. Highly satisfied

Lou Basle and Jim Hughs
Poestenkill, NY
Their 3rd Trip with TABA