2020 Geico 500 Talladega NASCAR Race Packages and Tours -Hilton at UAB-Birmingham,AL- Weekend Ticket
Talladega NASCAR Packages with Birmingham Hotel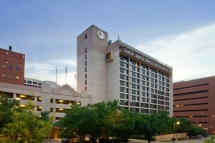 Talladega Superspeedway | April 24 - April 27
Package code NAS20-10HHW-B
Our 2020 Talladega Geico 500 NASCAR race packages, travel packages and tours are some of the hottest on the NASCAR circuit! Our Talladega Geico 500 Weekend Ticket race packages, travel packages, and tours include excellent NASCAR Cup and Xfinity Series race tickets in the best seats at Talladega Superspeedway, the Tri-Oval Tower, first class hotel accommodations at the Hilton at UAB -Downtown Birmingham, Shuttlesworth International Airport Transfer provided by Hilton, Full breakfast daily, complimentary Wifi, discounted hotel parking, deluxe motorcoach track transfers on Saturday and Sunday and additional options to enhance your race experience. Our TABA tour representatives are professional and knowledgable of NASCAR racing and are fans of the sport. Talladega Superspeedway is the biggest, fastest, and most competitive motorsports facitlity in the world. Join us to see it for yourself!
Geico 500 Ticket in the Tri-Oval Tower, the best seats at the track
Xfinity Series Ticket in the Tri-Oval Tower
Three Nights - Hilton at UAB -Downtown Birmingham
Roundtrip Track Transfers via Deluxe Motorcoach Saturday & Sunday
Snacks and water provided on the buses
Daily breakfast and free Wifi at the Hilton included
TABA Ticket Holder and Lanyard
Complimentary Shuttlesworth International Airport Transfers
Knowledgeable TABA Tour Representatives
Race Day Essentials: Bottled Water, Earplugs, Sunscreen, and Koozies
All Taxes
Excellent NASCAR Cup and Camping World Truck Series tickets are in the Tri-Oval Tower in Sections J and K, rows 41-44, on the front stretch across from the pits. These are the best and most expensive tickets at Talladega Superspeedway! You must have a Tower ticket in order to see the entire track and these are located in the middle of the Tri-Oval and just across from pit road.
Seating Chart



Click to Zoom
Talladega Superspeedway
In 1969 Talladega Superspeedway was opened and since has come to be known as the biggest, fastest, most competitive motorsports facility world-wide. Built on what once was large soybean fields, this track, then named Alabama International Motor speedway, hosted its inaugural Cup Series race in 1969 with Richard Brickhouse taking the checkered flag to become the race winner.
"NASCAR's most competitive track", Talladega Superspeedway has established records for both speed and competition. It is a 2.66 mile tri-oval superspeedway with 33 degree bankings in the turns and 16.5 degrees of banking along the tri-oval. The track has a 48 foot wide racing surface making side by side and bumper to bumper racing the norm while speeds reach close to 200 miles per hour.
Seating Chart



Click to Zoom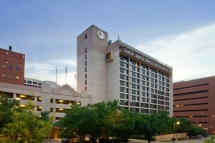 Hilton Birmingham AT UAB - Birmingham, AL
Located in the heart of downtown, Hilton Birmingham at UAB puts you within walking distance to the Five Points area and the University of Alabama at Birmingham. Navigating the city is easy with MAX Connect and our complimentary shuttle within two miles. Relax and unwind with our outdoor pool, leisure area with fire pits and two restaurants with alfresco dining. The hotel also features a six level parking facility with direct guest room access.
Free Full Breakfast daily and free WiFi are included for all our guests.
Good to know
• Located on the University of Alabama at Birmingham campus
• 7 miles from Birmingham International Airport (BHM)
• Complimentary airport shuttle
• On-site restaurant and bar
• Outdoor pool and courtyard
Located in the vibrant Five Points South district, we are just blocks away from Region's Park, Uptown, Lakeside and the BJCC center. Shuttlesworth International Airport (BHM) is 15 minutes away and readily accessible via our complimentary airport shuttle.
Hotel Information
Check-in: 4:00 pm
Check-out:12:00 pm
Smoking:Non-Smoking
Parking:Self parking: $10.00 (per night discounted rate through TABA)
Valet: Not Available
Service animals allowed: Yes
Pets allowed: Yes
Deposit: $50.00 (Non-Refundable)
Maximum Weight: 75 lbs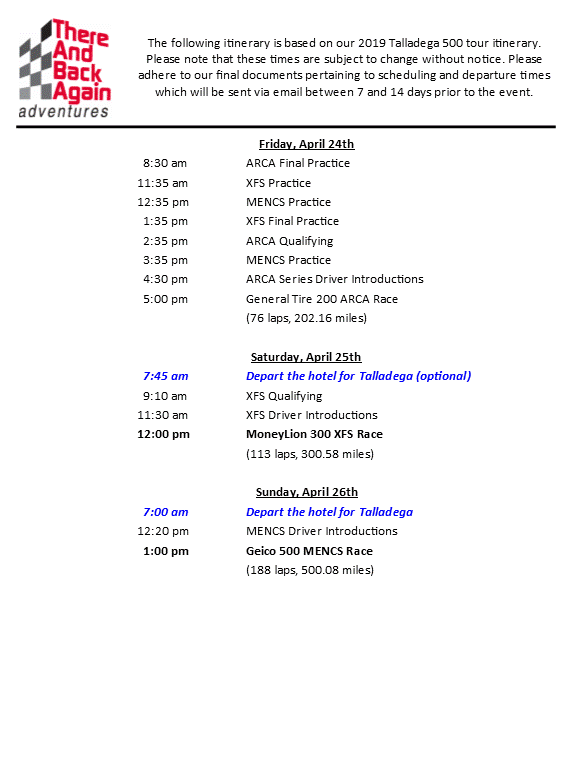 Talladega, Geico 500, April 2019

This is our second race with There and Back, and once again we had an awesome experience. Talladega was on our bucket list and you did not disappoint! Chris (TABA tour rep) gave us all the information on the bus prior to beginning our day at the track and he gave the best info we were able to tour the fan area and get our souvenirs bring them back to the bus and still be in our seats In time for the track intros and anthem! Our seats In moss-thorton tower were great and Chris directions were great for getting to our gate.. It was a beautiful day for a race. We will definitely book with you again for another track can't wait!

Chris and Debbie Thom
Collingwood, Ontario - Canada
Their 2nd trip with TABA

Talladega, Geico 500, April 2019

Excellent service.. seats.. and transportation.. you won't be disappointed!!

Debbie Boerstler and Fred Andrews
Fulshear, Texas
Their 4th trip with TABA

Talladega, Geico 500, April 2019

Great experience. Our tour guide, Josh was excellent and the bus driver, Becky, very good as well.

Lee Barry
Bridgewater, Nova Scotia - Canada
Their 1st trip with TABA

Talladega, Geico 500, April 2019

Just keep up th great work at TABA! We will always book our racing tours with you and recommend your company to everyone we know!

Bill and Donna Wilson
Warner Robins, GA
Their 9th trip with TABA

Talladega, Geico 500, April 2019

We have used you many times and we are never let down, As always perfect!

Andrew and Tammy Morris
St. Augustine, FL
Their 7th trip with TABA
Talladega, Geico 500, April 2019

Everyone involved were great!!! This was our second trip with TABA and are looking forward for our third, just don t know when yet.

Lisa and Dave Lord
Englewood, FL
Their 2nd trip with TABA

Talladega, Geico 500, April 2019

This was our first time at a race, the view of the track was great!

Glenn and Kari Abele
Silver City, NM
Their 1st trip with TABA

Talladega, Geico 500, April 2018

This was our second trip with TABA, chosen because we were very satisfied the first time (Las Vegas). Connecting at the hotel was easy and our TABA tour guide, Devon, was very personable. Hotel choice was fantastic - beautiful and very comfortable. Food there was first class and we met race people there as well. I think you do a great tour and wherever our next race is, we WILL use TABA tours. Thanks!

Sharon and Gene Amorelli
Port Ewen, NY
Their 2nd trip with TABA

Talladega, Geico 500, April 2018

I was very comfortable with Shane immediately and trusted him! His and Josh's personality's put me at ease. I phoned with questions, and to add on several times, they were both welcoming! Never made me feel like I was a bother. I would highly recommend this company...Actually already have! The whole experience was so comfortable because of TABA. We sat next to some who signed with Premier, they were very disappointed. I gave them my flyer from TABA. We knew exactly what to expect, where and when. I never do anything over the internet, (afraid), but Shane (TABA tour rep) made me feel at ease and safe from the first time I spoke with him! Chris (TABA tour guide) , BEST guide ever!!! Kept everything in check, yet Fun!
I have already recommended TABA to several others!Many thanks to all of you for making our first NASCAR trip an amazing adventure! God Bless You All!


RONI AND DAVID RASTETTER
GREEN, OHIO
Their 1st trip with TABA

Talladega, Geico 500, April 2018

We loved our Fanvision scanner rentals. They worked great. Airport Marriott hotel was great. Shuttle to and from the airport was very convenient. Hotel staff was very friendly and helpful. Our room was very clean and modern. It was a very pleasant stay. Becky the bus driver was very friendly and professional. She did a great job getting us to and from the hotel and track. Chris our TABA tour rep was the best! We was very funny, knowledgeable and explained easy instructions about how to get around at the vendors and track as well as the itinerary. This was the best NASCAR race experience EVER! Jim and I will definitely book more trips with TABA Adventures and we plan on bringing our NASCAR friends!

Jim and Tonya Thomas
Salt Lake City Utah
Their 1st trip with TABA