2020 Talladega Alabama 500 NASCAR Race Packages - Hilton at UAB - NASCAR Cup Ticket
Chase for the Championship Race!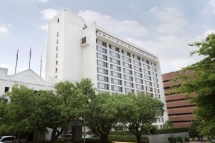 Talladega Superspeedway | October 2 - October 5
Package code NAS20-32HH-B
Our 2020 Talladega Alabama 500 NASCAR race packages, travel packages and tours are some of the hottest on the NASCAR circuit. This Talladega NASCAR package and race tour include excellent Talladega Alabama 500 race tickets in your choice of excellent Tower options, hotel accommodations at the Hilton at UAB - Downtown Birmingham, deluxe bus transfers Sunday to Talladega Superspeedway, professional tour representatives, ticket holder/lanyard, TABA tour booklet and add on options to enhance your Talladega race packages such as scanner rentals, pit passes and driver intros. Talladega Superspeedway is considered to be the biggest, fastest, and most competitive track in the world. Talladega Superspeedway is hosting one of the Chase for the Championship races this weekend and the results will certainly affect the outcome of the Championship. Join us on one of our Talladega race packages to have a hassle free NASCAR Experience!
NASCAR Cup Ticket - Anniston or Talladega Towers or Upgrade
Two or More Nights - Hilton at UAB - Downtown Birmingham
Track Transfers via Deluxe Motorcoach Sunday
Snacks and Water on Buses
Daily breakfast and free Wifi at the Hilton included
TABA Ticket Holder and Lanyard
Complimentary Shuttlesworth International Airport Transfers
Professional TABA Tour Representatives
Race Day Essentials: Bottled Water, Earplugs, Sunscreen, and Koozies
All Taxes
The basic ticket that comes with the package for the NASCAR Cup Series are in your choice of the Anniston Tower (Turn 4) or Talladega Tower (Turn 1) or you can upgrade to the Moss Thornton Tower which is located at the Start/Finish Line or Birmingham Tower or the O.V. Hill South Tower on the front stretch and located between the Start/Finish Line and Tri-Oval Tower across from pit road, or Tri-Oval Tower tickets. At Talladega, the Start/Finish line is located just past the pit road exit toward turn one.
Please note that you have to have a Tower Ticket in order to view the entire track at Talladega.
Seating Chart



Click to Zoom
Talladega Superspeedway
In 1969 Talladega Superspeedway was opened and since has come to be known as the biggest, fastest, most competitive motorsports facility world-wide. Built on what once was large soybean fields, this track, then named Alabama International Motor speedway, hosted its inaugural Cup Series race in 1969 with Richard Brickhouse taking the checkered flag to become the race winner.
"NASCAR's most competitive track", Talladega Superspeedway has established records for both speed and competition. It is a 2.66 mile tri-oval superspeedway with 33 degree bankings in the turns and 16.5 degrees of banking along the tri-oval. The track has a 48 foot wide racing surface making side by side and bumper to bumper racing the norm while speeds reach close to 200 miles per hour.
Seating Chart



Click to Zoom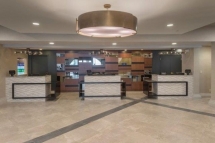 Hilton Birmingham AT UAB - Birmingham, AL
We use the Hilton Birmingham at UAB for our Talladega Geico 500 and Alabama 500 race packages. Located approximately 50 miles from Talladega Superspeedway, the Hilton Birmingham at UAB puts you within walking distance to the Five Points area and the University of Alabama at Birmingham. Navigating the city is easy with MAX Connect and our complimentary shuttle within two miles. Relax and unwind with our outdoor pool, leisure area with fire pits and two restaurants with alfresco dining. The hotel also features a six level parking facility with direct guest room access. Enjoy your Talladega Geico 500 and Alabama 500 race weekends while staying at the Hilton Birmongham at UAB.
Hilton Brimingham at UAB Hotel Details
Pertinent Hotel Information
Address:
808 20th Street South, Birmingham, AL 35205
Hotel Check In:
3:00 pm
Hotel Check Out:
12:00 noon
Smoking Policy:
Non-Smoking
Self Parking:
Self parking: $10.00 (per night discounted rate through TABA)
Valet Parking:
Not Available
Pets:
Service Animals Only ($50 deposit, Max Weight 75lbs)
Airport Shuttle:
24-hour Complimentary Airport Shuttle Available (BHM)
Area Shuttle:
Local Area Shuttle Available (within 2 miles of hotel)
On-Site Restaurants:
Fresh Connection (Monday - Sunday:6:00am - 11:00pm)
The LAB Bar & Kitchen (Monday - Sunday: 11:00am - 11:00pm)
The LAB Market Cafe
Breakfast:

included for TABA guests
Bar/Lounge:

The LAB Bar & Kitchen (Monday - Sunday: 11:00am - 11:00pm)

Room Service:
24-hour room service
Wifi:
included for TABA guests
Pool:
Outdoor pool
Fitness Center:
Yes
Refrigerator in Room:
Mini Fridge
Microwave in Room:
No
In Room Coffee/Tea
Yes
Business Center:
Yes
Conceirge:
No
Car Rental:
No
Accessible Rooms
Accessible Rooms Available On Request
Suite Upgrades:
Not available
Balcony:
Not available
Room - Bedding Types:
King or 2 Queens
Sleeper Sofa Availability:
Not available
Cot Availability:
On request for King bedded rooms, not in Rooms with 2 beds
Adjacent Rooms:
Can be requested but not guaranteed,
Maximum Guests per room
4 including children, exceptions may be available
Resort Fees:
None
Area Information
Closest Airport(s)
BHM Birmingham-Shuttlesworth International Airport (6 miles)
Local Restaurants:
Subway Pickwick Place
Sitar Indian Restaurant
Tazikis
Moe's Southwest Grill
Area Attractions:
Barber Motorsports Museum (18 miles)
Birmingham Civil Rights Institute (2 miles)
Places of Interest:
Vulcan Park & Museum (1.5 miles)
International Motorsports Hall of Fame (50 miles)
Our Packages Using The Hilton Birmingham at UAB
Talladega Superspeedway

Talladega Geico 500 Packages

Talladega Alabama 500 Packages
Welcome to our Talladega Alabama 500 Race Package!
Friday, October 2nd
11:35 am
GROTS Practice
12:35 pm
NCS Practice
2:35 pm
GROTS Final Practice
3:35 pm
NCS Final Practice
Saturday, October 3rd
6:30 am
Breakfast is served in the hotel breakfast area, until 10 am

7:45 am

Bus departs for the Talladega Speedway (Weekend Ticket Packages only)

9:35 am
GROTS Qualifying
12:00 pm
GROTS Driver Introductions
12:30 pm
GROTS Series 250 Race
3:35 pm
NCS Qualifying
Sunday, October 4th
5:30 am
Breakfast is served in the hotel breakfast area, until 10 am

7:00 am

Bus departs for Talladega Speedway (All Ticket Packages)

8:00 am
Talladega Garage Experience Gates Open
12:20 pm
NASCAR Cup Series Driver Introductions
1:00 pm
Alabama 500 NASCAR Cup Series Race
Monday, October 5th
6:30 am
Breakfast is served in the hotel breakfast area, until 10 am
11:00 am
Hotel check-out at the Hilton Hotel
*Times above are subject to change without notice. Please verify your itinerary!
Talladega, 1000bulbs.com 500, October 2019

Rex (TABA tour rep) was fantastic. Race was rain delayed a day and he went above and beyond to get us transportation back. Both bus drivers were awesome.

Brian Hudson
Tell City, IN
Brian's 1st trip with TABA

Talladega, 1000bulbs.com 500, October 2019

My tour to Talladega 500 weekend was sensational. I'll never forget... I'll be back to do it again. Josh, my TABA tour rep & guide was brilliant. He is most knowledgeable, accommodating, pleasant, and kind-hearted.
Looking forward to a tour with him again. Thanks so much for a wonderful tour! All the best, Alex

ALEX CHAPPLE
SYDNEY, AUSTRALIA
Alex's 1st Trip with TABA

Talladega, 1000bulbs.com 500, October 2019

Thank you TABA for another great year of racing. I believe this completes our racing circuit for 2019 and we are looking forward to seeing more races in 2020. The staff at TABA does an outstanding job which keeps us coming back for more adventures
with a great group of people.

Ed & Teri Seiter
West Chester, PA
Their 43rd trip with TABA

Talladega, 1000bulbs.com 500, October 2019

Josh (TABA tour rep) was very knowledgeable and had answers to every question. I would recommend using TABA. Thanks for the trip!

Rich Trichilo
Simpson, PA
Their 1st trip with TABA

Talladega, 1000bulbs.com 500, October 2019

Becky is a wonderful bus driver! She is always very careful with her driving and asks if there is anything she can do to make us very comfortable! The tour representatives, whomever it is for a particular race, have always give us information on the bus before we arrive at the race and very helpful once we arrive to our destination! Their attitude and willing to help in any way, is outstanding! My husband and I will always TABA whenever we go to the car races! We have recommended other people to use your company for races or any other events!

Bill and Donna Wilson
Warner Robins, GA
Their 10th trip with TABA
Talladega, 1000bulbs.com 500, October 2019

This was one of the most organized and professional experiences we have ever had with a large group of people. Josh (TABA tour rep) and his team did an amazing job to inform and relay information as well as go beyond to help out those who wanted to go back the next day because of the rain cancellation. We will be back.

Darryl, Nikki, Leonard and Faye Thom
Alberta, Canada
Their 1st trip with TABA

Talladega, 1000bulbs.com 500, September 2018

Best seats we have ever had at a race. Good value for the money.

Ken Moffett
Bayfield, Ontario - Canada
Ken's 1st trip with TABA

Talladega, 1000bulbs.com 500, September 2018

There and Back Again was a great experience. Very convenient to have transfer from the airport taken care of, tickets waiting at the hotel, motor coach transportation included, makes for a great trip and no worries about where to go or how to get there. Our tour rep "Chris" was awesome. An all around great experience with There and Back Again.
Thank you!

Deanne Ziegert
South Bend, Indiana
Their 1st trip with TABA

Talladega, 1000bulbs.com 500, September 2018

Enjoyed both days of racing. Great weather. Seat were very good. Thank you Imogene (TABA tour rep), a great trip I would recommend to others.

Don & Sue Duran
Westminster, CO
Their 1st trip with TABA

Talladega, 1000bulbs.com 500, September 2018

Imogene our TABA tour guide was great! We have been with her before and is always very professional and informative!! Thanks Imogene!!!! Your awesome for us old race fans!!

Dan and Peggy Benjamin
Larsen, WI
Their 4th trip with TABA