2021 Texas NASCAR Race Packages Travel Tours - Autotrader EchoPark Auto 50 - Hilton- Weekend Tickets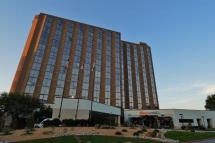 Texas Motor Speedway | October 15 - October 18
Package code NAS21-33HHW
Sold Out
Our Texas NASCAR Packages for the Cup and Xfinity Series staying at the Hilton Arlington offer a great location with easy access to Texas Motor Speedway, DFW International Airport (DFW), and regional attractions such as AT&T Stadium, Globe Life Park, and Texas Live. This is the perfect location if you are a sports fan and want to participate in one of our Texas NASCAR packages. The Hilton offers a complimentary airport shuttle to and from Dallas-Fort Worth International Airport (DFW) and complimentary on-site parking. Our Texas 500 NASCAR Packages include great tickets for the Xfinity and Cup races, a professional and knowledgeable Tour Representative, deluxe motorcoach transportation to Texas Motor Speedway, and full breakfast daily at the hotel and options to enhance your experience such as pit passes and scanner rentals. Experience one of our Texas NASCAR packages and enjoy a hassle-free time.
NASCAR Cup Ticket - Outer Chairbacks or Upgrade
Xfinity Race Ticket - Outer Chairbacks or Upgrade
Two or More Nights - Hilton Arlington
Track Transfers via Deluxe Motorcoach Saturday and Sunday
Full Hotel Breakfast Buffet Daily
DFW Airport Transfers provided by the Hilton
Free hotel parking
TABA Ticket Holder and Lanyard
Informative Tour Booklet
Knowledgeable TABA Tour Representatives
Covid-19 Protections - Masks and Hand Sanitizer
Race Day Essentials: Bottled Water, Earplugs, Sunscreen, and Koozies
All Taxes
Tickets for the NASCAR Cup and Xfinity Series races are in the Outer Chairbacks 121-128, upper level, rows 38 - 50 located across from pit road and the top qualifiers pit and not far from the start/finish line. You can also upgrade your tickets to the Chairbacks Sections 111-120. These are also in rows 38-50 and across from the pits and the Winners Circle and closer to the start/finish line. Sections 121-128 and 111-120 are individual chair stadium seats and are the very best seats at the track. You can see the entire track and pit road from the seats!
Seating Chart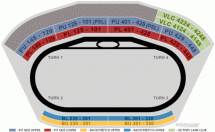 Click to Zoom
Texas Motor Speedway
Texas Motor Speedway, known as "The Great American Speedway", is the second largest facility in North America with seating capacity for over 200,000 race fans. Constructed in 1995 by Bruton Smith and Speedway Motorsports, Inc., this 1.5 mile oval certainly proves to be a great speedway for action and competition. Jeff Burton won the inaugural race at Texas Motor Speedway in 1997 and then ten years later became the first repeat Cup Series driver to win at this track.
Seating Chart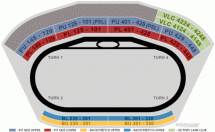 Click to Zoom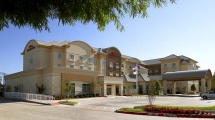 Hilton Garden Inn - Arlington, TX
Located in the heart of the DFW area and ten miles from DFW International Airport, the Hilton Garden Inn Dallas/Arlington, Texas hotel is close to attractions such as Six Flags, Hurricane Harbor and The Ballpark in Arlington, and is the closest hotel to Cowboys Stadium. Our proximity to I-30 places you near numerous restaurants.
Enjoy first-class service, accommodations and amenities such as a cooked-to-order breakfast, complimentary WiFi, outdoor pool, fitness center and 24-hour business center. For meetings and special events, let our experienced event planners help you plan your next event in our 3,000 sq. ft. of function space for up to 250 guests.
The best place in Arlington for lunch and dinner is the Great American Grill®. Pick up your favorites at our 24-hour Pavilion Pantry® where there are snacks and drinks to go.
Stay connected in the 24-hour business center of our hotel in Arlington, TX near Six Flags, offering a PC, printer and complimentary WiFi – or in the comfort of your guest room or suite, which features an adjustable bed with custom linens, a microwave and mini-refrigerator.
Rejuvenate in our outdoor pool and relax in the hot tub. Maintain your workout routine in the 24-hour fitness center.
Hilton-Arlington
Enjoy the Hilton Arlington hotel, located near AT&T Stadium, Globe Life Park in Arlington, Texas Live, and 30 miles from the Texas Motor Speedway. Conveniently located between Dallas and Fort Worth, TX in Arlington's entertainment and business district and just south of DFW Airport, Hilton Arlington offers the complete hotel experience. Enjoy a professional sports game nearby, take a dip in the indoor and outdoor heated pools or relax at the R Bar and Grill - Located just off the hotel lobby. R Bar and Grill is a chef-driven restaurant featuring seasonal fresh ingredients from local purveyors and dishes influenced by cuisine from the Texas region. Our menu is casual but innovative. Enjoy the outdoor patio and fire pit with a handcrafted cocktail or locally crafted beer.
Hilton - Arlington,Texas Hotel Details
Pertinent Hotel Information
Address:
2401 E Lamar Blvd, Arlington, TX 76006
Hotel Check In:
3:00 pm
Hotel Check Out:
12:00 pm
Smoking Policy:
Non-Smoking
Self Parking:
Complimentary On-site Parking
Valet Parking:
Not Available
Pets:
Service Animals Only
Airport Shuttle:
Only to Dallas Fort Worth
Area Shuttle:
Free Shuttle - within 3 miles of hotel (7am-10:30pm daily)
On-Site Restaurant:
R-Bar and Grill (11am-11pm)
Breakfast:
Free Hot Breakfast - F1rst (behind R-Bar) 6:30am-10am
Bar/Lounge:
R Bar and Grill (5pm-11pm)
Room Service:
Yes - (6:30am-11pm)
Wifi:
Free Wifi
Pool:
Heated Indoor/Outdoor Pool
Fitness Center:
Yes
Refrigerator in Room:
Yes
Microwave in Room:
Yes
In Room Coffee/Tea
Yes
Business Center:
Yes
Conceirge:
No
Car Rental:
No
Accessible Rooms
Accessible Rooms Available On Request
Suite Upgrades:
Upgrades available by request
Balcony:
Not Available
Room - Bedding Types:
King or 2 Queens
Sleeper Sofa Availability:
Available in certain room types
Cot Availability:
Not Available
Adjacent Rooms:
Can be requested but not guaranteed,
Maximum Guests per room
4 including children, exceptions may be available
Resort Fees:
None
Area Information
Closest Airport(s)
DFW- Dallas Fort Worth Airport (10 miles)
DAL - Dallas Love Field Airport (21 miles)
ADS- Addison Airport (26 miles)
Local Restaurants:
Boston's Restaurant and Sports Bar
The Rock Wood Fired Pizza
Saltgrass Steakhosue
Habaneros the Taco Revolution
Places of Interest:
AT&T Stadium (3 miles)
Globe Life Park (2 miles)
Texas Live (2 miles)
Six Flags Texas (5 miles)
Arlington National Cemetary (.5 miles)
Our Packages Using Hilton Arlington
Texas 500

Texas 5

00 Packages

O'Reilly Auto Parts 500
O'Reilly Auto Parts 500 Packages
Dallas Cowboys

Dallas Cowboys Football Packages
Welcome to our Texas 500 Race Package!
Friday, October 15th
1:05 pm
XFS Practice
2:05 pm
NCS Practice
3:05 pm
XFS FInal Practice
4:05 pm
NCS Final Practice

6:30 pm

Hospitality Desk - Meet your Tour Representative and pick up tickets

and documents if not shipped to you. Meet & Greet is optional.

Saturday, October 16th
7:00 am
Breakfast is served in the hotel breakfast area, until 10 am

2:15 pm

Hospitality Desk - Meet your Tour Representative and pick up tickets

and documents if not shipped to you. Meet & Greet is optional.

3:15 pm

Bus departs for the Kansas Speedway (Weekend Ticket Packages only)

4:00 pm
Gates Open
4:35 pm
XFS Qualifying
6:05 pm
NASCAR Cup Series Qualifying
7:10 pm
XFS Driver Introductions
7:30 pm
XFS Series 300 Race
Sunday, October 17th
7:00 am
Breakfast is served in the hotel breakfast area, until 10 am

9:15 am

Bus departs for Texas Speedway (All Ticket Packages)

10:00 am
Fan Gates Open
11:30 pm
Pre-race Show
1:20 pm
NASCAR Cup Series Driver Introductions
2:00 pm
Texas 500 NASCAR Cup Series Race
Monday, October 18th
7:00 am
Breakfast is served in the hotel breakfast area, until 10 am
11:00 am
Hotel check-out at the Hilton Hotel
*Times above are subject to change without notice. Please verify your itinerary!
Texas, AAA 500, October 2018

TABA makes the weekend seamless getting to and from the track and navigating added experiences.

Brian and Michelle Klett
Indianapolis, IN
Their 3rd trip with TABA

Texas, AAA 500, November 2017

Rex (TABA tour rep) went above and beyond in assisting, along with some wonderful tour guests from Canada (most of the tour participants are fine people), with some health issues that my wife experienced. Also, his (Rex) passion for the Kyle Petty Camp was obvious and appreciated. I've toured with him before and he's one of the best guides! This is our fifth time with There and Back Again. These tours offer a hassle free way of attending a race, avoiding the problems with driving and parking. Amenities like sunscreen, sunglasses, and water are pluses. In my opinion, the only way to attend a race.

Bill and Carol Davis
Eureka, IL
Their 5th Trip with TABA

Texas, AAA 500, November 2016

This was my fourth trip with There and Back Again. As all times in the past the trip was great. The tour rep was fun and knowledgable. I look forward to our next trip with them. The bus was clean and comfortable. Our tour rep is top of the line. He made things fun on the bus by playing trivia. The schedule and itinerary was good. We had plenty of tine to shop, play games and still get to our seats on time. The tour book was very good, informative and easy to read. Any time we called we were treated with respect. Our questions were answered and rthere were no problems. Rex Bowlin (TABA tour representative) is the best rep I have had. He not only knows the tour business, he helped us find other places we needed to find in Arlington. TABA is the only tour company i use. They make my trip one to remember.

Debi Goin
Schertz, TX
Their 4th Trip with TABA

Texas, AAA 500, November 2016

Highly satisfied. The only bad experience we had was: We had a 5 hour rain delay and the race was shortened by rain - nothing you could do about that. We will tour with you gain next year.

Bob and Normal Hamilton
Battle Creek, MI
Their 78th Trip with TABA (yes 78)

Texas, AAA 500, November 2016

Had a great time.. You will always be our company of choice. Well done.

Darryl Randolph
Sooke, BC, Canada
Their 4th Trip with TABA
Texas, AAA 500, November 2015

After years of booking our race packages with TABA we remain very pleased with your service. we are already planning for next race season and can't wait to start booking with TABA our favorite races. We never single out any one person as each of your staff brings a special talent and personality. We like them all as they make our experience a great one.

Paulette and Jim West
Arcadia, Oklahoma
Their 25th Trip with TABA

Texas, AAA 500, November 2015

Our experience with TABA exceeded expectations. Our Tour Representative, Shane, was professional, personable, and made our trip enjoyable. A full breakfast buffet with an omelet station was included in the tour package. They even had Texas shaped waffles! Several restaurants are within walking distance from the hotel. The charter buses were very nice, and bus parking is quite close to the track! The seats were fantastic and we were easily able to see the backstretch. We purchased the Raceday University add-on, which included breakfast, lunch, a program and pit passes. We even got to be on the track for the driver-introductions! Booking our NASCAR experience with TABA eliminated the stress of race weekend. It was so nice not having to worry about traffic or parking. Our driver didn't win, but we had a great time! I would definitely recommend TABA for a NASCAR trip! #24EVER

Jenny & Jody Faulkner
Floresville, TX
Their 1st Trip with TABA

Texas, AAA 500, November 2012

We had a great time; Rex (TABA Tour Representative) was great, very organized and easy to talk with, he even let us sit up front on the bus on Sunday...ha..ha. Next year, we are looking at going to either Kansas City in October or Atlanta. Thanks for the water and snacks on Sunday. Great group of people on the trip...oh our Canadian friends, thanks.

Mary and Stephanie Arndt and Rosey Weber
Madison, WI
Their 7th trip with TABA

Texas, AAA 500, November 2015

We had a fantastic time in Dallas and are looking forward to booking another race with TABA within the next year.

Brian and Cathy Kutryk
Edmonton, AB, Canada
Their 1st Trip with TABA

Texas, AAA 500, November 2013

This was our third trip in a row for the Texas Race Weekend with There And Back Again. Rex (TABA Tour Representative) was a great tour guide as in the past. Every thing went as planned and Jimmy won the Cup race. it would only have been better if Dale Jr had won.

James and Paula Watson
Charleston, AR
Their 3rd trip with TABA