Formula 1

Experience the Monaco Grand Prix on a Cruise!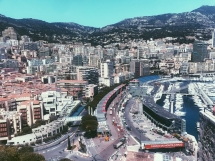 Sunday, May 24 2020
Enjoy the Monaco Grand Prix with an insider's experience at Monaco's legendary Grand Prix, the jewel in the crown of the Formula 1 Race Series. We have 2 luxurious Cruises to choose from that visit some of the world's most glamorous ports - Rome, Santa Margherita,Italy, St. Raphael, France, Lavorno, Italy, Cannes and Marseille, France, and ...
See the Formula 1 Grand Prix in Montreal!
Sunday, June 14 2020
See the 2020 Canadian Grand Prix in Montréal at Circuit Gilles-Villeneuve with one of our deluxe travel packages. Our packages include excellent race tickets, hotel accomodations (less than 5 miles from the track), 3-day ticket upgrade options, and more. Enjoy staying in the heart of downtown Montréal with panoramic views of the city, great area ...