2020 Michigan NASCAR Race, Travel Package - Consumers Energy 400 - Hilton Garden Inn - NASCAR Cup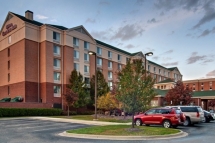 Michigan Speedway | August 7 - August 10
Package code NAS20-24HG
Our 2020 Michigan Consumers Energy 400 NASCAR race packages, travel packages and tours include excellent race tickets in the Upper Center Grandstand for the Michigan Consumers Energy 400 Cup race, pit pass prior to the Michigan 400, first class hotel accommodations at the Hilton Garden Inn-Romulus-Detroit Airport, breakfast daily, roundtrip deluxe bus track transfers to Michigan International Speedway, knowledgeable tour representative, informative tour booklet and much more. The NASCAR Cup Series and Truck Series race are this weekend at Michigan International Speedway and we offer Michigan Cup only packages and Michigan Weekend Ticket Packages. Close by you can also experience the fascinating and incredible Henry Ford Museum as an option. Recognized as one of the premier facilities in motorsports, Michigan Speedway is situated on 900 acres of scenic countryside in the rolling Irish Hills. This track provides drivers with three and four grooves to run around the two-mile speedway, making for always exciting racing.
Michigan 400 race ticket - Upper Center Grandstand
Pre-race pit pass with driver intros Sunday
Driver Meeting Red Carpet access Sunday (Access to Driver's Walkway to Driver's Meeting, not Driver's Meeting)
Two or Three Nights - Hilton Garden Inn - Detroit Airport - Romulus
Track Transfers via Deluxe Motorcoach Sunday
Daily breakfast and free parking at Hilton
TABA Ticket Holder and Lanyard
Informative Tour Booklet
Airport Transfers provided by Hilton
Knowledgeable and Professional TABA Tour Representative
Race Day Essentials: Bottled Water, Earplugs, Sunscreen, and Koozies
All Taxes
Race tickets for NASCAR Cup series are in the upper level (row 22+) of the Center Grandstand, across from pit road. You can see the entire track and pit road without obstructions. The Center Grandstand offers a terrific view of the pits. This is certainly the location that you want to be in at Michigan International Speedway.

Seating Chart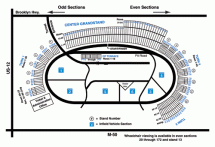 Click to Zoom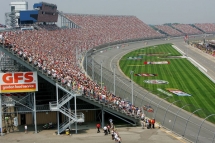 Michigan Speedway
Home of Michigan state's largest single day, paid admission sporting events since 1991, Michigan International Speedway plays hosts to NASCAR Monster Energy Cup Series race events twice a year with more than over a half million fans visiting the complex between the two combined race weekends.
Ground breaking for this motorsports facility took place in 1967 with the inaugural NASCAR Monster Energy Cup event being held in 1969 and Cale Yarborough battling til the end to take the checkered flag. The two mile D-shaped oval boasts 73 foot wide sweeping turns with 18 degrees of banking and provides drivers with three and four grooves to run in.
After more than 40 years of constant improvements and updates, MIS is still considered one of the country's premiere racing facilities.
Seating Chart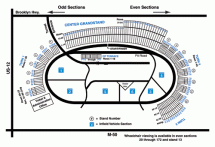 Click to Zoom
Hilton Garden Inn - Romulus - Detroit Airport
Welcome to the Hilton Garden Inn Detroit Metro Airport hotel. Located in the city of Romulus, the hotel is just one mile from Detroit Metro Airport (DTW) and easily accessible to downtown Detroit. The hotel offers a complimentary airport shuttle service for your convenience. Enjoy easy access to Interstate 94 and I-275. Leading corporations near our Romulus hotel include Ford Motor Company, Coca-Cola and General Electric.
Stay connected while travelling on the road with complimentary internet access throughout the hotel. Every guest room features a handy microwave and refrigerator. Enjoy complimentary facilities including a 24-hour business center, fitness center and swimming pool (our daily pool hours are from 8am-10pm). For delicious cuisine, the Garden Grille & Bar is open daily for breakfast and dinner.
Our Detroit Airport hotel is a great choice for meetings and events. Select from 3,000 sq. ft. of function space to host a business meeting or social event with proximity to the DTW airport.
Whether you are here for work, play or just to get away from it all, this Romulus hotel guarantees everything you need for a successful stay.
Complimentary internet access
Restaurant and Pavilion Pantry
Fitness center and pool
24-hour Business Center
3,000 sq. ft. of function space
Complimentary shuttle to and from DTW Airport
Rejuvenate in comfort at this Romulus hotel. Savor hearty cuisine for breakfast and dinner at the Garden Grille & Bar. Enjoy an invigorating workout at the fitness center or plunge into the pool. Pick up snacks or ready meals from the 24-hour Pavilion Pantry to enjoy in the comfort of your guest room or suite. Take advantage of the airport location and host a business meeting or function in one of the hotel's versatile meeting rooms. The business center provides a professional and relaxing base to catch up on work and stay in touch with the office back home.
Check-in: 3:00 pm
Check-out: 12:00 pm
Smoking: Non-Smoking
This hotel is a 100% smoke-free facility. There will be a $250.00 USD penalty fee for any guests found smoking inside guest rooms, or anywhere within hotel premises.
Parking: Self parking: (On night(s)of stay)
Valet: Not Available
Pets:
Service animals allowed: Yes
Pets allowed: No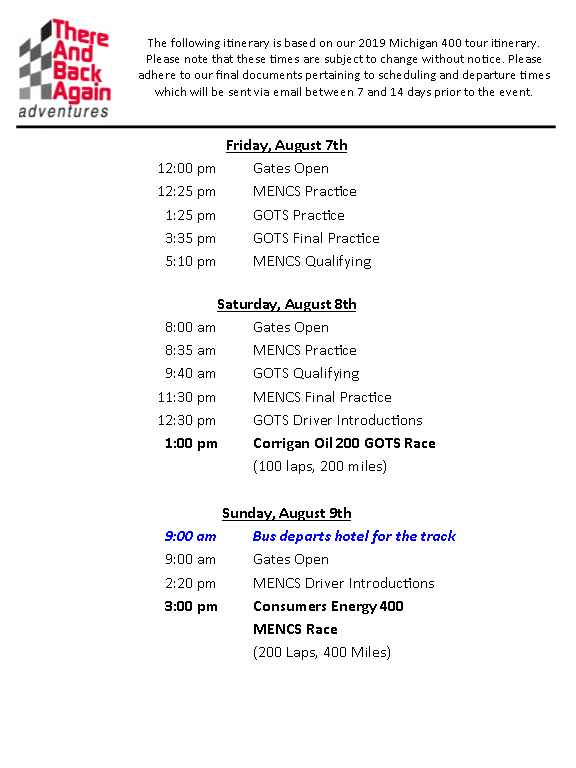 Michigan, Consumer's Energy 400, August 2019

Pre-race pit pass was fantastic. It was the highlight of the trip for our group. Rex (TABA tour rep) went above and beyond to help us out and made us feel taken care of. Josh Clark (TABA staff) was also very helpful for planning ahead of purchasing the tickets. Definitely would recommend TABA to new race fans that don't have experience going to the track.


Mark Wagner
North Bay, ON
Their 1st trip with TABA

Michigan, Consumers Energy 400, August 2018

The Pit Pass for Michigan is far better than other Tracks...and adds a great value to the package. The Hilton Garden Inn, in Romulus MI...is the best hotel I've ever stayed in. Before it I never worried about the type of Hotel I stayed in...now...I'll never stay in a Motel 6 again. I've personally never used Tour Groups in the past. But, when I priced out the package against what I've done in the past...it was so similar, I couldn't resist. Top flight hotel, great seats, Pit Pass, breakfast in the morning, little wear and tear on the car, great people, and low stress. Rex (TABA tour rep) kept it simple and fun. And the racing was great...I will be using TABA in the future


David Quinn
Henry, IL
David's 1st trip with TABA

Michigan, Consumers Energy 400, August 2018

Great Experience! Great Hotel! As always Rex (TABA tour rep) was very friendly and knowledgeable about the race track and the city. Bus driver also very friendly.

Mike Hruban and Carolyn Tex
Speedway, IN and Indianapolis, IN
Their 13th trip with TABA

Michigan, Consumers Energy 400, August 2018

Rex (TABA tour rep) is wonderful!

Jeff Davis
Verona, WI
Jeff's 7th trip with TABA

Michigan, Consumers Energy 400, August 2018

Had a great weekend at the Michigan International Speedway. Rex (TABA tour rep) was a great host and everyone one the bus got along and had a good time. We will be using There And Back Again in the future.


Nancy and Kim Shollenberger
Pine Grove, PA
Their 1st trip with TABA
Michigan, Pure Michigan 400, August 2017

Great host, cared about everyone individually. First tour. Really enjoyed it. Rex (TABA tour rep) and Terry (bus driver) were the best. What a wonderful time. Thanks for the tour of Cement City on the way to the track.

Alan & Debra Bartow
West Jordan, Utah
Their 1st Trip with TABA

michigan-pure-michigan-400-august-2017

A very relaxing no pressure weekend ; because it was well planned.

Steve and Vicky Carlstead
Georgetown, Illinois
Their 2nd Trip with TABA

Michigan, Pure Michigan 400, August 2017

Hotel had an awesome Happy Hour. Rex (TABA Tour Representative) was a very nice person, great with the parking staff. Quick exit (from track)! Tour booklet was flawless. Trip went exactly as stated. 2nd time using TABA, both times were effortless. Love taking care of everything in one place. Tour rep was quite the gentleman and ready to help with any issues. Thanks Rex! 2nd time using your service. Love being able to just show up and let you guys handle everything else from sunglasses to sunscreen and ponchos, ohh and ear plugs. Will definitely be back. Talladega was awesome, Michigan was awesome so we will see what's next.

Jim Gordy
East Lyme, CT
Their 2nd Trip with TABA

Michigan, Pure Michigan 400, August 2017

I have all good things to say. Everything about the whole trip was great. From the Hotel to the bus trip. We will definitely book again. It (the hotel) was everything they said it would be and more. Rex Bowlin was our (TABA Adventures) tour guide and he kept things interesting. Explained everything. Never bored. Joe was our driver and was very helpful also. Like I said everything about the tour was right what they said it would be.Rex and Joe were great and had us laughing alot.We played a barter game on the bus and it was a lot of fun. My daughter went with me and we are thinking about booking for the Watkins Glen next year. It was definitely a five star trip And thanks for having us.

Sheila Kaseman
Conneaut Ohio
Their 1st Trip with TABA

Michigan, Pure Michigan 400, August 2017

Highly Satisfied. We know that we can trust TABA to provide a wonderful race weekend.

Tom and Marion Joyce
Chapel Hill, Tennessee
Their 2nd Trip with TABA