2020 CHARLOTTE COCA COLA 600 NASCAR RACE, TRAVEL PACKAGES- HILTON GARDEN INN - UPTOWN - NASCAR CUP
Preferred Travel Partner of Charlotte Motor Speedway!
Coca Cola 600 Pre-Race Garage Tour Option Available!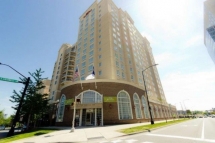 Charlotte Motor Speedway | May 21 - May 25
Package code NAS20-14HG
Our 2020 Charlotte Coca-Cola 600 Cup NASCAR race packages, travel packages and tours include phenomenal Coca-Cola 600 race tickets for the NASCAR Cup Series on Sunday, hotel accommodations at the first class Hilton Garden Inn in Uptown Charlotte (only 100 feet from the NASCAR Hall of Fame), roundtrip track transportation via deluxe motorcoach to Charlotte Motor Speedway on Sunday, Knowledgeable Tour Representatives and so much more. We even offer an exciting Race Shops Tour on Friday and a Speedway Club VIP package as the perfect additions to your Coca-Cola 600 race tour package. We also have a NASCAR Hall of Fame option. A Pre-Race Cup Race Garage Tour is something that is rare and we have one as an option for you. Get up close and personal with the drivers, the machines and the intricacies of the NASCAR Garage. Uptown Charlotte is one of the cleanest metropolitan cities in the country and is vibrant and alive. Activities abound in the city, including Dale Earnhardt Junior's Whiskey River night club within walking distance of the hotel. Our hotel is directly across from the NASCAR Hall of Fame Museum and Speed Street Festitivities take place Thursday through Saturday in uptown Charlotte just a block or two from our hotel location. This is the place to be! We offer Xfinity Tickets and Transfers with our Weekend Ticket Package.
Coca Cola 600 Ticket - GM Grandstand or Upgrade
Two or More Nights - Hilton Garden Inn-Charlotte Uptown - across from NASCAR Hall Of Fame
Track Transfers via Deluxe Motorcoach Sunday
Full Breakfast Daily
TABA Ticket Holder and Lanyard
Informative Tour Booklet
Knowledgeable TABA Tour Representatives
Race Day Essentials: Bottled Water, Earplugs, Sunscreen, and Koozies
All Taxes
Excellent tickets for the Cup Series races are located in the General Motors grandstands. These seats are individual folding chair seats that are directly across from pit road and close to the start/finish line. They are located in various sections, rows 25-37. There is also an option to upgrade your Cup Ticket to the Ford Veranda grandstand, which is considered by most to be the best seats at the track. Our New Veranda seats are between start/finish and the pit road exit...across from the 1st couple pit stalls on pit road. Our seat locations are second to none. We have the best seats available. Veranda rows are 32-38.

Seating Chart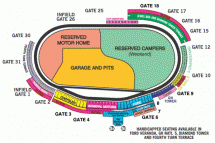 Click to Zoom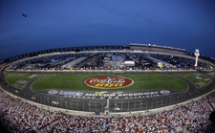 Charlotte Motor Speedway
NASCAR's self-proclaimed hometown of Charlotte is home to Charlotte Motor Speedway, built in 1959 by the current owner Bruton Smith and Speedway Motorsports, Inc. This area is known as the "Mecca of Motorsports". Charlotte Motor Speedway is a 1.5 mile oval situated on land that was once a working plantation during the Civil War era. The Speedway boasts 24 degrees of banking in the turns and 5 degrees of banking on the straightaways and has a seating capacity of 165,000 race fans. Constant additions and improvements have occurred since the eighties, including grandstand additions, VIP suites, a seven story office tower which houses the world famous Speedway Club and one of the largest souvenir shops in the country. One of the biggest projects, however, was the installation of the $1.7 million, 1,200 fixture permanent lighting system developed by MUSCO Lighting of Oskaloosa, Iowa. The revolutionary lighting process uses mirrors to simulate daylight without glare, shadows or obtrusive light poles. The lighting system was installed in 1992, allowing Charlotte Motor Speedway to be the first modern superspeedway to host night auto racing

.
Seating Chart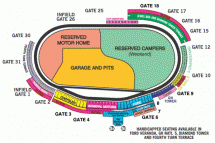 Click to Zoom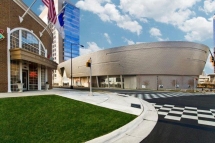 Hilton Garden Inn - Charlotte Uptown
The Hilton Garden Inn- Charlotte Uptown is a deluxe hotel located in uptown Charlotte just blocks within walking distance of the Speedstreet festivities that take place during the week of the Coca Cola 600 race weekend. The Hilton Garden Inn-Charlotte Uptown is located directly across the street from the NASCAR Hall of Fame Museum. No transportation needed, just go the front door of the hotel and you are there. Located in the major North Carolina banking and financial district the hotel is close to The Charlotte Convention Center, Blumenthal Performing Arts Center, Bank of America Stadium, Over Street Mall and the new Charlotte Bobcat Arena all just blocks away. The uptown area is home to many fine restaurants, museums and shopping malls. Charlotte Douglas International Airport is only 9 miles away. This Hilton Garden Inn hotel is conveniently located within a 6-15 mile radius of Charlotte Motor Speedway and Independence Arena.

Deluxe accommodations, friendly service and a relaxed atmosphere await the guests at the Hilton Garden Inn. Certain to please the busy executive or leisure traveler to North Carolina are the array of special amenities including complimentary high-speed internet access with secure PrinterOn remote printing, in-room hospitality center with microwave, refrigerator, coffeemaker, two dual line phones with voicemail and data ports, large work desk with desk level outlets, ergonomic chair, On Command® video/Nintendo/ HBO® and a complimentary USA today® each weekday morning.

Enjoy breakfast, lunch and dinner in The Garden Grille & Bar or a drink at our full-service bar with expanded seating. Be productive in our 24-hour business center, and host a meeting or special event in the 2,200 sq. ft. of meeting space. Workout in the fitness center, swim in the indoor pool, or relax in the whirlpool.
Check-in: 3:00 pm
Check-out: 12:00 pm
Smoking: Non-Smoking
A fee of up to 250 USD will be assessed for smoking in a non-smoking room. Please ask the Front Desk for locations of designated outdoor smoking areas.
Parking: Self parking: $15.00 (Space permitting)
Valet: $20.00 (Space permitting)
Service animals allowed: Yes
Pets allowed: No
Welcome to our Charlotte Coca Cola 600 Race Package!
Thursday, May 21st
2:35 pm
NCS Practice
4:05 pm
XFS Practice
6:05 pm
XFS Final Practice
7:10 pm
NCS Pole Night Qualifying
9:00 pm
ARCA General Tire 150 (Transportation not provided)

6:30 pm

Hospitality Desk - Meet your Tour Representative and pick up tickets

and documents if not shipped to you. Meet & Greet is optional.

Friday, May 22nd

7:30 am

Race Shop Tour Departs the Hotel. Tour is optional, call for info.

6:30 pm

Hospitality Desk - Meet your Tour Representative and pick up tickets

and documents if not shipped to you. Meet & Greet is optional.

Saturday, May 23rd
7:00 am
Breakfast is served in the hotel breakfast area, until 10 am

9:00 am

Bus departs for the Charlotte Motor Speedway (Weekend Ticket Packages only)

9:00 am
Fan Gates Open
9:40 am
Xfinity Series Qualifying
11:05 am
NASCAR Cup Series Final Practice
12:30 pm
Pre-race and Opening Ceremonies
1:00 pm
Alsco XFS Series 300

6:30 pm

Hospitality Desk - Meet your Tour Representative and pick up tickets

and documents if not shipped to you. Meet & Greet is optional.

Sunday, May 24th
7:00 am
Breakfast is served in the hotel breakfast area, until 10 am

12:10 pm

Bus departs for Charlotte Motor Speedway (All Ticket Packages)

1:00 pm
Garage Tour Hospitality Area Opens
1:00 pm
Gates Open/Pit Access Open
1:30 pm
Pit Party open with live band
3:30 pm
Pre-race Concert
5:20 pm
Pre-race and opening ceremonies
6:00 pm
Coca Cola 600 NASCAR Cup Series Race
Monday, May 25th
7:00 am
Breakfast is served at our hotel breakfast area, until 10 am
11:00 am
Hotel check-out at the Hilton Garden Inn
*Times above are subject to change without notice. Please verify your itinerary!
Charlotte, Coca Cola 600, May 2019

The hospitality experience and meal was excellent. Would recommend to anybody. Was very pleased overall. Shane (TABA tour rep) was great.

Glen and Shea Hagan
Alachua, Florida
Their 1st trip with TABA

Charlotte, Coca Cola 600, May 2019

Shane, Jay, & Dixon (TABA tour reps) were awesome-how they survived the heat I don't know!. I was especially excited when we went to DEI-it was a visit down memory lane for me. The rest of the shop tour was fun, too (the visit thru JR Motors was fun-seeing where Jr films his Podcast was amazing). The garage tour was crazy-you never knew who you would see! I have been in the garage area before but it is always fun to go back again. I hope to go back to the 600 next year-it is my favorite race-so much to see & so much to do.

Mary Shumate
Helena, MT
Mary's 11th trip with TABA

Charlotte, Coca Cola 600, May 2019

We had such a great time! Booking with you took all the stress out of finding a hotel, tickets and traffic. Awesome experience!

Ken & Michelle Mayer
Brunswick, OH
Their 1st trip with TABA

Charlotte, Coca Cola 600, May 2019

We arrived for the All-Star race and met with Shane. At that time we added the race shop tour and Jay was our rep. Jay was also our rep for the Xfinity and Mencs races. Both guys did a great job for us and were very professional.
I believe we plan to go to Talledega with you in 2020....until then....thanks for helping us build memories and achieve our goal of a new track each year. You take the guess work our of our vacation planning!

Steve and Angie Cyr
Waterville, KS
Their 2nd trip with TABA

Charlotte, Coca Cola 600, May 2019

Wonderful experience, great value.

Michael McGuire
Uhrichsville, Ohio
Their 1st trip with TABA
Charlotte, Coca Cola 600, May 2019

My son and I thoroughly enjoyed our weekend wth TABA. Thank you to Jay and Shane (TABA tour reps) for looking after us. We have recommend you to all our Australian friends!!

Harry and Nicky Bourke
New South Wales - Australia
Their 1st trip with TABA

Charlotte, Coca Cola 600, May 2019

Shane Richards, our TABA tour guide, was outstanding in every way. Shane made sure our experience was everything we hoped for. My son, who has autism, is a huge racing (Jimmie Johnson) fab and this was our first race. Shane was very patient with all my questions and attentive to every detail and made my son feel special.
Honey Carrigan, our hostess at the hospitality area, was fantastic. She was familiar with autism and some challenges those who have deal with. Honey spent a tremendous amount of time with us and gave us all kinds of information about the tours we were taking to make sure my son understood and had a great time. She really went out of her way to make Sure my son enjoyed his day.
Should we attend another race we would with 100% certainty use TABA
Many thanks!

Boyd Brown
Little River, SC
Their 1st trip with TABA

Charlotte, Coca Cola 600, May 2018

Our package was vacation for us and a graduation gift for our nieces. Thanks to TABA, Jay, and Chris (TABA tour reps) for making it an amazing experience for all of us. Jay and Chris have vast knowledge and experience with package information and tours. We would highly recommend TABA and their friendly staff. We will definitely book again in the future.

Keeli Martin, Marion Martin, Lyndsey Bentley, and Ashley Landrum
Saraland, AL
Their 1st trip with TABA

Charlotte, Coca Cola 600, May 2018

We came all the way from Australia and it was well worth it. Trip was outstanding and Jay is a excellent guide. Enjoyed every minute of it. Will be back again.

Micheal & Charlene Walsh
Upper Coomera, Australia
Their 1st trip with TABA

Charlotte, Coca Cola 600, May 2018

Everything was on time and our rep Jay was very informative. Jay and Christopher (TABA tour reps) were GREAT tour reps. It was wonderful to meet and chat with Dixon (TABA Owner) at the Hospitality area. This was our first NASCAR race and we thoroughly enjoyed the experience. Jay and Christopher gave us good advice along the way which helped us organize our time at the track. We look forward to attending another race in the future.

Monroe and Shirley Murphy
Dunnville, Ontario, Canada
Their 1st trip with TABA