2020 Charlotte NASCAR Cup All-Star Race Packages - Hilton Garden Inn - Charlotte - All-Star Ticket
Preferred Travel Partner of Charlotte Motor Speedway!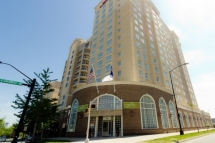 Charlotte Motor Speedway | May 15 - May 17
Package code NAS20-13HG
Our 2020 NASCAR All-Star Race NASCAR race packages, travel packages and tours include excellent All Star race tickets, hotel accommodations at the Hilton Garden Inn - Uptown Charlotte, breakfast buffet daily, roundtrip track transportation via deluxe motorcoach, knowledgeable tour representatives and plenty of options to enhance your All-Star Race experience. The NASCAR Hall of Fame is located directly across from the Hilton Garden Inn (100 feet away). Enjoy the action this weekend at Charlotte Motor Speedway with the running of the NASCAR All-Star Race with over $1,000,000 going to the winner..
NASCAR All-Star Ticket - GM Grandstand or Upgrade, Select Below
One or More Nights - Hilton Garden - Uptown Charlotte (across from NASCAR Hall Of Fame)
Track Transfers via Deluxe Motorcoach Saturday
Full Breakfast Daily
TABA Ticket Holder and Lanyard
Informative Tour Booklet
Knowledgeable TABA Tour Representative
Race Day Essentials: Bottled Water, Earplugs, Sunscreen, and Koozies
All Taxes
Tickets for the All-Star Race are located in the GM Grandstand just across from pit road and near the start/finish line or you can upgrade to the Veranda grandstand. Truck Series tickets are on the front stretch. Both seat locations are across from the pits and have excellent views of the entire track. The start/finish line is located at the GM grandstand. The Veranda tickets are for Speedway Club members only and have exclusive access to food vendors and rest rooms. We are a member of the Speedway Club for your convenience.

Seating Chart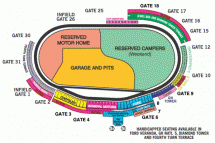 Click to Zoom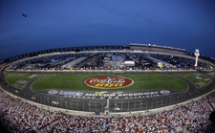 Charlotte Motor Speedway
NASCAR's self-proclaimed hometown of Charlotte is home to Charlotte Motor Speedway, built in 1959 by the current owner Bruton Smith and Speedway Motorsports, Inc. This area is known as the "Mecca of Motorsports". Charlotte Motor Speedway is a 1.5 mile oval situated on land that was once a working plantation during the Civil War era. The Speedway boasts 24 degrees of banking in the turns and 5 degrees of banking on the straightaways and has a seating capacity of 165,000 race fans. Constant additions and improvements have occurred since the eighties, including grandstand additions, VIP suites, a seven story office tower which houses the world famous Speedway Club and one of the largest souvenir shops in the country. One of the biggest projects, however, was the installation of the $1.7 million, 1,200 fixture permanent lighting system developed by MUSCO Lighting of Oskaloosa, Iowa. The revolutionary lighting process uses mirrors to simulate daylight without glare, shadows or obtrusive light poles. The lighting system was installed in 1992, allowing Charlotte Motor Speedway to be the first modern superspeedway to host night auto racing

.
Seating Chart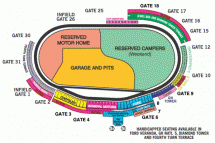 Click to Zoom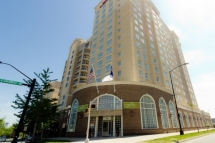 Hilton Garden Inn - Charlotte Uptown
The Hilton Garden Inn- Charlotte Uptown is a deluxe hotel located in uptown Charlotte just blocks within walking distance of the Speedstreet festivities that take place during the week of the Coca Cola 600 race weekend. The Hilton Garden Inn-Charlotte Uptown is located directly across the street from the NASCAR Hall of Fame Museum. No transportation needed, just go the front door of the hotel and you are there. Located in the major North Carolina banking and financial district the hotel is close to The Charlotte Convention Center, Blumenthal Performing Arts Center, Bank of America Stadium, Over Street Mall and the new Charlotte Bobcat Arena all just blocks away. The uptown area is home to many fine restaurants, museums and shopping malls. Charlotte Douglas International Airport is only 9 miles away. This Hilton Garden Inn hotel is conveniently located within a 6-15 mile radius of Charlotte Motor Speedway and Independence Arena.

Deluxe accommodations, friendly service and a relaxed atmosphere await the guests at the Hilton Garden Inn. Certain to please the busy executive or leisure traveler to North Carolina are the array of special amenities including complimentary high-speed internet access with secure PrinterOn remote printing, in-room hospitality center with microwave, refrigerator, coffeemaker, two dual line phones with voicemail and data ports, large work desk with desk level outlets, ergonomic chair, On Command® video/Nintendo/ HBO® and a complimentary USA today® each weekday morning.

Enjoy breakfast, lunch and dinner in The Garden Grille & Bar or a drink at our full-service bar with expanded seating. Be productive in our 24-hour business center, and host a meeting or special event in the 2,200 sq. ft. of meeting space. Workout in the fitness center, swim in the indoor pool, or relax in the whirlpool.
Check-in: 3:00 pm
Check-out: 12:00 pm
Smoking: Non-Smoking
A fee of up to 250 USD will be assessed for smoking in a non-smoking room. Please ask the Front Desk for locations of designated outdoor smoking areas.
Parking: Self parking: $15.00 (Space permitting)
Valet: $20.00 (Space permitting)
Service animals allowed: Yes
Pets allowed: No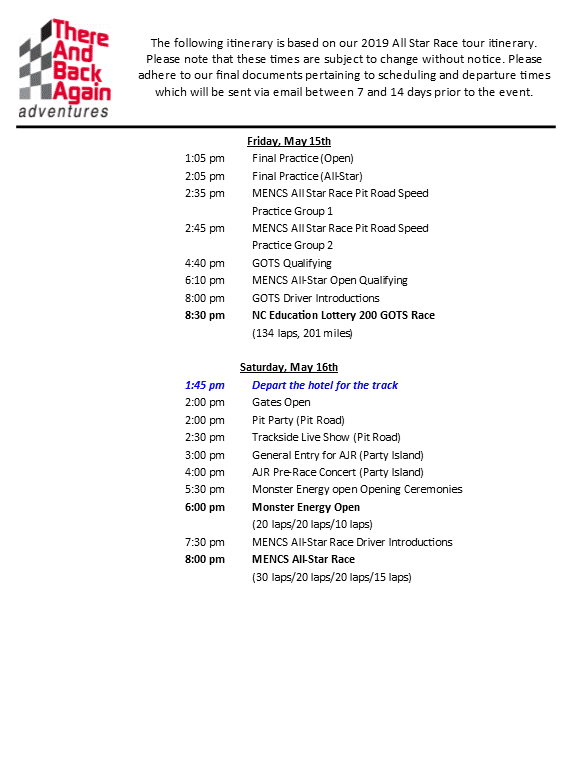 Charlotte, All Star Race, May 2019

This group is very organized and makes your racing experience easy and fun.

Tony and Ann Mann
Waterville, KS
Their 1st trip with TABA

Charlotte, Speedweeks, May 2017

It was a great experience for the three of us. Enjoyed the week with TABA. Would do it again. Highly satisfied.

Bill & Gayle Pigman
Sioux Falls SD.
Their 4th Trip with TABA

Charlotte, All-Star Race, May 2017

Highly satisfied. TABA Tour Representative on site was outstanding...The day turned out great. Overall value of the tour package was very good.

Bob & Sue Jones
Barberton, OH
Their 1st Trip with TABA

Charlotte, All-Star Race, May 2017

We had a great time at a new speedway to us. Dixon (TABA Tour Representative) was awesome answering questions and very informative. Glad you had a couple of things we forgot to pack. And thanks for the treats on the way home and of course the water!!! It was a great time! Love the convenience of door to door service. The tour guide, Dixon, was awesome. He was very informative and helpful.

Dave and Kelly Latawiec
Plymouth, MI
Their 1st Trip with TABA

Charlotte, All Star Race, May 2016

Trip organization and Attention to details is outstanding. Tour Representations are also outstanding.

Bob and Mary Ann James
Stouffville, Ontario, Canada
Their 23rd Trip with TABA
Charlotte, All Star Race, May 2016

I really had an awesome time on the tour. Everything that was included in my tour package was exceptional. I really want to give a special recognition and thank you to Christopher Stracuzza and Dixon Singleton (TABA Tour Representatives) for their professionalism, considerations, and their time. They really made this tour a definite "must-do-again" on my bucket list. TABA will definitely be in my future plans for sporting events!

Brian Neal
Happy Valley, OR
Their 1st Trip with TABA

Charlotte, All Star Race, May 2016

High satisfied with Very Good Tickets and hotel and outstanding TABA Tour Representative.

Larry & Heidi
Brillion, WI
Their 1st Trip with TABA

Charlotte, All Star Race, May 2016

The tour guides were great. They were informative and humorous. They made sure everyone had a good time and made sure accommodations were made for all and for those that might need extra care, like a shuttle. Chris and Rex were both very good tour reps. We enjoyed our trip to Charlotte.

Steve and Sherry Strutton
Crocker, MO
Their 1st Trip with TABA

Charlotte, Sprint All-Star Race, May 2015

TABA was an amazing experience! We found TABA throughout online searches. Everything was awesome. We loved the race package. The hotel was outstanding, it had an 24 hour pool and hot tub that was great for our jet lag and tired bodies after a long day at the track! We felt like royalty in the Speedway Club for dinner and our indoor seats. This was an excellent experience and we enjoyed meeting everyone touring with us. We also loved our Tour Rep, Jay! We hope to be touring with TABA again very soon!!

Michael & Julie Ardizzone
Santa Clara, California
Their 1st Trip with TABA

Charlotte, Speedweeks, May 2014

Unfortunately, trips to the States from Australia are not a cheap undertaking so it will be a little while before we will be able to return. However, please be assure that TABA will be our first contact when the time arrives. We were extremely happy with the package that you put together for us and would be more than happy to use and recommend TABA in the future. There are not too many direct contacts within Australia that provide NASCAR Tours and the larger travel agency companies here seem to deal with only one wholesaler. It is good to know that TABA is a legitimate company that we can contact directly and they will provide the service that we expect. Well done TABA. Now that Marcos Ambrose is coming home, I will need to find someone else to follow....Kyle Busch - he seems popular (lol). All the best for the future!!

Roger Ford
Sydney, Australia
Their 1st Trip with TABA