2022 Indianapolis 500 Race Packages, Travel Packages - Indy 500 - Courtyard (airport) -Indy 500
Indianapolis 500 Travel Packages with Convenient Airport Hotel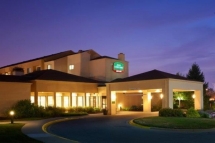 Indianapolis Motor Speedway | May 25 - May 30
Package code IND22-07CY
Join us on one of our Indianapolis 500 Travel Packages for the 106th running of the "Greatest Spectacle in Racing" - the Indianapolis 500! Our Indianapolis 500 Travel Packages staying at the Courtyard Indianapolis Airport offer a perfect location if you are planning to fly into Indianapolis International Airport (IND) and easy access to Indianapolis Motor Speedway and many other regional attractions in the area. The hotel includes a hot breakfast daily and complimentary on-site parking. Our Indianapolis 500 Travel Packages include a Police Escort to the track on Sunday morning, great tickets, and options to enhance your race day experience such as Indianapolis Motor Speedway Hall of Fame Museum passes and scanner rentals.
Indy 500 Tickets - SW or NW Vistas or Upgrade, select below
Two or More Nights at the Courtyard by Marriott-Indianapolis Airport
Private breakfast for TABA included daily
Free Parking at the Courtyard
Indy 500 Post Race Pit/Garage Pass
Roundtrip Track Transfers via Deluxe Motorcoach Sunday with Police Escort
TABA Ticket Holder and Lanyard
Indy 500 Souvenir Gift
Informative Tour Booklet
Airport Transfers if needed
TABA Tour Representatives
Race Day Essentials: Bottled Water, Earplugs, Sunscreen, and Koozies
All Taxes
Our INDY 500 tickets are located in the Southwest Vista in Turn One of Indianapolis Motor Speedway and also in the Northwest Vista in Turn Four. We also have the J Stand between turn 4 and Pit Road entrance. The Northwest Vista has good views coming into Turn 3, and thru Turn 4 toward the start/finish line and of all cars entering the pits. The Southwest Vista is located in Turn One and is the closest grandstand to the bus parking. The Southwest Vista has good views from Turn One through Turn Two. J Stand is located just out of turn 4 on the front stretch close to pit road entrance. A Limited number of upgraded tickets will be available. Upgraded tickets will be in the Paddock Penthouse, Grandstand E or Grandstand E Penthouse.
Please note that upgraded tickets must be paid in full at the time of deposit and they are non-refundable due to the nature and the demand for these premium tickets. Upgraded tickets costs can be substantially higher than face value of the event ticket.
Seating Chart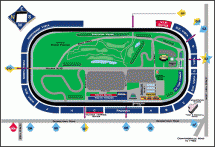 Click to Zoom

Indianapolis Motor Speedway
"Home to the Greatest Spectacle in Racing", Indianapolis Motor Speedway opened in 1909 giving way to becoming an American Icon and being known as the world's greatest racecourse. The motorsports facility has a permanent seating capacity of over 250,000- the world's largest . A 2.5 mile track with 4 distinct turns and straightaways, the challenging layout hasn't changed in 99 years. In 1987, the Speedway Hall of Fame Museum and Speedway grounds were honored with the designation of National Historic Landmark and 1994 marked the year of the inaugural NASCAR Monster Energy Cup Series Allstate 400 at The Brickyard race event.
2009 marked Indianapolis Motor Speedway's 100th Anniversary of the facililty.

Seating Chart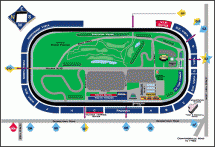 Click to Zoom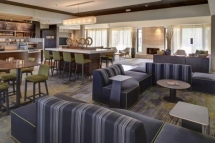 Courtyard by Marriott - Indianapolis Airport
The perfect aiport location for attending the Indianapolis 500, the new state-of-the-art lobby at Indianapolis Airport (IND) hotel provides greater flexibility and choices for guests. The exciting new features at Courtyard Indianapolis Airport hotel include inviting, flexible spaces to work or relax in, free Wi-Fi throughout and easy access to the latest news, weather and airport conditions via our GoBoard. The highlight of the new lobby experience is The Bistro - Eat. Drink. Connect. Guests will enjoy enhanced food and beverage offerings in the morning, all-new dinner service in the evening, or relaxing over cocktails at the end of the day. Patrons looking for an Indy Airport hotel will be only 7 minutes away from their terminal, and 9 miles away from downtown Indianapolis. They offer complimentary airport shuttle service, a fitness center with indoor pool and whirlpool, and convenience to area attractions, including Lucas Oil Stadium. Your stay at Courtyard Indianapolis IND Airport Hotel is sure to be more comfortable, more productive and more enjoyable than ever before.
Courtyard Marriott - Indianapolis Airport Hotel Details
Pertinent Hotel Information
Address:
2602 Fortune Cir Dr E, Indianapolis, IN 46241
Hotel Check In:
3:00 pm
Hotel Check Out:
12:00 pm
Smoking Policy:
Non-Smoking
Self Parking:
Complimentary on-site parking
Valet Parking:
Not Available
Pets:
Service Animals Only
Airport Shuttle:
Yes - Indianapolis International Airport by request
Mon-Sun 4:30am-1:00am by request 317-248-0300
Area Shuttle:
Not Available
On-Site Restaurant:
The Bistro
Starbucks
Breakfast:
Not Included - Available at Starbucks/Bistro
Bar/Lounge:
Bistro
Room Service:
Not Available
Wifi:
Free Wifi
Pool:
Indoor Pool and whirlpool
Fitness Center:
Yes
Refrigerator in Room:
No
Microwave in Room:
No
In Room Coffee/Tea
Yes
Business Center:
Yes
Conceirge:
No
Car Rental:
Yes
Accessible Rooms
Accessible Rooms Available On Request
Suite Upgrades:
Upgrades available by request
Balcony:
Not Available
Room - Bedding Types:
King or Doubles
Sleeper Sofa Availability:
Available in certain room types
Cot Availability:
Not Available
Adjacent Rooms:
Can be requested but not guaranteed,
Maximum Guests per room
4 including children, exceptions may be available
Resort Fees:
None
Area Information
Closest Airport(s)
IND- Indianapolis International Airport (8 miles)
MQJ- Indianapolis Regional Airport (30 miles)
Local Restaurants:
The Library
Rick's Cafe Boatyard
Palomino
Ram Restaurant and Brewery
Places of Interest:
White River State Park (8 miles)
Indianapolis Zoo (7 miles)
Indiana War Memorial (12 miles)
Indianapolis Motor Speedway Museum (7 miles)
Indianapolis Motor Speedway (7 miles)
Our Packages Using Courtyard Marriott - Indianapolis Airport
Indy 500
Indy 500 Race

Packages
Welcome to our Indy 500 Race Package!
Friday, May 27th
Friday Track Schedule below is for your information only
11:00 am
Indianapolis 500 Practice
12:35 pm
Indy Lights Driver Introductions
12:43 pm
Invocation
12:44 pm
National Anthem
12:55 pm
"Drivers Start Your Engines"
1:00 pm
Indy Lights Freedom 100 Race
2:00 pm
Pit Stop Challenge
3:30 pm
Miller Lite Carb Day Concert

6:00 pm

Hospitality Desk - Meet your Tour Representative and pick up tickets

and documents if not shipped to you. Until 7:00 pm. Meet & Greet is optional.

Saturday, May 28th
Saturday Track Schedule is For Your Information Only
6:00 am
Breakfast is served in the hotel breakfast area, until 10 am
9:00 am
Indy 500 Full Field Driver Autograph Session - Pagoda Plaza
10:30 am
Drivers Meeting North Pit Lane
12:00 pm
IPL 500 Festival Parade - Downtown Indianapolis

12:00 pm

Legend Day Festivities at Indianapolis Motor Speedway

6:00 pm

Hospitality Desk - Meet your Tour Representative and pick up tickets

and documents if not shipped to you. Meet & Greet is optional.

Sunday, May 29th
6:00 am
Breakfast is served in the hotel breakfast area, until 10 am

7:10 am

Bus departs for Indianapolis Motor Speedway

8:00 am
Parade of the Bands
8:45 am
Borg-Warner Trophy March to the Bricks - Begins at IMS Museum
9:30 am
Celebrity Red Carpet - Pagoda Plaza
10:30 am
"On the Banks of the Wabash" - Purdue University Band
10:53 am
Green Flag Delivered to Turn 1 by IU Health Helicopter
11:00 am
Indy 500 Winning Winning Driver Laps
11:20 am
Historic Race Race Laps
11:26 am
Mario Andretti Car Laps
11:43 am
"God Bless the USA"
12:01 pm
Indy 500 Driver Introductions
12:09 pm
Miltary March
12:13 pm
"America the Beautfiul"
12:16 pm
Military Speech
12:20 pm
Innvocation
12:22 pm
"Taps"
12:23 pm
"God Bless America"
12:26 pm
National Anthem
12:27 pm
Flyover
12:36 pm
"Back Home Again In Indiana"
12:38 pm
"Drivers Start Your Engines"
12:45 pm
106th Running of the Indianapolis 500
4:00 pm
Bus departs back to the Courtyard by Marriott, time depends on race finish
Monday, May 30th
7:00 am
Breakfast is served in our hotel breakfast area, until 10 am
11:00 am
Hotel check-out at the Courtyard Marriott
*Times above are subject to change without notice. Please verify your itinerary!
Indianapolis, Indy 500, May 2021

The office staff was great with options with a very last-minute change in who was coming with me. Great experience even with some events canceled due to Covid restrictions.

Len and Nancy Wolford - Los Gatos, CA
Auburn, WA and Los Gatos, CA
Their 1st trip with TABA

Indianapolis, Indy 500, May 2021

Better than expected. The entire experience was wonderful, and our guide Rex was awesome.

Scott Krukow
Oshkosh, WI
Scott's 1st trip with TABA

Indianapolis, Indy 500, May 2021

Great seats in Paddock area. Tour Rep was awesome, available, clear in instructions and very nice.

Sharol Way and Roger Cotton
Cochranville, Pennsylvania
Their 1st trip with TABA

Indianapolis, Indy 500, May 2021

We placed our reservation in the fall of 2019 and they honored the price when we were finally able to attend the race this year. Everyone associated with There and Back Again from the office personnel to the tour guide and the bus driver was very professional and made our experience very enjoyable.

Barbara, Dave, Scott, Tania, Cameron, & Todd Clutter
Torrance, California
Their 1st trip with TABA

Indianapolis, Indy 500, May 2019

Great experience. Everything was well organised and our tour guides managed all aspects of the tour so we didn't need to worry about anything. It was our first time at Indy and it was great to do it with TABA. Highly recommend the experience as they take care of everything so you can concentrate on the experience.


Mark Trotter
Wellington. NZ
Mark's 1st Trip with TABA
Indianapolis, Indy 500, May 2019

This was our first overseas motor-sport tour booking. TABA were easy to communicate with and everything was organised and delivered as promised. When the tour booked and everything taken care of, we merely turned up and enjoyed the experience. Being from Australia, we may not attend the Indy 500 for the next few years, but when we return, we will definitely up booking through TABA again.

Mark & Joshua Carroll-Walden
Queensland, Australia
Their 1st trip with TABA

Indianapolis, Indy 500, May 2019

Josh (TABA tour rep) was very helpful and a pleasant person the bus driver "Smokey" was great to.

Burtis Anderson
Cranbury, NJ
Burtis' 2nd Trip with TABA

Indianapolis, Indy 500, May 2019

We paid extra for the Penthouse Paddock seats which were great seats. The Hall of Fame Museum was nice, a shame they can only fit 20% of cars. Legends day and Carb Day were great, the Indy lights put on a great race. It was nice to have bleacher to sit for parade. The tour of the Dallara Indy Factory was a great experience. Our TABA tour guide Josh was very nice, polite and helpful.

Denise Martin & Roger Harry
Plainville,CT
Their 1st trip with TABA

Indianapolis, Indy 500, May 2019

I was happy with the service, this is why we have returned and I we will return again with 'There and Back Again Tours' - was a great day and I think overall well organised.

Karl & Sheralee Morris
Toowoomba - Australia
Their 2nd trip with TABA

Indianapolis, Indy 500, May 2019

Quick to and from the track, beat a lot of traffic, the only way to fly!

Robert Murphy
Clearwater, Florida
Robert's 1st trip with TABA